"Drink good wine with friends. Drink your great wine with a lover."
Monday June 30
From Pape Clement to Chateauneuf du Pape. And why not?  If it was good enough for the Pope, it's good enough for me.  After all, man cannot live with only Bordeaux in his cellar, can he?
It is hot. No, make that very hot. It is so hot, my sweat is starting to sweat. But, today is better than yesterday as the mistrial is blowing. Today, I had visits with Vieille Julienne, Usseglio and Charvin, ending with a tasting and dinner at Beaucastel. The highlight of the day was my long visit to Bonneau.
To enter the home of Mr. Bonneau, you pass though the only thing that is close to modern in his house. The art nouveau styled door. We waited patiently for Henri to finish his afternoon nap before tasting together. It did not take long. Within a few moments we heard his heavy foot-steps on the stairs.
Wearing his trademark, faded, blue overalls, blue plaid work shirt, heavy boots that have seen too many miles and thin, disheveled hair, he walked over to greet us before leading us into the caves to taste.
Passing through the rusty, iron door and walking down the broken steps, I knew we were in for an experience as this is where Bonneau has worked his legendary, magic for years. Spielberg could not create something this wild. There was mold and mildew in the cellars current medical science has not yet found names for. Your shoes stick to the floor when you walk. You dare not sit or lean on anything. If this was America, they would shut him down for being a health hazard. But, this is France and Henri Bonneau is the last of his generation.
Rustic does not begin to describe the caves, walls or barrels. Barrels are scattered in a myriad of different caves. The best description I can offer about the caves is they are like a spider web of ancient, decrepit, catacombs. The cellar is barely lit as the only light in each room is a dim, bare light bulb dangling a few feet over our heads by an aging, thin wire. This is an amazing site to see.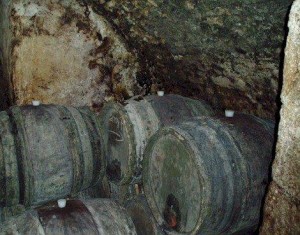 The caves might be from the middle ages. The barrels looked like they were as well! When I asked Bonneau the age of his youngest barrel, he laughed, saying "he had no idea." But, when he asked if we wanted to taste, I had an idea. It was to answer yes!
2006 P EXC1, the markings on the barrel leed us to our first sample of Bonneau. Spicy red fruit, alcoholic and a nice finish.
2005 P (Destined for Celestins) kicked into high gear with jammy, black fruit, pepper, herbs and olives. Good body, concentration and depth. Tannic. Silky, Kirsch, long finish. My favorite wine of the tasting.
04 popped with a bang when he removed the plug as this barrel was still fermenting. I asked Bonneau why it was still in fermentation. He slyly replied, "When he was young, he also asked the same questions, but now, it is just still fermenting."
04 Sample #2 was filled with jammy blackberries and tannins.
03 was earmarked for MB… It tasted liked cooked or very roasted fruit reminding me of fruit cake. Bonneau remarked he was not happy with the wine.
01 Celestins sports an herb, spicy kirsch and cherry nose. Good body. Nice entry. Elegant for young Celestins in a good vintage.
Bonneau did not want to discuss wine. He preferred chatting about young girls, cows, medium aged women, food and older women or wine and food pairing. When I asked him the best vintage of Celestins for drinking today he glibly remarked 1934! He cracked up when he heard me say that is going to help me a lot. He then added, "Drink good wine with friends, but drink your great wine with a lover." He has a good idea there, if you ask me.
The day ended with a visit and dinner with Marc Perrin at Beaucastel.
Dinner with Marc Perrin at Beaucastel was a blast! His chef used to cook at Lucas Carlton and Pierre Gagnaire. He specializes in pairing wine with food matching spice, flavor and density. Beaucastel 06 is an elegant style of Beaucastel which reminded me of 2000. I tasted the seperate varietals from 2007 and based on the ripeness and power in those samples, 07 is a strong year for Beaucastel. The meal ended with a fun, sweet Rasteau which I think is made solely for the Perrin family.