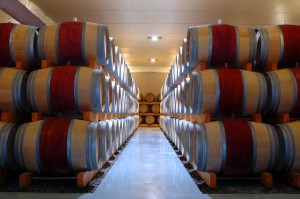 Learn everything about Chateau Cambon La Pelouse Haut Medoc, with wine tasting notes and wine with food pairing tips. Learn the best vintages, a history of the property, information on the vineyards and winemaking. If you want to read about other important, Bordeaux Chateaux: Links to all Bordeaux Wine Producer Profiles
Chateau Cambon La Pelouse History, Overview
Chateau Cambon La Pelouse dates back to the 1700′s when it was founded by the Cambon family. Like numerous Bordeaux chateau, the estate has had numerous owners over the centuries. During the 1800s, Chateau Cambon La Pelouse shared owners with Chateau Cantemerle.
The vineyard takes its name from its early days when the owner planted his entire property, including what was his lawn and garden. Pelouse is translated into the lawn from French.
However, the true modern era begins when the property was purchased by Jean Pierre Marie, who added the small production wine, LAura de Cambon from vines planted in the Margaux appellation to his portfolio a decade later, in 2006.
Claude Gros was the initial consultant for the vineyard management and the winemaking at L'Aura de Cambon. That changed in 2013 when the new owners brought in the noted consultant Hubert de Bouard of Chateau Angelus to act as their consultant, in the vineyards and the cellars.
Chateau Cambon La Pelouse was sold during the summer of 2019 to the massive wine conglomerate, Treasury Wine Estates which owns various vineyards in Australia, most prominently Penfolds. They also own established brands in Napa Valley including Beringer and Beaulieu along with Chateau St. Jean. In November 2021, Treasury Wine Estate added to its holdings in Bordeaux with the purchase of Chateau de Gironville in the Haut-Medoc appellation and Chateau Bolaire, Bordeaux Superieur. In 2022 Treasury estates bought Chateau Lanessan, which is located further north in the Haut Medoc appellation.
Chateau Cambon La Pelouse Vineyards, Terroir, Grapes, Winemaking
The 39 hectare Haut Medoc vineyard of Chateau Cambon La Pelouse is planted to 50% Cabernet Sauvignon, 46% Merlot and 4% Petit Verdot. The current vineyard plantings show a change in their makeup, as there has been an increase in the Cabernet Sauvignon and all of the Cabernet Franc vines have now been removed.
The vineyard is well placed in the commune of Macau, not far from Chateau Cantemerle and Chateau Giscours close to the southern tip of the appellation. On average, the vines are 25 years of age. The vines are young because the majority of the vineyard was replanted in 1975.
The vineyard needed replanting because after it was decimated in the frost of 1956, the vineyard was abandoned, as it was too costly to replant for the owners at the time. It remained fallow until it was purchased by Jean Pierre Marie.
The terroir is mostly gravel and soils with small rocks and stones. The vineyard is planted to a vine density of between 5,000 vines per hectare and 7,000 vines per hectare. The higher levels of vine density are for the newer plantings. Like all Bordeaux estates, the blend changes from year to year.
In some vintages, Chateau Cambon La Pelouse uses one of the highest portions of Merlot in the Left Bank. For example, in 2001, the wine was produced using 60% Merlot in the blend.
To produce the wine of Chateau Cambon La Pelouse, most of the grapes are machine harvested. Following a five to seven-day period of cold soaking at an average temperature of 6 degrees Celsius, the wine is fermented in temperature-controlled, stainless steel vats that range in size from 88 hectoliters up to 200 hectoliters.
Recent renovations added enough steel tanks to allow for vinification on a parcel by parcel basis. Malolactic fermentation takes place in a combination of French oak barrels and stainless steel vats. The wine that endures malolactic fermentation in the barrel is aged on its lees for six months. Cambon La Pelouse is aged in between 40% and 50% new, French oak barrels for an average of 20 months.
On average, Chateau Cambon La Pelouse produces close to 15,000 cases of wine per vintage. There is a second wine, previously known as Chateau Trois Moulins, which often contains as much as 40% Cabernet Franc in the blend. The wine is now sold under the much more fun name of Monsieur de Cambon.
The best vintages of Chateau Cambon Le Pelouse are: 2022, 2021, 2020, 2019, 2018, 2016, 2015, 2010 and 2009 and 2005.
When to Drink Chateau Cambon La Pelouse, Anticipated Maturity, Decanting Time
Chateau Cambon La Pelouse needs some time before it can be enjoyed. Young vintages can be decanted for an average of 1-2 hours, give or take. This allows the wine to soften and open its perfume. Older vintages might need very little decanting, just enough to remove the sediment.
Chateau Cambon La Pelouse is usually better with at least 5-7 years of bottle age. Of course, that can vary slightly, depending on the vintage character. Chateau Cambon La Pelouse offers its best drinking and should reach peak maturity between 6-14 years of age after the vintage.
Serving and Decanting Chateau Cambon La Pelouse with Wine, Food, Pairing Tips
Chateau Cambon La Pelouse is best served at 15.5 degrees Celsius, 60 degrees Fahrenheit. The cool, almost cellar temperature gives the wine more freshness and lift.
The wine of Chateau Cambon La Pelouse is best served with all types of classic meat dishes, veal, pork, beef, lamb, duck, game, roast chicken, roasted, braised, and grilled dishes. Chateau Cambon La Pelouse is a perfect match with Asian dishes, hearty fish courses like tuna, mushrooms, and pasta as well as cheese.
Château Cambon La Pelouse Wine Tasting Notes
14 Vintages 73,870 Views Sort by Vintage-Rating
2022
Château Cambon La Pelouse (Haut-Médoc)

Fresh, round, fruity, and ripe, with blackberries, plums and currants, supple textures and good energy in the finish is what you will find here. Drink from 2025-2035. 90-92 Pts.

649 Views

Tasted

May 8, 2023

2019
Château Cambon La Pelouse (Haut-Médoc)

Smoky with vanilla bean, espresso, chocolate and red fruits on the nose, the wine is round, fruit-filled and lushly-textured. Plus, it will drink well young and it sells for a song! 90-92 Pts

4,351 Views

Tasted

Jun 8, 2020

2018
Château Cambon La Pelouse (Haut-Médoc)

Medium bodied, with loads of fresh, sweet, ripe red fruits, tobacco leaf and herbs. On the palate, the wine is earthy, fruity and with a strong tobacco and cedar component in the mid-palate and in the finish. The wine is made from a blend of 50% Merlot, 47% Cabernet Sauvignon and 3% Petit Verdot.

2,941 Views

Tasted

Mar 9, 2021

Medium bodied, soft, round, forward, earthy charmer with the character of ripe, red fruits, tobacco, espresso and currants in the finish. This is not for long-term aging. So give it a few years and enjoy it over the next 10-12 years or perhaps longer. The wine is made from a blend of 50% Merlot, 47% Cabernet Sauvignon and 3% Petit Verdot. 89-91 Pts

4,747 Views

Tasted

Apr 19, 2019

2017
Château Cambon La Pelouse (Haut-Médoc)

A well-priced, easy drinking, soft textured, medium-bodied wine that is already showing its earthy, bright fruit and tobacco charms. This is not for aging, it is, however perfect for near term consumption.

3,894 Views

Tasted

Apr 26, 2018

2016
Château Cambon La Pelouse (Haut-Médoc)

Full bodied, fresh and filled with ripe, juicy, dark berries, cedar, tobacco leaf and earth, the wine makes its presence known. This is not an elegant wine, instead you get a blast of deep red chewy fruits, cedar, spice and tobacco leaf . 3-5 years in the cellar with add a lot here.

5,353 Views

Tasted

Sep 21, 2019

Fresh with flesh, the fruit is on the bright side and I really like the earthy, spicy accents. This is a nicely priced wine that will drink well early.

6,208 Views

Tasted

Apr 29, 2017

2015
Château Cambon La Pelouse (Haut-Médoc)

Medium bodied, with juicy, sweet ripe fruits, soft, polished tannins and an oaky presence in the finish, this should be better if the oak merges a bit better into the wine.

4,597 Views

Tasted

May 21, 2018

Oaky, with sweet cherries and licorice that are easy to find, the wine is medium bodied and forward, with a hint of cocoa along with the dark red fruits in the finish. This is a wine you can drink early. 87 - 89 Pts

5,084 Views

Tasted

Apr 26, 2016

2014
Château Cambon La Pelouse (Haut-Médoc)

Fully developed, the wine is medium-bodied, round, fruity, and still holding an oaky edge on the nose and dark currant palate, this is not a wine to age. Drink from 2022-2035.

2,415 Views

Tasted

Aug 23, 2022

Very nice for the chateau, this wine is fleshy, forward and plush with sweet, dark red fruits. 88-90 Pts

3,643 Views

Tasted

Apr 21, 2015

2013
Château Cambon La Pelouse (Haut-Médoc)

Soft, short and sweet, this medium-bodied wine showcases licorice, oak and dark red berries. This will be best in its youth. From a blend of 55% Cabernet Sauvignon, 41% Merlot, and 4% Petit Verdot, the wine is aging in 40% new oak. Hubert de Bouard of Chateau Angelus is now the consultant. 85-87 Pts

4,740 Views

Tasted

Apr 23, 2014

2012
Château Cambon La Pelouse (Haut-Médoc)

Well priced, easy drinking, soft textured, medium bodied, Haut Medoc wine that is already showing its earthy, bright fruit, tobacco and earthy charms. This is not a wine to age but a wine for current pleasure.

3,065 Views

Tasted

May 1, 2017

2011
Château Cambon La Pelouse (Haut-Médoc)

Blending 55% Merlot, 42% Cabernet Sauvignon and 3% Petit Verdot. The wine is aged in 40% new oak. Earth, herbs, caramel and black cherry, medium body and cassis with cranberry are found in this wine. 87-89 Pts

4,232 Views

Tasted

Apr 8, 2012

2010
Château Cambon La Pelouse (Haut-Médoc)

Pleasant quaffer with round textures, licorice and black cherries that is already open and ready to drink. Enjoy this on the young side.

4,732 Views

Tasted

Sep 14, 2013

2009
Château Cambon La Pelouse (Haut-Médoc)

2009 Cambon La Pelouse is medium bodied with cassis and strawberry flavors and ends in with a slight drying finish. 83/85 Pts

5,639 Views

Tasted

Jul 30, 2010

2008
Château Cambon La Pelouse (Haut-Médoc)

Easy drinking charmer with soft, round textures, medium body and an earthy, red fruit presence with the added complexity of thyme, tobacco and smoke.

3,008 Views

Tasted

Aug 26, 2017

2005
Château Cambon La Pelouse (Haut-Médoc)

Charming, reasonablyl priced and already drinking well, the medium bodied, open wine, offers licorice, oak, black cherry, earth, cassis and round textures.

4,572 Views

Tasted

Nov 13, 2012