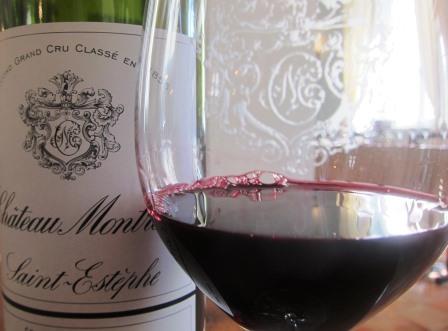 2013 St. Estephe wines are clearly a mixed bag. There is a marked difference, even more than you might expect from the top terroir to the lesser soils, as 2013 St. Estephe was a vintage of extreme challenges. Due in part to the experiencing less rain than other appellations in the Medoc, and its naturally cooler clay soils, the best chateau were able to pull a rabbit out their hat with the 2013 St. Estephe vintage and make some strong wines.
For a summary and overview of the 2013 Bordeaux Campaign so far… 2013 Bordeaux Vintage and Futures Campaign Summary
In some appellations with 2013 Bordeaux, it's difficult to find a clear star of the region. That is not the case here with 2013 St. Estephe. Perhaps, due to the celebratory opening of the architecturally stunning, new cellars at Chateau Montrose, we should have expected nothing else. They were not the estate to make a wine well above expectation in 2013, but at least for me, 2013 Montrose would have earned good notices in any vintage, but in 2013, it's quite an achievement!
2013 Le Boscq – Light in color, with a bright red berry character that focuses on red plum and cranberry, moving from sweet to tart. 84-86 Pts
2013 Calon Segur – The wine delivers, spice, black raspberry and forest leaf aromas with a crisp raspberry and cherry filled, medium bodied, clean, fresh finish. There is a true sense of polish to the tannins. Blending 92% Cabernet Sauvignon, 6% Merlot and 2% Petit Verdot, the wine reached 13.1% alcohol. Thus, representing the lowest yields in years at 36 hectoliters per hectare. The Grand Vin was produced by only using 33% of the crop and is aging in 100% new, French oak. The new owners are quickly improving things at this venerable estate, starting with the 2013 vintage. 90-92 Pts
2013 Capbern Gasqueton – Floral and light red berry aromas add a bit to this light, bright, red berry wine. There is not much depth here. 82-84 Pts
2013 Cos d'Estournel – Ruby in color, cassis with cocoa powder, salty tannins and fresh dark, red berries are found in the spicy finish. From 78% Cabernet Sauvignon, 20% Merlot and 2% Cabernet Franc, with a pH of 3.6, the wine reached 12.7% alcohol, the lowest level of alcohol achieved since the early 1980's. Produced from yields of 26.3 hectoliters per hectare, the wine will be aged in 60% new, French oak. 90-92 Pts
2013 Les Pagodes de Cos – Medium bodied, soft, forward, cherry dominated, finishing with spicy red fruits and herbs. 86-88 Pts
2013 Cos d'Estournel Blanc – Fresh grapefruit, lime, kiwi, lemon, vanilla and honeysuckle aromas pop immediately when poured into the glass. Fresh, lively, vivacious citrus fruits, acidity, and the sensations of fresh squeezed lemons drizzled over stones will make this fun to drink in its youth. 92 Pts
2013 Le Crock – Blending 53% Cabernet Sauvignon, 33% Merlot, 9% Cabernet Franc and 5% Petit Verdot, the wine starts with oak, espresso and black cherry aromas. The wine is clean and fresh, delivering a nice dose of black cherries in the finish. 88-89 Pts
2013 Lafon Rochet – Smoke, earth and dusty blackberry aromas, along with a light plum on the palate and an oaky finish, this will be best in its youth. 87-89 Pts
2013 Lilian Ladouys – Blending 55% Merlot, 40% Merlot, 3% Petit Verdot and 2% Cabernet Franc, the wine has an earthy, crisp, bright, red berry and thyme personality with a lot of freshness in its style. 87-89 Pts
2013 Meyney – Spicy oak with black cherry and spice aromatics on the nose, the wine is medium bodied, with black raspberry and oak on the palate with a bit of a polish sense to its tannins. This is the first vintage made with the aid of Hubert de Bouard as the consultant. 88-90 Pts
2013 Montrose – Smoke, coffee bean, fennel, tobacco, truffle and blackberry aromas come forth with no effort. In the mouth, the wine is soft and polished, especially when considering the vintage, the wine finishes with cassis, fresh black cherries and licorice. Tannic, but not obtrusive, the wine should be given at least 5 years to come around. On the bright side for fans of Montrose, this still places it at the top of the queue for early drinking vintages of Montrose!
Representing 60% of the production, the wine was made from a blend of 68% Cabernet Sauvignon, 29% Merlot and 3% Petit Verdot. With 2013, the property purposely decided not to include Cabernet Franc in the blend. Yielding 30 Hectoliters per hectare, the brix of the wine reached 12.9% alcohol which is aging in 60% new, French oak barrels. According to Herve Berland, who serves as a Group Managing Director and Member of the Management team, success of the wine in this difficult vintage was due to picking later than many estates, and having to remove leaves in the middle of September to help aerate the vines were key factors. Montrose finished their harvesting on October 16. For those that like to keep track of everything taking place; the wine was released to the market only a few days after the premier tastings were finished at 57.60 Euros Ex Negociant. 92-94 Pts
2013 La Dame de Montrose – Spearmint, leaf and cherry on the nose, this lighter, forward styled St. Estephe will drink well on release. 86-88 Pts
2013 Ormes de Pez – Vanilla, coffee bean, fennel and dark cherry aromas, the wine is medium bodied, with a sweet and tart, cassis finish. The wine is made from a blend of 46% Cabernet Sauvignon, 42% Merlot, 10% Cabernet Franc and 2% Petit Verdot. 85-87 Pts
2013 de Pez – Medium bodied, gritty tannins and a bright, spicy, red berry character that will be best in its youth. 84-86 Pts
2013 Phelan Segur – Herb, olive and cherry aromas make up the initial start of the wine, followed by the palate, which is medium bodied, and show cases cranberry with bright red berries and a lot of sharpness in the mouth. The wine was made blending 60% Cabernet Sauvignon with 40% Merlot, which yielded a 12.7% alcohol. The wine will be aged in 50% new, French oak barrels. The Grand Vin represents 60% of the properties crop, with yields of 26.38 hectoliters per hectare. 86-89 Pts
2013 Tronquoy Lalande – 89% of the production was used for the Grand Vin, with a blend of 52% Merlot, 38% Cabernet Sauvignon, 8% Petit Verdot and 2% Cabernet Franc, the wine leads with toasted oak and black raspberry aromas. In the mouth and on the palate, the wine is medium bodied with a bright side of red and black fruit style. Already accessible, the wine has a hint of green in the finish, drink this young. 87-89 Pts