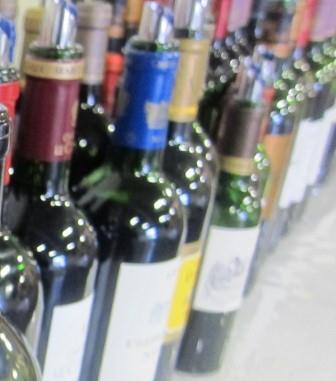 The biggest problem with the 2013 Bordeaux vintage for consumers and chateau owners will be the price. There is some truth in the old saying that difficult vintages can never be priced low enough to spark demand, while the great years are never priced high enough to satisfy chateau owners.
For a summary on the 2013 Bordeaux growing season and harvest: 2013 Bordeaux Vintage Report
This marks my tenth En Primeur campaign. Not that I expect a gold 100 Pt scale, or something similar to commemorate this theoretically, momentous occasion. But it is an achievement of some sort. Perhaps it does not compare with climbing Everest, or swimming the English Channel. But surely, it's more prestigious than earning the Darwin award or the Ig Nobel Prize? Oh well. Maybe next year…
The week of tasting 2013 Bordeaux wine unexpectedly kicked off with a bang instead of a whimper. In a daring move, Alfred Tesseron released Pontet Canet before almost anyone had the opportunity to taste the wine! The 50 Euro Ex-Chateau price was the same as last year, which bothered some people, because 2013 was a more difficult vintage. However, according to Tesseron, the price was necessary because so little wine was produced. His yields were only 15 hectoliters per hectare! When all was said and done, Pontet Canet had the same amount of cases available for sale as last year. With a magicians smile, Tesseron explained that was because 2013 Pontet Canet would be packaged in 6 bottle cases. But that quick release took all the room at the table. The one wine everyone in Bordeaux was taking about and wanted to taste was now 2013 Pontet Canet! Either the price works or it doesn't. The market will decide if this was a good move or not. The market is also going to decide on the entire 2013 Bordeaux vintage in a few weeks time.
The initial release from Pontet Canet was followed by Chateau Gazin, which often releases early. However, they were even quicker than usual out the gates in 2013, as they placed their wine on offer only a few days after Pontet Canet. This release came squarely in the middle of the tastings! With only a 3% discount from the 2012, negociants were offering 2013 Gazin for 38 Euros by 9am.
If you're not familiar with how the En Primeur tastings work, for 5 days, thousands of journalists, merchants, tasters, amateurs and more than a few free loaders will descend on Bordeaux for the week to taste the new 2013 Bordeaux vintage. If you've been living under a rock, perhaps you missed the numerous weather and harvest reports that were published in The Wine Cellar Insider, and in other wine news sources. If you missed those articles, to summarize the growing season, it was wet enough for growers to consider taking a boat to work, instead of a car. Adding insult to injury, it was a cold and sunless growing season as well. If that was not enough to contend with, the problem of rot in the vineyards poking its ugly head through the dark clouds just before it was time to pick, took the cake. Many vintners stated this was the most difficult growing season in 40 years!
Most En Primeur campaigns are marked by one or more memorable moments. Sadly, the 2013 campaign will be remembered by the death of one of the most popular people in Bordeaux. Christine Valette of Troplong Mondot in St. Emilion passed away. Christine Valette Remembered In other memorable news worthy events, three new, state of the art cellars make their debut this week, Chateau Montrose in St. Estephe, Chateau Pichon Lalande in Pauillac and Chateau Angelus along with Chateau La Dominique in St. Emilion. There is a lot to see, do and taste over the next several days.
Having tasted over two hundred different 2013 Bordeaux wines during my first week in Bordeaux, I have a reasonably good idea on the character and style of wine in this vintage. Based on the weather, the wines should have been poor across the board. That is not the case. Today, there is a big difference with what wine makers can do with a difficult vintage like 2013 Bordeaux, versus what they were able to accomplish in previous difficult years. In those days, the vintage would have been a total wash out. With current vineyard management techniques, modern cellars and the willingness, coupled with the financial ability to declassify as much as 70% of the harvest, there are some nice, light, early drinking, red 2013 Bordeaux wines. And as usual, a few chateau produced very good wines that are well above the quality of the vintage. Some of the best wines of the 2013 Bordeaux vintage are from Pomerol and St. Emilion. The best of those wines have the potential to score 95 Pts in bottle. Sauternes was successful and so are the dry white Bordeaux wines. But as 90% of all Bordeaux wine is red, it is not white wine, or sweet wine that garners consumers focus and feeds the reputation of the vintage.
2013 Bordeaux is a winemakers vintage. While there is not a lot of depth to the 2013 Bordeaux wines, the best wines have a nice, gentle, silky texture on the palate. The key to the success of the vintage is low yields. Many estates produced less than half their normal quantity and there are some chateau that made close to 25% of what they usually produce.
2013 Bordeaux is for drinkers. Most of the wines are light and will not require much, if any aging to show well. 2013 Bordeaux is clearly a year with a distinct, red berry character. The alcohol levels are some of thelowest seen in Bordeaux in years, if not decades. Surprisingly, there is not a lot of green flavors or sensations of unripe fruit. The biggest problem with many wines is the dry feeling in the mouth in the finish. A gentle touch was needed to get the most from the harvest durng vinification. Less oak, or less time in oak, and a light extraction were the order of the day. The second big problem for the vintage are the yields. Many of the top estates made almost 50% less wine than usual.
To read interviews with numerous winemakers on the 2013 Bordeaux vintage and harvest:
Interviews with chateau owners and winemakers on the 2013 Vintage
The chateau that ruthlessly declassified more than 50% of their harvest created early drinking wines with an accessible, elegant, charm. As you would expect, a few estates produced wine well above the potential of the vintage. But the list of over-achievers is small with 2013 Bordeaux. Interestingly, while 2013 Bordeaux favors the Cabernet Sauvignon based wines from the Left Bank, there are some successful wines from Pomerol and St. Emilion that made quite an impression! This is not a vintage where one appellation was more successful than all the others, one needs to look at the wines on a chateau by chateau basis. There are even a few wines in 2013 that are better than the wines produced in 2012!
On a slightly different note, many tasters, writers and bloggers relentlessly complain about the influence of Robert Parker on wine prices. There is a constant, yearly drumbeat by these writers for Robert Parker to change his business model and refuse to release his comments until the wines are all priced. Many of these people have publically asked Parker to take the lead and refuse to release his notes until after the wines are priced, adding they will follow. With the 2013 Bordeaux campaign, it has already been established that Robert Parker will not be in Bordeaux to taste the wines until late May or early June, long after the wines have been priced and offered for sale. I wonder how many of those people will hold back their notes, comments and scores until after the wines are priced? Based on all the tweets and facebook posts I've read, many seem to be trying to publishing as quickly as possible, hoping to exert some influence and gain new customers. Not that there is anything wrong with that, it just seems a bit odd, when they have a chance to set an example.
Until recently, vintages classed as early drinking years were discounted in price to a much larger degree than we see today. This allowed consumers to take a chance on the wines. It would be healthy for that same attitude regarding pricing to take place this year. Sadly, the prevailing attitude among owners far too often is, my wines are fairly priced. It's my neighbors wine that is overpriced!
2013 Bordeaux wine offers the region the chance to win back market share. The owners should take advantage of this opportunity. Hopefully, the chateau will look at the tepid demand for the vintage and price it accordingly.
When setting prices for 2013 Bordeaux wine, the chateaux should also consider the drop in wines being purchased in Asia, especially China. Recently published figures show imports to the Chinese market dived 16% from last year. While Hong Kong and China are still huge importers of Bordeaux wine, that much of a drop in sales should be taken into account when pricing 2013 Bordeaux wine.
As I mentioned, Alfred Tesseron got the ball rolling with his early release for Pontet Canet. Other chateau are advised to release early as well. All the wines should have been offered before the middle of May, or earlier. There is no reason to wait for better market conditions.
There was a time when early drinking vintages were sold to consumers at a price that was affordable, proportionate to its level of quality. Early drinking vintages, often referred to as classic years were sold to customers to drink, while waiting for the top vintages to mature. 1997, a drinkers vintage was over priced for its quality. That same mistake was repeated a decade later in 2007 and again 2011 and 2012. There were some bright spots in 2012 that are worth buying. But far too many wines were priced higher than the market will accept. With luck, that will not be repeated with the 2013 Bordeaux vintage.
Back to that old saying that difficult vintages can never be priced low enough to spark demand, while the great years are never priced high enough to satisfy chateau owners. When pricing your wine this year, it is in the best interests of the market for chateau to price their wine at levels low enough to spark demand so they sell through to drinkers all over the world.