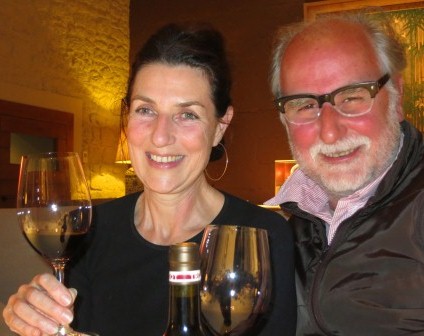 Christine Valette of Troplong Mondot will be missed by everyone in Bordeaux and around the world. She personified class and charm in every way. This is a great loss to the entire wine world and her family. We were friends and I shed tears for her and her family. Christine Valette passed away from cancer after a long illness. She was far too young. The weather in St. Emilion seems to know she is gone as the skies are dark and the winds are blowing strong. Christine Valette is survived by her husband, Xavier Pariente, her four lovely, daughters and one grandchild.
Christine Valette and Troplong Mondot deserve to mentioned in the same sentence for eternity because Christine Valette was Troplong Mondot and Troplong Mondot was Christine Valette. It was thanks to the non stop efforts, hard work and determination of Christine Valette that Chateau Troplong Mondot became one of the great wines of not only the Right Bank, but in all of Bordeaux. Her early success with the property came with the 1988 vintage. It took only one more vintage, the 1989, which was then topped by the sublime 1990 to show the world how great the wines of Chateau Troplong Mondot could really be! While the first part of the 1990's were mixed, from the 1998 vintage forward Christine Valette and Troplong Mondot turned out one great wine after another in St. Emilion. The 2005, 2009 and 2010 are absolutely stunning wines! The quality of the wines produced at Chateau Troplong Mondot, under the direction of Christine Valette earned a promotion for the property to Premier Grand Cru Classe in the reclassification on St Emilion wines in 2006.
Christine was the first friend I made in Bordeaux over a decade ago. My very first appointment with any chateau was at Troplong Mondot. I still vividly remember the day. I arrived on a cold morning bursting with enthusiasm about tasting and visiting at a Bordeaux chateau. And not just any property, this was at one of my favorite estates. As this was my first trip, I did not even drive a car. I took an old, smoke stained taxi from the hotel. They dropped me of promptly at 9 am.
In what must have sounded like the worst French ever, I announced myself and said I had an appointment to visit and taste. They could not locate my name on the books and said they had no record of an appointment. Beads of sweat formed on my brow and back. Nervous does begin to explain my condition. Perhaps they saw the look of fear crossing my worried face. After all, I traveled over 7,000 miles to come to Troplong Mondot. Of course they could sense that I at least thought I was booked for a visit.
Christine Valette came over, introduced herself to me and said even though I did not have an appointment, she would be happy to take me around the property and we could taste Troplong Mondot together. Relieved and thinking all was right in the world I enjoyed my visit with Christine Valette.
When I returned to the states, I received a nasty Email from the merchant that booked by visit demanding to know why I did not show up for my appointment! Without hesitation, I let them know of my experience and visit with Christine Valette. They never responded and I assumed all was OK.
A few months later I was invited to small lunch to honor Christine Valette. She arrived looking resplendent. I walked over and reintroduced myself, wondering if she remembered me. When it came to release the champagne glasses and be seated for lunch, I glanced at Christine who was discussing the seating arrangements with the host. She was pointing at me. Panic struck. I was sure she was pointing me out, saying I was the one who missed their visit and she did not want me at here table. My life changed that day when the host whispered to me that Christine requested we be seated next to each other for the lunch. That simple gesture and multi hour lunch began a decade long friendship.
During the lunch she asked when I would return to Bordeaux. I said it would be next year. She made me promise to come stay with her and her family. We cooked together, enjoyed countless bottles of wine together and she visited with me once in Los Angeles as well. I was blessed to know her children and husband Xavier Pariente. Her family got to know me as well.
The charm, friendship and warmth of the Valette family will never be forgotten. Christine Valette was one of the best cooks in Bordeax. It was a shared passion we both enjoyed. I was fortunate to hve enjoyed cooking together on a few occassions.
Perhaps one of the most touching moments between us came a few years ago. Friends who know me are aware I am a little crazy about my dog Hercules. In a Bordeaux tradition, when dining at a chateau, quite often the owner will produce a special menu to accompany and commemorate the dinner and occasion. In the entire history of Troplong Mondot, their menus have always proudly featured the image of the chateau on the front cover. They changed the artwork only one time in the entire history of the chateau according to Christine. Their daughter Margaux Pariente created a special menu with a picture of my dog, Hercules, to remind me of home, which is always important when traveling for 2 to 3 weeks.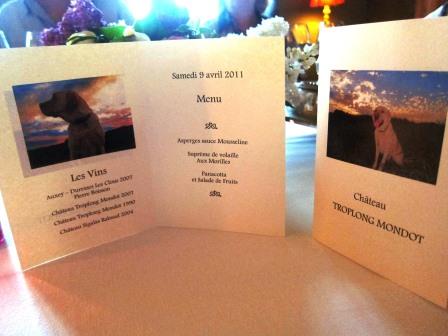 That simple, warm gesture, brought me to tears and made me feel like I was at home. The night was followed by karaoke with the family. We cooked together, shared wine, enjoyed music and spent time together.
Once again I am brought to tears and I will always miss, never forget and the my memories of the grand lady of St. Emilion, Troplong Mondot and my friend Christine Valette. RIP Christine. I will miss you.