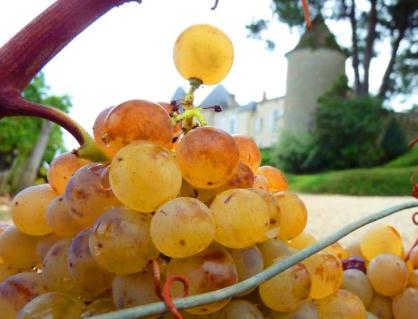 2013 Sauternes and Barsac wines are completely rotten. And that's a beautiful thing!
2013 Bordeaux does represent the first vintage that favored the sweet wines of Sauternes and Barsac over red Bordeaux wine. It is not going to be the last. From recent memory, 1962, 1967, 1976, 1980, 1983, 1988, 1997, 2007, 2011 and now 2013 are all vintages where Sauternes excelled, while red Bordeaux wine was at its best moderate and it slipped downhill from there.
The 2013 Bordeaux vintage and its wines are in part, shaped by botrytis. Botrytis, also known as noble rot is exactly what the doctor ordered for Sauternes. On the other hand, the onset of botrytis in the Medoc and Right Bank caused many estates to finish harvesting before their grapes were attacked by botrytis. Obviously, that was not the case with 2013 Sauternes.
2013 Sauternes and 2013 Barsac are without a doubt, the two most consistent appellations in the 2013 Bordeaux vintage. Conditions for the developement of noble rot, better known as botrytis were picture perfect. This is exactly what is required for the development and production of the sweet white Bordeaux wines of Sauternes and Barsac.
The poor spring conditions made flowering difficult for vineyards in Sauternes. But things began to improve with the warm July and August. The humid conditions coupled with foggy mornings experienced in September and October were perfect for the onset of noble rot with all the main grape varieties, Semillon, Sauvignon Blanc and Muscadelle.
The 2013 Sauternes harvest for many producers started slowly, beginning by the end of September. It took a few more weeks before the noble rot began seriously attacking the grapes. When October rolled around, botrytis was in full bloom in Sauternes, which was thrilling to producers. The October rains brought some dilution to the grapes, but the combination of ripe fruit and botrytis led to a successful 2013 Sauternes vintage.
Sadly, with the red wine grapes in the Medoc and Right Bank, botrytis was also rapidly making producers nervous as once botrytis begins to infect a vineyard, it can spread as quickly as any wild fire! For the red wine grapes, growers got their teams together and picked before the fruit was able to gain full maturity, while in Sauternes, the chateau had knowing, smiles a mile wide on their face due to the extremely high potential of wine they were going to produce with 2013 Sauternes. For a summary and overview of the 2013 Bordeaux Campaign so far… 2013 Bordeaux Vintage and Futures Campaign Summary
While this is a small sample of 2013 Sauternes, it should provide a good idea on the quality of wine produced in the appellation this year. OK, 2013 is not at the level of 2001, but 2013 Sauternes is the true shining star and the only truly successful appellation in the difficult 2013 Bordeaux vintage.
2013 Clos des Lunes Blanche – Fresh grapefruit and citrus transition into a forward, sweet, nutty and zesty finish. 87-88 Pts
2013 Clos des Lunes Lune d'Argent – With honeysuckle, nut, pineapple, lemon zest and floral notes, this refreshing wine showcases sweet, honeyed lemon and spice in the finish. 90-92 Pts
2013 Clos des Lunes Lune d'Or – Opening with floral, pineapple, lemon, lime, orange and stone aromas, this full-bodied wine is sweet, rich and long with a fresh, lingering citrus peel finish. 91-93 Pts
2013 Coutet – Packed and stacked with layers of honeyed tropical fruits, vanilla, honey, nuts, apricots and pineapple, this will be another winner in the long line of successes for Aline Baly and Coutet. 94-96 Pts
2013 Doisy Daene – Honeysuckle, flowers, tropical fruits and vanilla bean get your motor running. The overripe, juicy, sweet, pineapple and apricot palate lingers and expands in intensity. 94-96 Pts
2013 de Fargues – Pineapple, honey, flowers, apricots and candied citrus are all slathered in honey. What could be a better treat? 93-95 Pts
2013 Guiraud – Fat, juicy and packed with honeyed apricot, pineapple, vanilla bean and candied oranges, this lush treat is perfectly balanced by sweet honeyed fruit and refreshing acidity. 93-95 Pts
2013 Rieussec – Filled with nutty and fruity notes of orange, pineapple, honey, and citrus, this rich, dense wine is lively and long with the right balance of freshness, sugar and acidity. 94-96 Pts
2013 Suduiraut – With brioche, nuts, vanilla, candied lemon, pineapple and apricot, the wine is rich, fat, concentrated with sweet, fresh and bright flavors. The sweet, honeyed pineapple finish really makes an impression. 94-96 Pts
2013 S – Honeydew melon, grapefruit and citrus in the character, the wine is fresh and crisp, filled with sweet, fresh citrus and nuts in the end notes. 89 Pts
2013 Lions de Suduiraut – Honey nut and peach liqueur aromas pair with sweet, spicy pineapple and peach notes to create a forward wine that would make a perfect aperitif. 87 Pts
2013 Castelnau – Tight on the nose with a lot of sweetness but lacking in complexity. 87 Pts
2013 Yquem "Made from 100% rotten grapes," according to the winemaker Sandrine Garbay
2013 d'Yquem – Intense notes of grilled nuts open this intoxicating perfume of pineapple, orange, tangerine, vanilla custard, lemon curd, honey, candied grapefruit and spice. Intense, fat, concentrated and deep, the wine is long, lively and fresh with a honeyed pineapple and toasted, brioche finish. Interestingly, the wine will follow the pattern that took place with the 2011 Yquem and will not be offered as a future. 96-98Pts