It was another fun night devoted to fun, friends and blind tasting. The most recent "7 Blind Men" dinner allowed me the chance to host and provide the wines.  Knowing what the wines were, I was not allowed to guess. While that is part of the fun, guiding your friends in the right direction, or wrong direction is even more fun. In attendance for the night, Gregg Tenser, Steve Matthesen, Brian Devine, Eric Cotsen, Michael Novick, Dave Parker and our special guest was Eric LeVine.
If a successful night is based on people having a great time, eating more than they should, drinking more than they had planned, being louder with their banter and laughs than well-behaved guests should in a public place and closing down the restuarant, long after everyone else had gone home, this evening scored 100 Pts!
Flight # 1  "The White Wine Flight"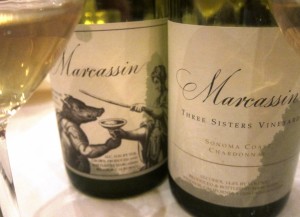 2005 Marcassin Marcassin Vineyard Chardonnay shows a deep yellow color, with notes of honeysuckle, stone, lemon, apple, flowers and smoke, this concentrated, buttery California Chardonnay is rich, intense, focused and balanced, ending with a long, citrus oil and minerality finish. I am not sure more aging will add additional complexity, but the 2005 Marcassin should remain at this level for at least another decade. 97 Pts
2005 Marcassin 3 Sisters Chardonnay is straw colored, with scents of vanilla, citrus, butter and pears that required some coaxing. This full bodied Chardonnay ended with sensations of lemon, mango and minerality. 91 Pts
Flight # 2 "1961 Bordeaux Wine"
1961 Pape Clement offers smoke, cigar box, truffle, spicy black cherry, forest floor and tar scents.  This medium/full bodied, fully mature, Pessac Leognan wine finishes with a smoky, tobacco and dark cherry sensation.  92 Pts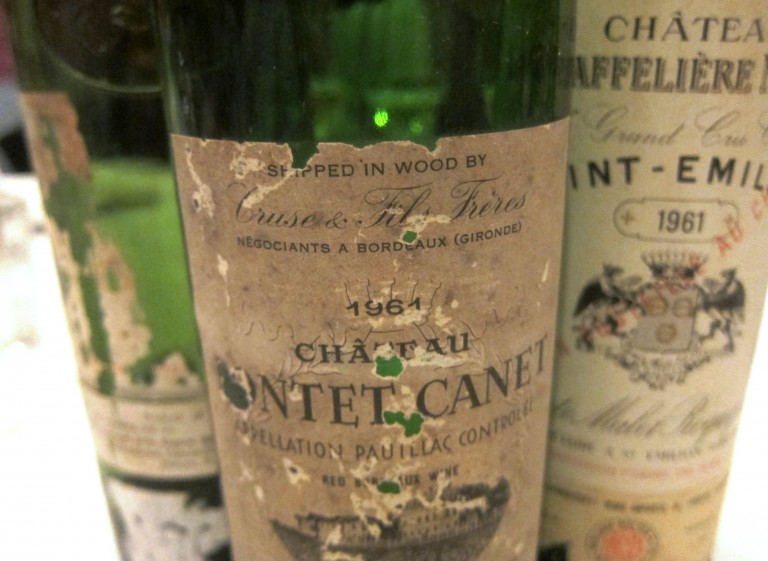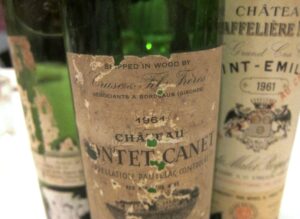 1961 Pontet Canet opens with tobacco, truffle, earth, cassis, gravel, iron and spice box and cedar aromas.  With a rustic, but charming personality, the wine finishes with spicy cassis flavors.  I with I was young enough to know how the current vintages of Pontet Canet made by Alfred Tesseron will taste when they hit 50 years of age.  I imagine they will be stunning! 90 Pts
1961 La Gaffeliere is filled with spice, minerality, smoke, crushed stone, ash, dark berries and plum scents.  With silky, fleshy textures, complicated by the patina of age, the wine finishes with coffee, spice, olive, black cherry and cocoa. 91 Pts
Flight # 3 "1971 Bordeaux Wine"
1971 Petrus opens with a showy nose of dark chocolate, earth, forest floor, orange rind, truffle, mocha, plum and cinnamon stick. Soft, plush and opulent in texture, this stylish, fully mature Pomerol ends with a spicy, silky, rich, chocoalte covered, black and red plum finish.  Previous bottles showed a little more power and freshness. 94 Pts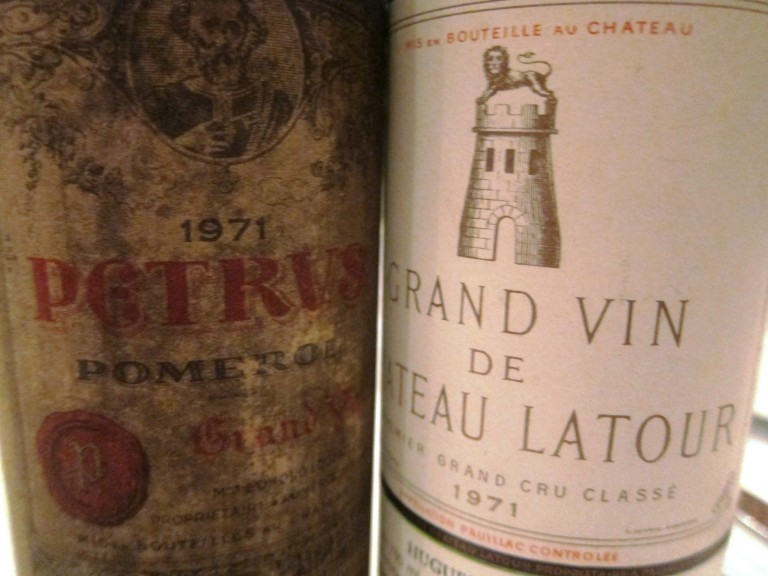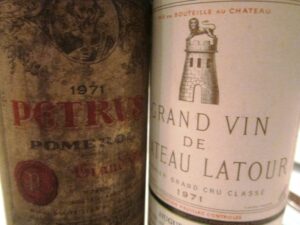 1971 Latour pops with gravel, smoky tobacco, cigar ash, cassis, blackberry, cedar, lead pencil, kirsch, black raspberry and forest floor scents.  Full bodied, powerful, concentrated and broad shouldered, the wine ends with a long, spicy, krisch filled finish. This was the finest example of 1971 Latour I have ever tasted!  95 Pts
Flight # 4 "1991 Rhone Wines, Hermitage, Cote Rotie"
1991 Chapoutier Mordoree is filled with pepper, licorice, barnyard, sweet jammy cherries, barnyard, blackberry, bacon fat and smoky aromas.  Mouthfilling, with textures of exotic silk, this fully mature Cote Rotie ends with sweet, spicy, peppery, jammy, black cherries and fennel. 94 Pts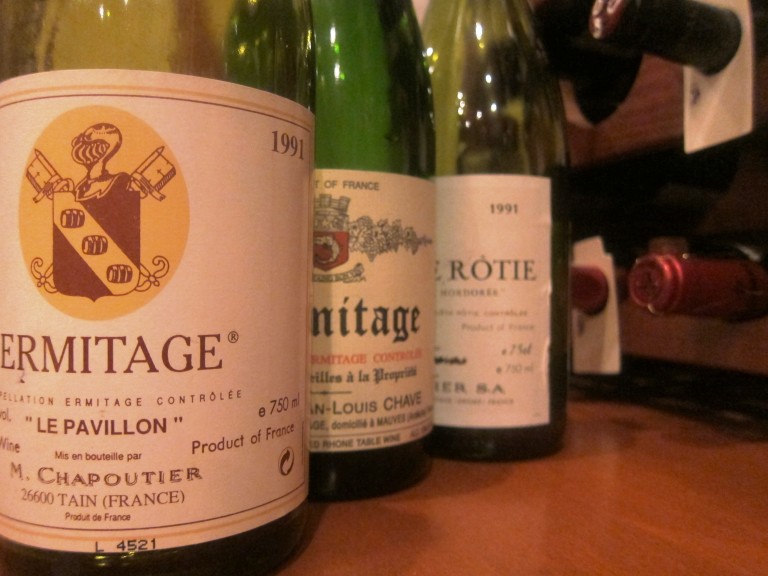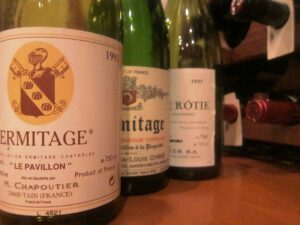 1991 Chapoutier Pavillon retains is deep, dark color. Coffee, smoke, crushed stone, licorice, blackberry jam, pepper, spice, truffle, earth and tobacco notes explode from the glass the moment the bottle is opened and poured.  Powerful,  rich, intense and concentrated, everything is in balance and harmony.  The wine ends with a long, pure, seamless finish filled with truffle coated, molten, cherry liqueu that remained on your palate for over one full minute! 99 Pts
1991 Chave was a nice surprise. I've always liked this wine, but this bottle rocked it!  Licorice, blackberry, cherry, iron, earth, citrus peel, pepper, minerality and earthy scents paired perfectly with the powerful, concentrated, full bodied personality of the wine.  Refined, elegant and intense, this sublime Hermitage wine ends with a long, fresh, spicy, black cherry filled finish.  Still young, this will age and improve for decades.  95 Pts
Flight # 5 "2001 Bordeaux Wine"
2001 La Mission Haut Brion opens up with smoke, Cuban cigars, blackberries, hot stones, earth and tar aromas. Supple textures, round tannins and a refined character lead to a rich, silky wine that ends with a long, elegant, deep, smoky dark berry and creme de cassis filled finish. From an assemblage of 62% Merlot, 35% Cabernet Sauvignon and 3% Cabernet Franc, this classic Pessac Leognan wine is just starting to open and offer up its delicious charms. 94 Pts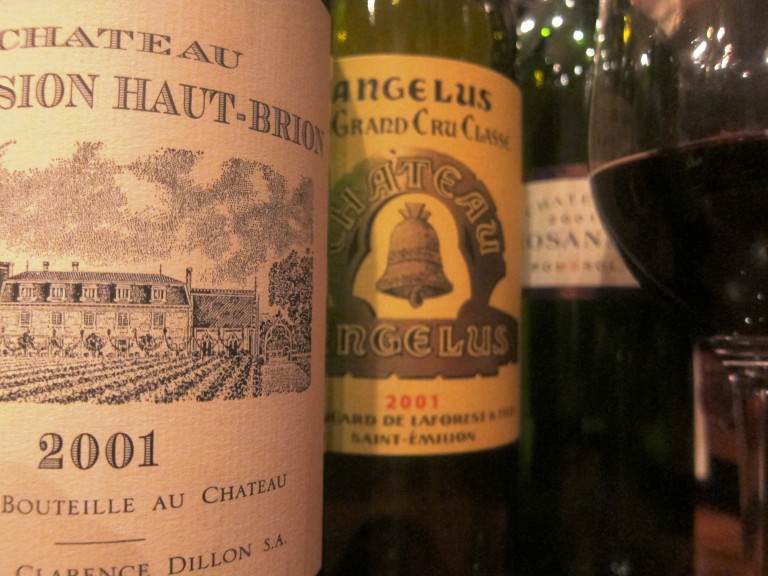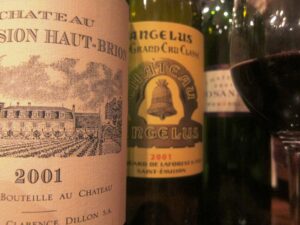 2001 Hosanna was produced from a blendof 80% Merlot and 20% Cabernet Franc. The wine required coaxing to generate the earthy, truffle, black and blue stone fruit and chocolate aromas. Plush tannins and good concentration are an important part of this Pomerol wine's make up.  The wine ends with a tight, plummy finish.  This bottle was more closed than previous examples. 91 Pts
2001 Angelus demands your attention with is coffee, licorice, plum, floral,  chocolate and black cherry laden nose.  Opulent, plush and velvet on the palate, the wine ends with a long, fleshy, round finish filled with ripe, dark berries, fennel and mocha.  This St. Emilion wine has clearly improved over the past few years.  It will probably continue to improve, but if you have more than a few bottles, it's a good time to open a bottle. 95 Pts
Flight # 6 "1991 California Cabernet Sauvignon"
From memory, I do not believe the group found these wines. If they did, not one person identified them as 20 year old California Cabernet Sauvignon wines!
1991 Seavey Cabernet Sauvignon was filled with tobacco, blackberry liqueur, smoke, earth, black cherry jam and sadly a bit of VA in this normally outstanding wine. This wine is still young, fresh and packed with fruit. I've tasted much better bottles. 90 Pts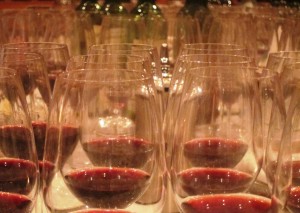 1991 Dalla Valle Cabernet Sauvignon is stuffed with black raspberry, tobacco, earth, cassis, espresso and cigar ash. From a blend of 88% Cabernet Sauvignon, 9% Cabernet Franc and 3% Merlot, this powerful wine has years to go. 93 Pts
1991 Mondavi Reserve Cabernet Sauvignon continues to be a future legend in the making. Everytime I taste it, I am reminded of the $25 I paid and love it all the more. This packed and stacked California Cabernet Sauvignon has everything working in all the right places. A nose filled with licorice, cocoa, earth, blackberry jam, truffle, cigar box and spice. With an intense concentration of flavor, ripe, round tannins and a long, fresh, pure, black and red berry finish, this is so young at 20 years of age, if it's well stored, this could give pleasure until it hits 50. Bravo! From a blend of 87% Cabernet Sauvignon, 10% Merlot and 3% Cabernet Franc, this could easily pass as an outstanding Left Bank Bordeaux wine in a blind tasting. 97 Pts
Flight #7 "Blind Tasting Games and Tricks"
When you want to have fun with your friends in a blind tasting, open a bottle or a magnum and serve the same wine in 3 or 4 glasses in the same flight. Not one person will get it. It's a fun trick. Trust me, I know. It's been played on me multiple times! For this flight, thinking the group would be less suspecting after they already tasted at least a few bottles of wine, I brought a magnum of 2001 Chateau l'Evangile and poured the same wine into three different glasses in the same flight.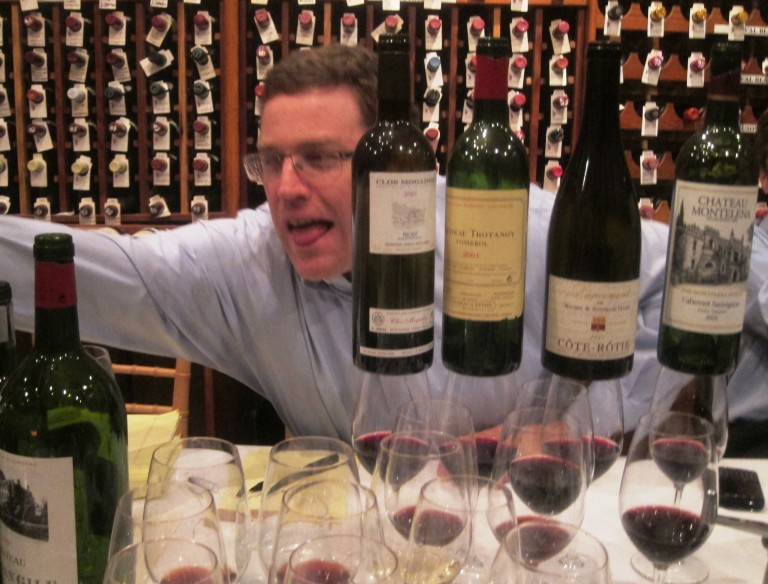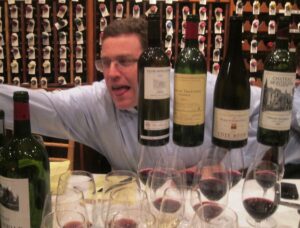 2001 l'Evangile is clearly a little better in the nose than on the palate, with its notes of tobacco, red and black plums, mushroom, earth, cocoa, spice and flowers. Medium/full bodied, but a little rough around the edges in texture for this normally, opulent Pomerol, the wine ended with fennel, plum and chocolate. 92 Pts
Flight #8 "The Wrap Up, have they learned their lessons yet?"
Having opened 7 previous flights, you would have thought at least one of the blind men, which are usually good at guessing themes, even if they miss the wines. But not on this night! At least until now. With that out of the way, the final red flight of night featured a wine from each region we had just finished tasting and a ringer. The entire group spotted the ringer! I no longer recall if they found the locations for the other wines. I need an assistant. Would anyone volunteer?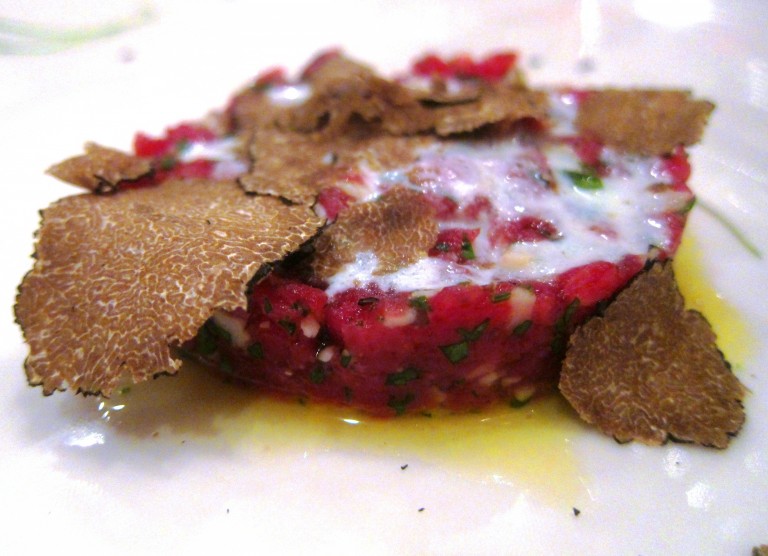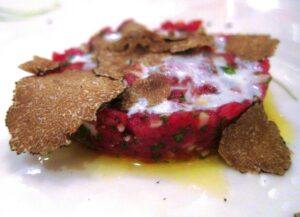 2001 Ogier Lancement Cote Rotie is almost impossible to find, with its whopping production on 100 cases. With a nose filled with bacon fat, olives, smoke, fresh blackberry jam and strawberry, it's sweet, rich, ripe, opulent, spicy and sexy. From 100% Syrah from the Cote Blonde, this is drinking great today. 94 Pts
2001 Montelena Estate Cabernet Sauvignon is 96% Cabernet Sauvignon and 4% Cabernet Franc. Big, dense, concentrated and powerful, the cassis, tobacco and earthy tannic, wine lacked grace and elegance. 90 Pts
2001 Trotanoy Pomerol Bordeaux offers plums, earth, smoke and cocoa. Slightly light in concentration, the texture lacks the normally, sensuous quality found in Trotanoy. This is a good, but uninspiring Pomerol wine. 90 Pts
2001 Clos Mogador Priorat Spain opens with a lot of vanilla and coffee, along with jammy black raspberries, cherries and hints of blueberry liqueur. The wine felt slightly over oaked at this point in its life. Perhaps it's more a matter of stylistic preference than quality. 90 Pts
Flight #9 "How Sweet it is? Or is that, how sweet is it?"
2001 Sine Qua Noble Man The color of honey, which is perfect for this wine. Scents of honey coated, apricots, mango, orange, pumpkin, flowers, spice, roasted nuts and pineapple are easy to find. Thick, rich and intense, this immense, sweet wine is about power and sweetness and not finesse or freshness. I get the quality, but its a wine for sugar addicts. 94 Pts