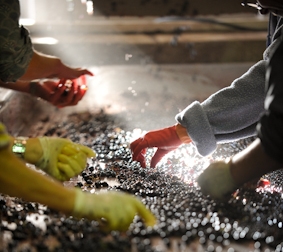 Thibaut and Magali Decoster own and manage two estates in St. Emilion, Clos des Jacobins, which is 8.5 hectares and La Commanderie which is 6 hectares. It's quite a job to be responsible for two separate properties. Especially with the smaller Right Bank with smaller properties, because the owners are responsible for a lot of the labor intensive work.
Thibaut  Decoster shared his views on what is taking place with the 2011 Bordeaux vintage at Clos des Jacobins and La Commanderie.
JL: What will the style of wines be in St. Emilion with both your 2011 Bordeaux wines?
Thibaut Decoster: "2011 will be more Bordeaux Style. It will have great phenolic ripeness and good acidity".
Jeff Leve: What took place during the 2011 Clos des Jacobins growing season?
Thibaut Decoster: "The 2011 Clos des Jacobins growing season started very early in April. The ripening was also early. It was homogenous and completed properly at every stage until véraison at the beginning of July. The change of colour was slow and difficult because of the drought. The échaudage and ripeness was not homogenous. Fortunately we got rain after mid-July. This helped completing véraison. Next, August was not sunny and warm, so we lost time again in ripeness".
Jeff Leve: With the 2011 Clos des Jacobins vintage, did your clay terroir help reduce the effects from the draught?
Thibaut Decoster: "Vineyards on clay soils did not suffer as much as others from the drought and high temperatures because of the coolness and the water kept in these soils".
Jeff Leve: Did the warm weather in Bordeaux during your harvest help?
Thibaut Decoster: "Warm weather is not always an advantage. As soon as temperatures are below 37° C, it's good for the grapes. Above 37° C, ripeness stops and berries start to scald. These problems are limited on clay soils. Moreover, if we were cautious not thinning out the leaves to early this should not have been a disadvantage".
Jeff Leve:  What date did you start your 2011 Bordeaux harvest?
Thibaut Decoster: "We picked the Merlot starting September 19 and finished, September 27.  We harvested the Cabernet Franc beginning September 23 and completed that 4 days later.  Cabernet Sauvignon was completed in one day on September 29".
Jeff Leve: Is this your earliest harvest on record?
Thibaut Decoster: "In 2006 we started the harvest, September 15."
Jeff Leve: With 2011, do you have fears of botrytis?
Thibaut Decoster: "Yes we've had fears of rot because of the September rains just before the harvest.  But before having fears, we anticipated rot by thinning out again leaves and grapes at the end of August. The best way to avoid rot is to clear the vine plants".
Jeff Leve: Did you take advantage of optical sorting?  If so, what part did it play?
Thibaut Decoster: "We use optical sorting. It was very useful for 2011 harvests because grapes were not homogenous in ripeness. So sorting was really the key for making good wine this year. With optical sorting, in 2 hours, you sort better than hundred people in 8 hours. And you do this smoothly for the berries. This year, we fixed our optical sorting system on a platform to drive it from Clos des Jacobins cellars to Chateau La Commanderie ones or vice versa. This allows for very flexible harvests".
Jeff Leve: "What improvements did you make to help with cold prefermentation maceration?
Thibaut Decoster: "We built a cold room in our cellar in order to store grapes for the night and lower their temperature. This allows cold prefermentation maceration".
Jeff Leve: What will you do during the extraction process specifically for the 2011 vinification?
Thibaut Decoster: "We have to be very careful with extraction processes (pumping over and punching down the cap) because the phenolic ripeness level is high and phenolic components are easy to extract this year. If we extract too much, we might break the balance between tannins, alcohol and acidity of the wine. This balance makes the real difference between a very good wine and an average-good wine".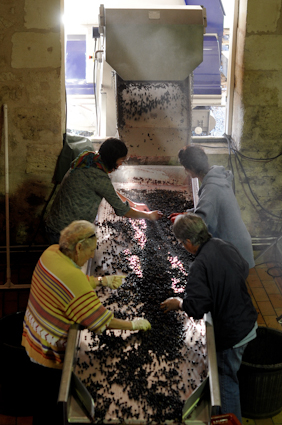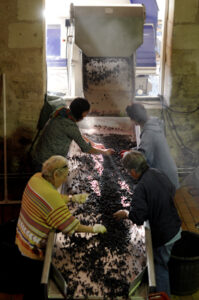 Jeff Leve: With all the extra efforts needed in 2011, is it accurate to say this is a vintage shaped by the winemaker?
Thibaut Decoster: "We can say that 2011 is a "sorting vintage! Moreover, it is also a winemaker vintage. Even if we could consider extraction to be difficult, the hard part is not to extract too much, if we want to keep fruitiness and elegance. The fermentation is going fast and the grapes are very delicate. This could lead to very astringent tastes".
Jeff Leve: What are your potential alcohol levels and pH numbers at both your wineries?
Thibaut Decoster: "The potential alcohol level at Clos des Jacobins: 13.3% with a 3.55 pH. At La Commanderie, the alcohol level is 13.4% and the pH is 3.62".