Sunday, June 27
After my first full night's sleep since leaving home, I felt like a new man. I caught a full 8 hours.  After averaging a scant 3-4 hours a night, I needed it! I was so tired, the sheep were counting me.  Waking up on a lazy Saturday is heaven.  I see endless waves of rolling vineyards from my window.  This is perfect way to start a weekend. 
.
The only thing that could possibly make this even better would be dinner with Alfred Tesseron at Pontet Canet.   It takes 90 minutes to commute from the Right Bank to the Left Bank. Of course that's if you're not driving on the Rocade during traffic.  Rocade is a Bordelaise word for parking lot, if you're driving during peak hours. But as this was Saturday, I made the trip in less than 90 minutes, arriving at Pontet Canet early enough to spend time with Alfred.
.
I was aware something was planned for the night. But Tesseron refused to share any details of his plans for the evening.  He spilled the beans after we said hello, telling me he was hosting a dinner for 300 people including, most of the Masters of Wine, who were holding a conference in Bordeaux during the week.  
.
Tesseron is one of the most personable and fun people in Bordeaux.  He has fun being Alfred.  Dinners at Pontet Canet are never stuffy. In fact, Tesseron delights in hosting blind tastings. Fortunately, the last time Alfred and I had dinner, I rated his 2005 wine better than the 2005 Mouton Rothschild. Mouton is his neighbor, located just across the street.
.
During the Masters of Wine dinner, Alfred poured three wines blind. Each guest was given a personalized card with their name printed on. We were all asked to identify the three wines by name, appellation and vintage.  I managed a perfect score. I got all three wrong. But so did 99.9% of the room. As they were Masters of Wine, I did not feel too bad. 88 Mouton, 86 Latour and 85 Lafite were the three blind wines. At least I thought one was a Pauillac.
.
Dinners in Bordeaux start late and end even later. Another night of hitting the hay at 3am was not in my original plans.  But when in Rome….
It's not the fall that's the problem. It's the landing.  Using that analogy, going to be at 3am is not the issue. Waking up at 7am, because you have plans is the problem. But when you have plans to visit what the French Wine Press unanimously called, "The finest wine cellar in France", it is worth getting out of bed a few hours earlier than you anticipated. Trust me, this cellar would be amazing if only for the Bordeaux wines, but he has a lot more than Bordeaux in it!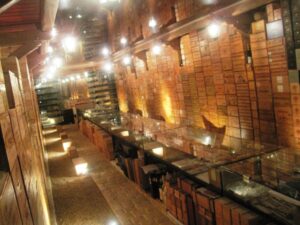 The Chasseiul cellars are amazing! Forget hundreds of perfect cases of Bordeaux wine like Petrus, Lafleur, Le Pin, all the First Growths and more. There was a bottle of 1785 Lafite that belonged to Napolean. 1811 Chateau d'Yquem, 1900 Margaux and more! The cellar was stocked with more than Bordeaux, they have countless bottles of Romanee Conti, Guigal, Screaming Eagle and more. The cellar will eventually be donated to a museum.  Until then, I'm looking forward to being invited back.
It is close to 1 am. Tomorrow is my first focused day of tasting.  Beychevelle, Grand Puy Lacoste, Lunch at Leoville Las Cases, Latour and Cos D'Estournel, plus dinner at La Tupina with 90 Haut Brion and 90 Cheval Blanc.