Tuesday, June 29
Being in Bordeaux, you need to be able to change as well. While most visits are fixed well in advance, every now and then, you have to be able to switch plans, which is how I ended up having lunch with "The Barry White" of Bordeaux.  If Leoville Las Cases Jean Hubert Delon gave up wine making, it wouldn't be the raven knocking on his door, it would a famous Hollywood agent offering him a career a voice-over artist or fronting a Barry White cover band. 
Jean-Hubert Delon is one of the last old-school, Bordeaux proprietors.  Leoville Las Cases has been in his family for close to 100 years.  Delon, retains traditional manners and is semi reclusive.  People who do not know him, might have a difficult -time understanding him, or his sense of humor. But we've been friends for over 5 years and we always have a blast over lunch. Delon's lunch's are famous! It is one of the most coveted invitations in Bordeaux. Depending on the amount of time he or his guests have open for the day, lunch routinely last's 5,6,7,8 hours.  When good company with shared passion's for life gets involved, along with an open cellar filled with many of the great wines from Bordeaux, it's easy to enjoy a proper lunch of leisure for 6-8 hours. Lunch at any propert is always interesting for the unique things they produce.  Las Cases makes 2 different vinegars, Pontensac and Leoville Las Cases.  Delon was right.  Just like the Bordeaux wine he makes, Las Cases was a much stronger vinegar!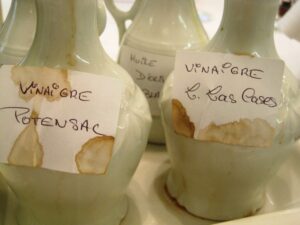 Delon has fun pouring wines blind. Perhaps it's a right of passage. If you get a perfect, you win the rights to come back. If not, as there's no more guillotines in France, what's the worse that can happen?  Utter embarrassment for life and a walk down the hall of shame?   Regardless of the tragedy that could befall me, I was willing.  For those of you that know me well, I do not drink many white wines. Most of my consumption is red.  In the house of Delon, saying white is not enough.  I stepped up the plate ready to swing.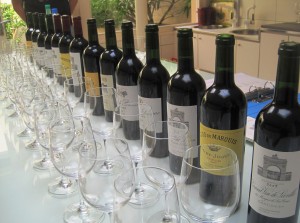 The first pitch is thrown. "White Burgundy".  In his deep, low voice that is close to a growl. He says "Yes". I am the plate again looking for the curve ball, (vintage) "2002".  The Growl once again announces "Yes"
The last pitch is on the way, I said Batard Montrachet. He said "No, but close". I was not crestfallen.  For me, I was already thrilled, because I have so little experience with Burgundy.   I decided to swing for the fences announcing Corton Charlemagne.  Winner, winner, winner!  Call me Kid Charlemagne!
I was much more at ease with the next blind flight of mystery wines. My first thought was 89 Bordeaux and Delon said no. When I next said 90, he offered a smile of approval.  I missed the first wine. But for #2, I said 90 Clos de Marquis and for the remaining wine, I confidentially declared 90 Leoville Las Cases! While there were no photographers, bands playing or other forms of acknowledgment, I did not care. I had run the Gauntlet and came out better for it. The "please come again" from Mr. Delon was more than enough of a reward. I will be taking him up on his offer.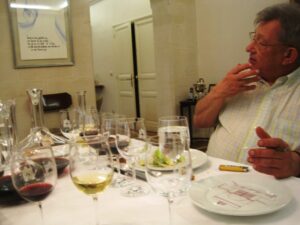 Taking Delon up on his offer is important, because Leoville Las Cases is a reference point Bordeaux. Las Cases is a large scaled wine that behave more like a Pauillac. It shares property lines with Latour which explains its power, tannin, structure, power and elegance. Similar to Latour, it requires decades of time before it's fully developed. In some vintages, the wine can be compelling! 1990, 1996, 2000, 2005 and now, 2009.
2009 Leoville Las Cases is inky in color with bright purple accents. Scents of boysenberry, tobacco, earth, cassis, cedar, oak and hints of dark berry jam are easy to find in the perfume. There are no hard edges to this powerful, full-bodied, concentrated, tannic Bordeaux wine.  While this vintage is more tannic than any previous vintage of Las Cases, the tannins are ripe, round and soft.  With ample structure to age for decades, the ends with fresh black and blue fruit, kirsch, licorice and chocolate flavors that fill your mouth. The wine is one of the starts of the vintage. 98 Pts
Grand Puy Lacoste,  Leoville Poyferee, Pichon Baron and an endless array of St. Julien's tasted and rated in the next Wine Cellar Insider.