Choices…
Life often comes down to the choices we make. Some decisions have major ramifications that transcend the actions being considered. Others are complicated, requiring meditative analysis. Some are immediate, like the one I was facing due to a serious lack of sleep. When suffering from jet lag, there are choices. Ambien, Lunesta, Rozerem and Melatonin are good clearly better options than tossing and turning.
However, when the first bird starts chirping next to your window and inviting all his friends to join in until they become candidates for the largest all bird orchestra, according to Guinness, the situation is hopeless.
Take today for example. This particular bird might have started out as a solo act. But being a star performer, the show quickly morphed into a duo, trio, quartet, quintet, and on and on, until they were large enough to be the opening act for the Philharmonic. With the ever increasing volume level of chirps coupled with the fact that I needed to get out of bed in an hour or two anyway, the drugs of choice were off the menu. Which is how I found myself day dreaming instead of dreaming at five in the morning.
http://www.youtube.com/watch?v=aRnUpjEV8L0
Yesterday seems like a good place to start. Knowing what happened makes it easier to share. If you haven't been to Bordeaux yet, the vineyard areas are easy to navigate. In the Left Bank, most chateaux are located off the same long, winding stretch of highway, the D2. If you're driving from the airport, the D2 runs south to north. After passing through some of the Haut Medoc areas, the first major appellation you appearing on the D2 is Margaux.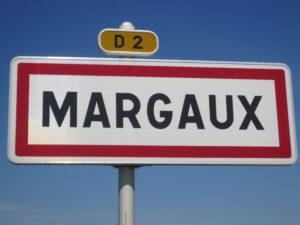 If you keep driving, you'll arrive at St. Julien, Pauillac and finally St. Estephe. As Margaux was geographically desirable, (this is a big thing if you live in Los Angeles) it seemed reasonable to start this year's tasting schedule at Chateau Margaux to taste and have lunch with the always dapper and welcoming Paul Pontallier, who has been at Margaux since 1983.
All chateaux are known for their wines. Some properties share identities with the director. They set the direction and tone of the property. Their face is what people identify with. It's difficult to think of Margaux without considering Paul.
Arriving precisely at 12:30, we exchanged pleasantries and within moments, began swirling, sniffing, tasting and discussing the much talked about 2009 vintage at Chateau Margaux. The wine already offers a complex nose of incense, cassis, blackberry, espresso, spice and floral aromatics. On the palate, this Bordeaux wine is concentrated with a myriad of dark berry flavors along with opulent textures and velvet sensations. The wine is mouth coating, but not heavy. Interestingly, this wine has a higher level of tannins than 2005. In fact, according to Paul, this is the most tannic vintage of Margaux ever produced! But the tannins are so ripe, there is no tannic sensation. There is not a hard edge to be found in this wine. Sadly, it's going to be easier to locate faults with this potentially perfect wine than it will be to find the money to buy it.
Paul remarked, 2009 is a unique vintage for Margaux. He preferred not to say 2009 is the finest vintage he's produced at the property. He said, "It all comes down to a matter of style". He added, "2009 is at the same level as 2000 and 2005. Those vintages belong in a class of their own. Not far behind, you have 2003, 1996 and 1990. That's a good thing because we shared a perfect bottle of 1990 Margaux for lunch!
2008 Margaux tasted on its own, is an outstanding wine. It was at a distinct disadvantage being tasted after the 2009. It was darker in flavor, offering ample Margaux charm, but the tannins were almost rustic in comparison.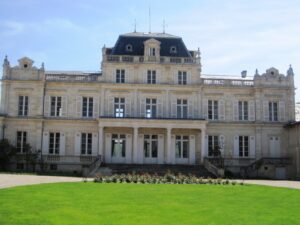 After lunch, I made it over to Chateau Giscours. This was my first visit to this property. I spent the afternoon with Alexander Van Beek tasting multiple vintages of Giscours and du Terte. 2009 Giscours is the finest wine I've ever tasted from this property. Van Beek has turned things around at this property. For the first time, he performed a cold maceration. They also added additional fermentation vats, allowing the property to vinify each parcel according to its needs. These efforts resulted in a cleaner, more complex and deeper wine.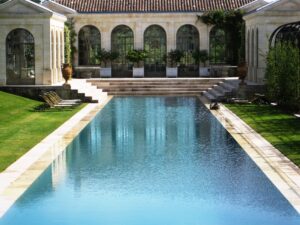 Du Terte was next on the list. I followed Alexander over to the other property he manages in Margaux. This was my visit to this stunningly beautiful estate, located not far from Brane Cantenac or Kirwan. We tasted in the library room filled with empty bottles from the 17th, 18th and 19th centuries. Du Tertre in 09 is much more interesting than previous vintages. But it's not at the level of quality Giscours currently expresses.
When I booked this trip, I wrote Philippe Dhalluin asking if it would be possible to have an early, casual dinner the night I arrived in Bordeaux. Philippe promptly replied, "At Mouton, we do not do casual dinners. You are invited for a proper meal at Mouton Rothschild". How could anyone turn that down? I know I couldn't!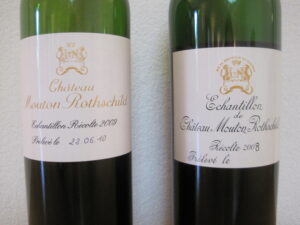 Before dinner, we tasted through the entire lineup of 2008 & 2009 Rothschild wines. 2009 is an outstanding vintage for these properties. At Mouton, this opaque colored, cassis and spice filled, opulent, flamboyantly styled Bordeaux wine is better than every vintage since 1986, except for 2006. Philippe Dhalluin does not agree. He thinks 2009 is better. I look forward to comparing the wines to find out for myself one day. 2009 was strong for the entire Rothschild stable. Clerc Milon and D'Armahillac are the best wines I've tasted from either of those properties!
Today is fully booked. I'll be tasting the entire lineup of wines that Stephan Derenoncourt works with, waiting for Godot, or is that Godeau:-0) and making my way to Bordeaux for VinExpo.
More notes and stories to follow as soon as I find the time to type.