Clos Fourtet, Clos St. Martin, Troplong Mondot and L'Ami Louis in Bordeaux!
Thursday June 19
This morning is a picture perfect day in the vineyards. The sun is shining and it is already hot at 9 in the morning. Tomorrow, and the next day it is going to get even better. What could be better right now that spending the day in St. Emilion wine tasting?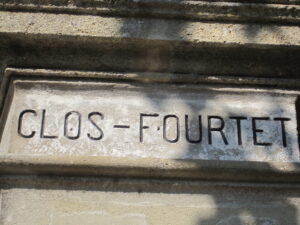 Clos Fourtet is located outside the walls of St. Emilion and shares underground caves with Beausejour Becot produced a stunning 2003. In 2005 they released a wine Parker scored 98 Pts putting them at the top of the pack in St. Emilion.  They were the first stop on a busy day of tasting.
A new winery worth watching out for in St. Emilion has changed its name to Chateau Louis. Yes, that is the Louis in L'Ami Louis! Formerly known as Roc de Fombrauge, they are doing extensive work in the vineyards to produce very good wine from their Clay/Limestone soils. Planted with 90% Merlot and 10%Cabernet Franc, organically farmed and with assistance from Stephane Derenencourt, their 07 showed promise. I expect future vintages will continue to improve.
Clos St. Martin might be tiny in size, but it's truly at the top of the formidable St. Emilion pyramid . With the smallest production of any classified Bordeaux, a whopping 600 cases, the wine is impossible to find after release. That is a problem because this is a wine worth seeking out.  Prior to last November, I had not tasted this Bordeaux wine. Knowing nothing about it, I was blown away by the quality of the 2005 along with the unique characteristics and of course the beguiling charm of Sophie Fourcade.  I freely admit, I was not aware of Clos St. Martin prior to last November, I knew the name, but I had not yet tasted the wines.  From the first sniff, swirl and sip I was hooked!  In fact, I bought some that day. 
After my birthday lunch was over, Sophie Fourcade invited me to her home for a vertical of Clos St. Martin. For the first time in years I was exhausted and could not eat another bite or drink another sip. To make up for my obvious lack of stamina, Sophie graciously invited me to lunch and to an extensive vertical of Clos St. Martin. Today, I was ready to take her up on her gracious invitation.
Along with Clos St. Martin, Sophie also produces Grandes Murailles and Cote de Baleau, which is where the lunch and tasting was held. Sophie also invited Alain Vauthier from Ausone, Jeffrey Davies and 3 other guests.
The wines were set out on a table and guests were allowed to taste in any order they chose. I tasted from old to young.
1990 Clos St. Martin was light ruby with bricking. The nose of strawberry and spice accompanied a fully mature wine which finished with a hint of fruit. The wine was fading. 84 Pts
1996 Clos St. Martin was light in color and finished with a hint of greeness. 85 Pts
1998 Clos St. Martin had a much better, more complex nose with minerals, spice box and black fruit aromatics. The wine had a plush entry, but lacked the depth and concentration of a great vintage. With 98, you could see a huge jump in style and quality. This is a good time to start drinking the wine. 90 Pts
1999 Clos St. Martin sported a light color which was a sign of the wines maturity level. Fully evolved with aromas of herbs and fresh red fruit, there was some dryness in the finish. I would drink this sooner than later. 88 Pts
2000 Clos St. Martin wakes you up and says hello with a perfume that takes over your senses. You are blasted with blackberry, truffle, oak and creamy raspberry aromatics. Very, opulent and rich on the palate. Concentrated and full bodied. Intense concentration and a mouth feel that is out of this world. The sexy finish leaves with you licorice covered black fruit that really stays in your mouth. 95 Pts
2001 Clos St. Martin is not that far off from the stellar 2000! The exotic perfume pops from the glass with earthy, spicy, soy and back fruit aromas. Very, very lush and concentrated on the palate. I love this wine. I just wish I could find some…. 93Pts
2002 Clos St. Martin was light on the nose, offering some ripeness with a slightly dry finish. 87 Pts
2003 Clos St. Martin was light in color and seemed already mature. 86 Pts
2004 Clos St. Martin is another sublime vintage for the Chateau. Very complex aromatics with a silky entry and ripe, plummy finish. 91 Pts
2005 Clos St. Martin is a rock star! Few wines are this good. This wine has it all. Incredible concentration of ripe fruit, a perfume that knocks you out and an incredible, velvety, mouth feel that reaches into every nook and cranny of your palate. This wine defines decadence. The dark chocolate covered blackberry, licorice tinged finish was further complicated with a hint of blueberry and seems to go forever. This is a treat for the senses and the intellect. For me, it is one the top wines of the vintage. Bravo!!! 97 Pts
1964 Clos St. Martin was served last. We tasted the wine after the lunch had concluded. After opening and tasting the wine, Sophie said, "this was not a perfect bottle." The wine was light and sadly had moved past its prime. So what? I was tasting a 44 year old bottle of Clos St. Martin with the owner. Life does not get better for a Bordeaux lover.
Truly, this was an amazing day I will not forget. Great wine, fun people, terrific cuisine and in Bordeaux. What more could anyone ask for?
After a short nap, change of clothes and a quick shower, not in that order of course, I made my way down the hill to have dinner with Christine Valette & Xavier and to taste some Troplong Mondot.