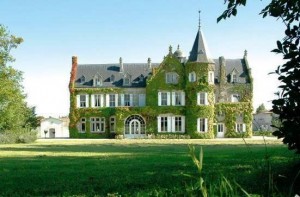 Chateau Lascombes Margaux Second Growth, Bordeaux wine producer profile, with wine tasting notes, wine ratings, a history of the property, information on wine making and terroir, along with wine tasting reviews. If you want to read about other important, Bordeaux Chateaux: Links to all Bordeaux Wine Producer Profiles
Chateau Lascombes was named after one of its previous owners how possessed the estate in the 17th century,Antoine, chevalier de Lascombes. Born in 1625, Lascombes inherited the estate from the Durfort de Duras family. The Durfort de Duras family was established in Margaux as they had their own eponymous estate, Chateau Durfort, which later became Durfort Vivens. Lascombes was passed on through inheritance by Jean-François and Anne de Lascombes. Jean-François de Lascombes was a councillor at the parlement of Bordeaux, king's procureur at the Admiralty and a member of the Académie de Bordeaux. Lascombes remained the property of the Lascombes family for three generations. The estate was known as Domaine de Lascombes until 1860.
.
Through numerous sales and inheritance issues, Lascombes passed through a myriad of owners, until 1926 when it became part of the Ginestet family holdings. At the time, they were the owners of Château Margaux. During the later stages of World War II, Lascombes was used by Allied forces as an army headquarters.
In 1952, Château Lascombes was purchased by a group of investors headed by Alexis Lichine. The group included David Rockefeller. Shortly before the sale of the Medoc property took place, Lichine also purchased another Margaux estate, Château Prieure Lichine.  In 1971 the company was taken over by the British brewing company Bass Charrington. This is brought the Lichine era in Bordeaux to an end.
.
Following the acquisition by the Bass Group, Bordeaux winemaker René Vanatelle was brought on board. Vanatelle determined did that only 50 hectares of their planted acreage was able to produce wines of Second Growth quality. The lesser quality terroir was used to produce their second wine, Segonnes. In 1997, prior to his retirement, Vanatelle introduced a new second wine Chevalier de Lascombes.
In 2001, Lascombes was purchased for $67 million by US-based Colony Capital.   The new owners invested heavily in modernizing the Left Bank estate of Chateau Lascombes, which had been considered an under performer in relation to its classification. Colony Capitol offered the property for sale in 2007. The wine being made today is a major step up in quality from what the Chateau released in the early 90's, 80's and 70's etc.
In 2008, it was reported that Lascombes had rented vineyards belonging to Château Martinens, a former Cru Bourgeois, which had 28 hectares (69 acres) of vineyards within AOC Margaux plus 25 hectares (62 acres) of Haut-Medoc AOC.  Classified growths are allowed to expand their vineyard holdings without losing their classification, but only with vineyards of the same appellation as their own, which makes it uncertain to which purpose the Haut-Medoc vineyards would be put.
The The large, 117 hectare vineyard of Chateau Lascombes is planted with 50% Merlot, 45% Cabernet Sauvignon and 5% Petit Verdot. On average, the vines are 35 years of age. The vine density of the vineyard varies from 8,000 to 10,000 vines per hectare. The terroir is gravel, clay and sand. Chateau Lascombes is vinified in a combination of wood and stainless steel vats. Over the past few years, the amount of new oak has been reduced. The wine is now being aged in 80% new French oak for 18 months. On average, the wines are aged in 80% new, French oak. There is a second wine, Chevalier de Lascombes. On average, the château annually produces 20,000 cases of Chateau Lascombes each year.
 
This is perhaps the most modern styled wine of Margaux today. It's rich, fleshy, ripe, occasionally jammy and with too much much oak, when tasted young. With time, all those elements should come together and turn this into an outstanding Bordeaux wine. While some consumers feel the wines made at Lascombes are not what they are seeking in a wine, all they need to do is try any of the vintages before Colony Capitol invested in the estate.
July 9, 2011, Chateau Lascombes, Margaux sold for almost $300,000,000! The purchaser, La Mutuelle, "MACSF" (Mutuelle d assurance des services de sante francais) an insurance company is the largest insurer of health professionals like doctors, nurses and others working in France.
Wine Tasting Notes
Displaying 10 vintages | 53656 Views Sorted by vintage
2012 Château Lascombes

Oak, earth and cassis notes with an oaky licorice and blackberry finish. 89-91 Pts

90

points - Tasted

Apr 25, 2013

865 Views

2011 Château Lascombes

From a blend of 50% Merlot, 45% Cabernet Sauvignon and 5% Petit Verdot, the wine sports deep ruby color. Coffee, bitter chocolate, boysenberry jam and smoke create the perfume. Full-bodied, rich, ripe and round, the wine finishes with chocolate-covered espresso bean and jammy black cherry. 89-91 Pts

91

points - Tasted

Apr 19, 2012

2536 Views

2010 Château Lascombes

Espresso bean, coffee, licorice, chocolate and jammy blackberries create the aromatics. On the palate, the wine is lush, opulent and rich, there is a touch of heat in the powerful, ripe, oaky finish.

92

points - Tasted

Feb 13, 2013

2731 Views

Lascombes was one of the few estates in the Medoc to use more Merlot in their blend than they included in 2009. With a blend of 55% Merlot, 40% Cabernet Sauvignon and 5% Petit Verdot, the wine is deep ruby with blue, purple accents. On the nose, violets, oak, cassis and forest floor aromas are easy to find. Concentrated with ripe fruit, cassis, tannin and wood, this plush textured, tannic wine, finishes with chocolate, cassis and coffee flavors. 90-93 Pts.

92

points - Tasted

Apr 20, 2011

2780 Views

2009 Château Lascombes

With noticeable oak, licorice, jam, smoke and ripe, black and blue fruits, this rich, concentrated, supple wine, produced from a blend of 48% Cabernet Sauvignon, 48% Merlot and 4% Petit Verdot ends with a rich, chocolate coated, blackberry, coffee and licorice finish. I like the wine. But I'd like to see a little less oak.

92

points - Tasted

Feb 1, 2012

5402 Views

2008 Château Lascombes

Oak, earth, blackberry, cassis, fennel and pepper open to a plush, round, wine with an opulent, forward, personality. The percentage of new oak has been toned down, which is a good thing

92

points - Tasted

Jan 28, 2011

8222 Views

08 Château Lascombes is deeply colored. Oak, blackberry, cassis, and chocolate covered fruit start off the aromatics. The tannins are sweet and ripe. The wine finishes with a mouthful of ripe fruit with a kiss of oak. 90-92 Pts

91

points - Tasted

Aug 31, 2009

7948 Views

2005 Château Lascombes

Pungent aromas of vanilla, blackberry, blueberry, licorice, black cherry and espresso. Thick, rich, dense, lush and polished, this powerful, fruit filled Margaux wine demands up to a decade to shed its oak dominated personality.

92

points - Tasted

Jul 15, 2011

10819 Views

Rich, ripe and opulent. Filed with sweet, jammy black fruit, coffee and vanilla notes. As is the case for numerous Chateau in 2005, this is the finest Lascombes produced in modern times. While oaky at this stage, with this much concentration of ripe fruit, things should come togetheranf the oak will integrate for this wine with time.

93

points - Tasted

Jan 20, 2008

3507 Views

2003 Château Lascombes

Oak, vanilla, smoke, licorice, black cherry and coffee bean notes opened to a plush, fat, lush wine that ended with black cherry jam and more oak sensations. This style will please some tasters more than others.

90

points - Tasted

Mar 27, 2013

2664 Views

2000 Château Lascombes

Tasting older than its true age, this medium bodied, black cherry tobacco scented, earthy, soft wine is in its prime time, drinking window. The oak is not obtrusive. This is not a wine for long term again. No hurry to drink it, but I'd finish any bottles over the next 7-10 years.

91

points - Tasted

Sep 11, 2013

2187 Views

1989 Château Lascombes

Earth, steel, spice, tobacco, and olives are easy to find in the perfume. The wine finishes with a light, strawberry note. Medium bodied, this wine reached full maturity years ago. Lascombes is another outstanding property currently making much better wine today than they did in `89.

84

points - Tasted

Jun 20, 2009

2576 Views

1928 Château Lascombes

The brick colored wine was all truffles, forrest, earthy, leather and spice with hints of dark fruit. The elegant textures expressed the unique, syrupy patina of age. It is hard to imagine this wine is almost 80 years old.

91

points - Tasted

Dec 1, 2007

1419 Views