2011 Bordeaux Wine Barrel Tasting Notes
,
Feature Articles
— By
Jeff Leve
on April 6, 2012 at 11:22 pm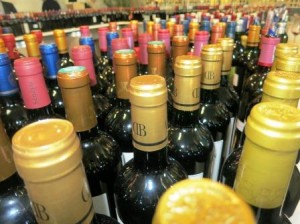 2011 St. Estephe Bordeaux wine tasting notes, ratings and reviews for the appellation.  This is a guide to the best wines of the appellation in the 2011 Bordeaux vintage.
2011  St. Estephe was a complicated vintage. The water-retentive, clay terroir helped the vines in this drought-plagued vintage. Unfortunately, the severe September hail storm caused damage to certain vineyards. That forced some chateaux to harvest earlier than they had planned as fears of rot development quickly became a real possibility. Extensive sorting was required in the vineyards and cellars for the production of 2011 St. Estephe wine. Due to hail damage that affected some sectors more than others, at some estates, blends were altered this year as well. The assemblage depended on which variety suffered the most. Damage did not take place equally in every vineyard or parcel. Some chateaux were hit harder than others in the 2011 St. Estephe hail storm. But it helped shape the style, character and quality of the 2011 St. Estephe vintage.
For detailed coverage with interviews from numerous chateaux on the weather and harvest conditions shaping the 2011 Bordeaux vintage: 2011 Bordeaux Harvest Reports, News, Interviews and Photographs
2011 Le Boscq – 55% Cabernet Sauvignon, 40% Merlot and 5% Petit Verdot, the wine offers earth, cedar and  spicy cassis, medium body and a bright cranberry and cassis finish. 87-88 Pts
2011 Calon Segur From 78% Merlot, 20% Cabernet Sauvignon and 2% Petit Verdot, this powerful, tannic, firm, bright, cassis, spice and blackberry filled wine demands a lot of time in the cellar. 90-92 Pts
2011 Cos D'Estournel Blending 65% Cabernet Sauvignon with 33% Merlot and a dollop of Petit Verdot, the wine represents 36% of the production. To achieve the highest level of quality for the Grand Vin, the estate reserved more fruit for Pagodes de Cos than usual. This is the smallest amount of Cos produced since 1991. With a nose of Asian spice, black cherry liqueur, smoke, gravel, earth, truffle, vanilla and fennel, this refined, pure, fresh cassis- filled wine ends with clean, spicy cassis and blackberry in the finish. 93-95 Pts
2011 Les Pagodes de Cos is made from 70% Cabernet Sauvignon and 30% Merlot. Earth, spice and black cherry scents, medium body and a fresh plum and cherry finish are found in this wine. 89-90 Pts
2011 Cos Blanc – Blended from 67% Sauvignon Blanc and 33% Semillon, the production recently increased to 500 cases, which is about double the previous level of production. With a cloudy appearance, this unfiltered wine opens with lemon, lime, grapefruit and stone aromas. Fresh citrus, pineapple, nut and apple are found in the long finish. 92-94 Pts
2011 Cos Labory – Lead pencil, smoke, stone and black cherry scents, round tannins and a fresh, black cherry finish.  89-91 Pts
2011 Le Crock  – A blend of 4% Merlot, 37% Cabernet Sauvignon and a whopping 17% Petit Verdot set a record for the estate for the inclusion of Petit Verdot. On average, the blend contains closer to 5%. The wine reached 13.5% alcohol. This is due to the September hail storm that slammed into Le Crock damaging a large portion of the Cabernet Sauvignon and Merlot found in the vineyard. Deep in color with a spicy, earth and red berry-dominated nose, the wine is tannic, fresh, ripe and strong, ending with sweet, round cassis. 89-90 Pts
2011 Haut Marbuzet Blending 50% Merlot, 40% Cabernet Sauvignon, 5% Cabernet Franc and 5% Petit Verdot, the wine reached 13.4% alcohol.  Aged in 100% new oak for 12 months before being moved to one year-old barrels to finish the aging. Only a small percentage of the vines were damaged by the September hail storms.  They were forced to pick some of their Cabernet Sauvignon vines a little earlier than they would have liked for fear of rot. Ruby in color with oak, clay, earth and wood in the nose. Round, sweet dark berries in the mouth, but there is a woody dry sensation in the finish. This is the 50th vintage for the owner. 85-88 Pts
2011 Lafon Rochet – Deep in color with coffee, smoke and black cherry scents. Ripe tannins and sweet, ripe black cherry and plums are found in the round finish. 90-92 Pts
2011 Lilian Ladouys – From an assemblage containing one of the highest concentrations of Merlot in the appellation at 70%. The remainder is made from Cabernet Sauvignon with deep color and a perfume of licorice, coffee and black cherry. This medium-bodied wine has fresh cassis in the finish. 87-89 Pts
2011 Meyney – From a blend of 55% Merlot, 30% Cabernet Sauvignon and 15% Petit Verdot. The wine reached 13.7% alcohol. The wine will be aged in 35% new oak.  Damage to various degrees took place to almost 80% of the vineyards due to the September hail storm. Coffee, blackberry and earthy aromatics, medium bodied with ripe tannins, cassis and spicy black cherry in the finish. 87-89 Pts
2011 Montrose From a blend of 63% Cabernet Sauvignon, 22% Merlot, 12% Cabernet Franc and 3% Petit Verdot. 100% of the vines were affected to some extent by the September hail storm. As the hail was mostly small stones, only 2% of the harvest was lost. Yields were low due to the problems caused by sunburn and a lack of water with the Cabernet Sauvignon as well as the loss suffered from the hail storm. Deep in color, earth, cedar wood, mineral, clay, crème de cassis scents lead to a full-bodied, concentrated, masculine, tannic, brawny wine filled with ripe cassis and bitter chocolate. 91-93 Pts
2010 Le Dame de Montrose – 72% Merlot and 28% Cabernet Sauvignon produce a wine that starts with earth, stone and cassis scents. Medium-bodied, soft-textured and round, the wine ends with a creamy blackberry finish. There is a hint of green in the end notes. 88-89 Pts
2011 Ormes de Pez From the same technical team as Chateau Lynch Bages in Pauillac, blending 50% Cabernet Sauvignon, 41% Merlot, 7% Cabernet Franc ad 2% Petit Verdot. The wine will be aged in 45% new oak.  45 hectoliters per hectare, down about 5% from 2010.  Earth, licorice, blackberry, oak and mineral essences.  Medium/full-bodied and fresh with black raspberry and bitter chocolate notes in the finish. 88-89 Pts
2011 de Pez Cassis, wood and earth. Medium-bodied with a soft, earthy, bright cassis finish. 87-89 Pts
2011 Phelan Segur 55% Cabernet Sauvignon and 45% Merlot, which is the same as the plantings found in vineyards, produce the blend. The wine reached 13.5% alcohol. 15% of the vineyards were damaged by the September hail storms. Fortunately for the property, most of the damage occurred to vineyards which were not planted. The worst of the damage was to the Merlot. Yields were down about 10% from the previous vintage. Oak, leaf, pepper, mineral and cassis aromas open to a medium-bodied, round, chocolate- and cassis-filled finish. 89-91 Pts
2011 Tronquoy Lalande – 47% Cabernet Sauvignon, 42% Merlot and 11% Petit Verdot make up this blend, which represents 56% of the production.  Blackberry, jam, earth and black cherry scents with a medium-bodied, bright, cassis-filled finish. 87-89 Pts