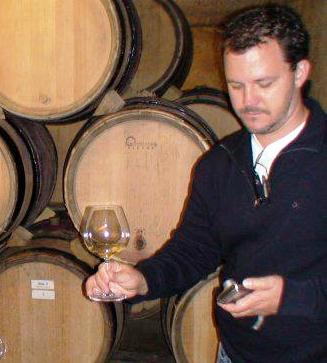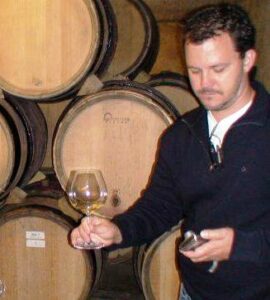 Written by Christopher Lavin
Planted in 1945 by winemaker & owner Juan Carlos Lopez de Lacalle's grandfather, the small 6-acre Tempranillo vineyard, Viña El Pisón, is nestled at the foothills of the Sierra Cantabria mountain range, not far from the medieval village of Laguardia in Rioja Alavesa.  Located at one of the highest elevation winemaking regions in Spain and protected by a series of natural rock walls, Viña El Pisón lies in nutrient-poor soils that are made predominantly of calcaric clay and small pebbles.  The wine that hails from this vineyard reflects the expertise of Juan Carlo' ancestors and the passion of those who want to keep the spirit of the legendary vineyard alive.
2009 – A perfect year
.
The year's contrasting weather of extreme rainfall and temperature spikes ended in a harvest leading to wines that contain fresh fruit of crystalline definition, subtle tannins, and smooth texture.  Opaque, dark, almost violet color with definite staining of the tears; the nose is youthful, vibrant dark fruit or blackberry, boysenberry, crushed rocks and graphite; palate mirrors the nose with black fruits and wonderful density; moderate plus tannins and moderate plus acid and an amazingly long rich finish.
.
2008 – variable year with hot/cold – more delicate
.
A quite condensed harvest produced grapes that had the balanced acidity and great aromatic potential needed to craft elegant, fresh, and aromatic wines.  Opaque, dark red color with a brighter nose (crisper) than the 2009 with a hint of cool climate spice (maybe a little bit of green pepper); very elegant with beautifully integrated tannins and an extremely long finish.
.
2007 – difficult year – cold summer
.
Abundant rainfall in the spring, and a dry and cool summer resulted in great structure, soft tannins and a very long finish.  The spring rainfall resulted in a crop loss of 20% during flowering.  This wine is much denser than the 2008, with more ripeness and a hint of sweet bell peppers, with a more round and supple mid-palate and a long, almost spicy finish.  Tannins on this needs a few years to resolve themselves.  Enormous potential.
2006 – cold vintage
.
Frequent and heavy rainfall was managed so that the final results were wines of delicate aromatic expressiveness and well-balanced structure.  Classic cool vintage characteristics…Sharper, more defined nose than the prior wines, with great structure and power and a definitive perfume or red fruits and flowers.  LONG!!!
2004 – superb
.
A cold spring and wet August were managed well, resulting in well-balanced and expressive wines of intense color.  Stunning would be the word for this wine ~ kept on changing over the course of the meal ~ still tightly wound with black and red fruits, amazing structure, powerful tannins, and the length just would quit.  Biggest wine on the table ~ although with time, I think the 2009 may very well come close to this…
.
1998 – superb
.
A delayed harvest ended in fine, elegant, and very aromatic wines.  For me, the most exciting wine for this tasting as I this was the first in the lineup that had resolved its baby-fat.  Really exciting and intoxicating perfume of red and black fruits, hints of graphite, chocolate, vanilla and other baking spices; elegant, almost Musigny-like.  This is to me, a true reflection of what this amazing vineyard can and will provide for the patient.
.
Written by Christopher Lavin