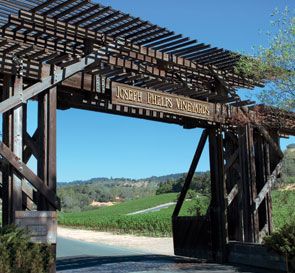 Joseph Phelps Vineyards, Napa Valley California Cabernet Sauvignon, Merlot, Syrah, Chardonnay wine producer profile, wine tasting notes, wine, and food pairing tips, best vintages, history of the property, information on their wine-making techniques, terroir and soil. You can also read about the Grapes used for California wine and learn about the extensive History of Napa Valley, California Wines
Joseph Phelps History, Overview
Joseph Phelps Vineyards was born when Joseph Phelps moved to California from Colorado. His initial forays into making wine in the Napa Valley started with the old Souverain winery. Souverain is known today as the Rutherford Hill winery. His next efforts took place again under the Souverain banner, this time it was in Sonoma. Phelps earned his fortune as a contractor in Colorado. This gave him the ability to turn the 600-acre Connolly cattle ranch he purchased in 1973 into a working vineyard. That ranch is what we know of today as Joseph Phelps Vineyards.
He finished construction on the Joseph Phelps Vineyards winery the following year. 1974 also saw the debut vintage for Phelps Insignia, although the wine was kept in barrel and bottle until 1978. Sadly, Joseph Phelps died in 2015 at the age of 87. Joseph Phelps Remembered Phelps Insignia remains one of the most popular wines in all of California, due to its great style and ability to age and develop for decades. In fact, as of 2015, vintages from the 1970s are still showing well today.
Joseph Phelps also deserves credit for being one of the first growers to produce vineyard-designated wines. In 1974, he was already producing wine from grapes planted in the famous Eisele vineyard. His most famous wine, Insignia was also born that same year. In fact, fruit from the Eisele vineyard formed the backbone for Joseph Phelps Insignia. Today, Joseph Phelps Insignia remains the company's best wine and its namesake.
In June, 2022, LVMH purchased Joseph Phelps for a rumored price of 450 million dollars.
Joseph Phelps Vineyards, Wines, Winemaking
The vines of Joseph Phelps Vineyards are planted in a myriad of different areas including Stags Leap, Rutherford, Spring Valley Ranch, Los Rocas, Barbiza, Backus, Banca Dorada, Yountville, Carneros, and Suscol. At Joseph Phelps Vineyards, they believe in and practice organic, natural, sustainable farming techniques.
In fact, they embrace biodynamic farming when possible. During the early years of the production of Phelps Insignia, the wine was vinified and aged in large, traditional, wood tanks. Today, the wine is now aged in 100% new, French oak barrels for up to 24 months.
Joseph Phelps Vineyards' flagship wine remains Insignia, This proprietary blend remains the envy of many California winemakers. Like the top Bordeaux chateau, they are able to produce high-quality wines on a consistent basis, even with such a massive volume of wine. In some vintages close to 18,000 cases of Joseph Phelps Vineyards Insignia are produced every year.
Following Insignia on the quality parade is the Joseph Phelps Vineyards Backus Vineyards wine. It's produced from 100% Cabernet Sauvignon from vines planted on the steep hillside slopes located in the Oakville Corridor. If you're in their vineyards, you can see the vineyards of Screaming Eagle and Rudd Estate just below.
Serving and Decanting Joseph Phelps wines with Wine, Food, Pairing Tips
Joseph Phelps Vineyards are best served at 15.5 degrees Celsius, 60 degrees Fahrenheit. The cool, almost cellar temperature gives the wine more freshness and lift. Young vintages of their red wine can be decanted for 1-3 hours, depending on the character of the vintage. This allows the wine to soften and open its perfume. Older vintages might need very little decanting, just enough to remove the sediment.
The red wine of Joseph Phelps Vineyards is best served with all types of classic meat dishes, veal, pork, beef, lamb, duck, game, roast chicken, ribs, hamburgers, barbecue, roasted, braised, grilled dishes, and stews. Joseph Phelps Vineyards is also good with Asian dishes, hearty fish courses like tuna, salmon, mushrooms and pasta.
The white wine of Joseph Phelps Vineyards is best served with all types of seafood and shellfish, sushi, sashimi, chicken, veal, pork, and cheese.
Joseph Phelps Vineyards produces a myriad of wines from a variety of grapes; Cabernet Sauvignon, Syrah, Merlot, Pinot Noir, Sauvignon Blanc, and Eisrebe, a sweet wine. While much of the wine produced by Joseph Phelps comes from estate-grown grapes, that is not always the case. Joseph Phelps Syrah is possibly their only wine that is made from exclusively purchased fruit. Pinot Noir is produced from vines purchased and planted in 1999.
Joseph Phelps Wine Tasting Notes
35 Vintages 319,783 Views Sort by Vintage-Rating
2016
Joseph Phelps Insignia (Napa Valley)

Elegant, silky, forward, fresh, clean and pure, the wine exudes class and an open character. Full-bodied, deep, but not overpowering, the texture is lush, soft and polished. Made from a blend of all 5 Bordeaux varietals, 84% Cabernet Sauvignon, 10% Petit Verdot, 3% Cabernet Franc and, 3% Malbec, even though the wine was aged in 100% new, French oak, most of the wood has already fully integrated into the wine.

7,637 Views

Tasted

Nov 14, 2019

2016
Joseph Phelps Cabernet Sauvignon Estate Grown (Napa Valley)

Forward, soft, lush, medium-bodied, juicy and fresh, with a nice spicy component to the ripe, red fruits, you can enjoy this young, due to its ripe tannins and open approach.

5,125 Views

Tasted

Nov 14, 2019

2016
Joseph Phelps Chardonnay Freestone Vineyards (Sonoma Coast)

Good freshness, ripe, lemons and apples with a touch of vanilla and yellow citrus fruits. A nice, pleasant charmer.

2,562 Views

Tasted

Mar 15, 2018

2015
Joseph Phelps Pinot Noir Freestone Vineyards (Sonoma Coast)

Spicy, sweet fruits, soft, lush textures and a rich, forward, red berry finish are found here.

3,337 Views

Tasted

Mar 15, 2018

2014
Joseph Phelps Insignia (Napa Valley)

Layer after layer of ripe, fat, sweet, delicious, black fruits with licorice, smoke, black cherry and earthy accents. There is depth, weight and length with sensuous textures.

7,822 Views

Tasted

Mar 15, 2018

2014
Joseph Phelps Cabernet Sauvignon (Napa Valley)

Very solid wine here. Plush, polished textures, ripe, black and red fruits and a blast of licorice and smoke in the endnote. You can drink this now, or cellar it for more complexity.

4,289 Views

Tasted

Mar 15, 2018

2013
Joseph Phelps Chardonnay Pastorale Vineyard (Sonoma Coast)

A bit oaky, but more than enough of the ripe, sweet, fresh, apple, pear, citrus peel and tropical fruit shine through the vanilla underpinnings to make the wine interesting and fun to taste. This is ready to go.

3,474 Views

Tasted

Oct 17, 2017

2012
Joseph Phelps Insignia (Napa Valley)

Deep in color, with good intensity, concentration of raw materials, delicious, sweet, ripe fruits, dark chocolate and a supple forward character, what's not to like?

8,770 Views

Tasted

Jan 25, 2016

Insignia has to be a contender for the most consistent, high quality wine in the Napa Valley over the past 3 decades or so, and the 2012 is not going to break that streak. Full bodied, rich, concentrated deep and velvety, the wine is packed with ripe, fresh, sweet, black and blue fruits, licorice, espresso and cocoa. The wine is lush, the tannins are ripe and it's just a pleasure to sniff, swirl and sip this beauty. The wine will age quite nicely as well.

7,387 Views

Tasted

Sep 28, 2015

2012
Joseph Phelps Cabernet Sauvignon Estate Grown (Napa Valley)

With just a few years in the bottle, this is already drinking well with its approachable, lush, ripe, chocolate covered, black cherry character.

3,217 Views

Tasted

Jan 25, 2016

Medium bodied, with just enough depth of fruit to earn a 90 Pt score, the wine is already open and displaying its sweet and tart, black and fruits, earth, a bit of mocha. The wine is elegant in style and will drink great young.

3,497 Views

Tasted

Sep 28, 2015

With a nose packed with licorice, blackberries and smoke, the round textured, open wine ends with sweet, ripe, black cherries. For Napa, this represents a very good value.

4,159 Views

Tasted

Nov 13, 2014

2011
Joseph Phelps Insignia (Napa Valley)

The lightest vintage of Phelps Insignia I remember tasting. The reticent aromas took coaxing before showing their jammy black raspberry character. The finish was clean, and showed fruit, but it was short, especially since Insignia is capable of being such a great wine.

5,366 Views

Tasted

Nov 13, 2014

2011
Joseph Phelps Cabernet Sauvignon Estate Grown (Napa Valley)

Forward, medium bodied with a licorice, coffee, vanilla bean and black cherry personaity that finishes with sweet black cherries and a touch of dust in the end note.

4,009 Views

Tasted

Feb 3, 2014

2010
Joseph Phelps Insignia (Napa Valley)

Tight, this needs air, decanting or both, before it once again offers its sweet, blackberry jam, licorice, oak and vanilla tinged fruits. Soft, polished and round, the end notes deliver plums, blackberry and cocoa powder. I'd wait 3-5 years before popping a bottle.

6,099 Views

Tasted

Feb 3, 2014

Phelps Insignia is the most consistent, high scoring, Cabernet Sauvignon from the Napa Valley for the last 20 years. 2010 continues that trend with its deep color, smoky black fruits, licorice, jammy berries, truffle and earthy style. Long, fat, rich and intense, this can be enjoyed young, if you prefer primary fruit, or you can it age it for decades.

6,836 Views

Tasted

Nov 16, 2013

2010
Joseph Phelps Cabernet Sauvignon Estate Grown (Napa Valley)

Using a blend of what you miight see in the Left Bank of Bordeaux with its use of 92% Cabernet Sauvignon, 6% Merlot and 2% Petit Verdot, the wine delivers fresh, juicy ripe berries, a touch of oak, chocoalte and cherry notes in its array of flavors. Forward in style and already open, if you like them young, don't wait, just pull a cork.

6,178 Views

Tasted

Nov 16, 2013

2009
Joseph Phelps Insignia (Napa Valley)

Silky, polished, fleshy, rich, lush and full bodied, the wine is filled with layers of fat, juicy, ripe, fresh berries, licorice and chocolate. A few years of age will add a lot to this outstanding wine.

6,898 Views

Tasted

Jul 25, 2013

Deep in color, with a nose packed with fresh, jammy blackberries, vanilla, licorice, chocolate and soil aromas. On the palate, this concentrated, fleshy, rich wine is jammed with sweet, plump fruits and chocoalte. This will taste great young and like all the great vintages of Phelps Insignia, it will age and improve.

8,414 Views

Tasted

Oct 19, 2012

2009
Joseph Phelps Cabernet Sauvignon Estate Grown (Napa Valley)

This is a very stylish, affordable, California Cabernet Sauvignon. From a blend of 83% Cabernet Sauvignon, 12% Merlot and 5% Petit Verdot, iits open, fruit forward style, allows for drinking today, with its soft, fat, ripe, spicy, licorice and black cherry and chocolate personality.

5,445 Views

Tasted

Oct 16, 2012

2008
Joseph Phelps Insignia (Napa Valley)

The stunning perfume demanded your attention with its showy coffee, licorice, blueberry, caramel, blackberry and earthy scents. Powerful, round, rich and packed with ripe fruit, the chocolate covered blackberry is as opulent as it is pure. I could drink this now, or age for 15-20 years.

12,306 Views

Tasted

Apr 30, 2012

Wow! This nose is a knockout with its licorice, espresso bean, blackberry jam, blueberry and floral scents. Rich, round, ripe and powerful, the opulent finish is packed and stacked with lush blackberry, spice and cassis.

14,630 Views

Tasted

Nov 27, 2011

2008
Joseph Phelps Cabernet Sauvignon (Napa Valley)

Licorice, smoke, cassis, coffee and black raspberry scents make up the aromatics. Fat and delicious, the easy too like and already accessible Cabernet Sauvignon dominated wine ends with a soft, chocolate, plum and cherry filled finish.

8,259 Views

Tasted

Nov 26, 2011

2007
Joseph Phelps Insignia (Napa Valley)

Rich, fleshy, concentrated and deep, with loads of sweet, ripe and very ripe blackberries, black cherry, plum, licorice and vanilla. Flashy in style and more than tasty, this is drinking great today as it approaches its 10th birthday.

7,479 Views

Tasted

Oct 26, 2016

Powerful aromas of licorice, blackberry, jam, earth, smoke, espresso and black cherry liqueur are in full force. The wine is deep, concentrated and rich, packed with extremely ripe fruit, everything is in balance. There is no sensation of heat or over ripe flavors, this is a beautiful example of everything great about California Cabernet Sauvignon.

10,316 Views

Tasted

May 1, 2013

Black with inky, purple tints in color, oak, smoke, vanilla, jammy blackberry, blueberry and black licorice scents are found in abundance. Stylish, powerful, supple and mouth coating, this rich, dense wine was produced from a blend of 88% Cabernet Sauvignon, 8% Merlot and 4% Petit Verdot. Based on now well older vintages of Insignia are showing, this should age for at least 2-3 decades.

15,827 Views

Tasted

Sep 28, 2011

2006
Joseph Phelps Insignia (Napa Valley)

Plush layers of fresh blackberry, dark cherry jam, coffee, bitter chocolate and boysenberry, ripe tannins and a silky, ripe, vanilla tinged, fruit forward finish are found in this vintage of Phelps Insignia.

10,467 Views

Tasted

May 7, 2012

2005
Joseph Phelps Insignia (Napa Valley)

From a blend of blend of 78% Cabernet Sauvignon, 14% Merlot, 7% Petit Verdot, and 1% Malbec, this deeply colored wine offers blackberry, coffee, blueberry and spice aromatics. Thick, rich and plush in texture, this California Cabernet Sauvignon is drinking great today.

7,447 Views

Tasted

Dec 30, 2011

2002
Joseph Phelps Insignia (Napa Valley)

Still young, but showing nicely, this Left Bank, Bordeaux styled blend of 78% Cabernet Sauvignon, 14% Merlot, 7% Petit Verdot and 1% Malbec offers vanilla, coffee bean, cocoa, cassis, blackberry and jammy scents. Rich, concentrated, powerful and sweet, the wine ends with ample, ripe, fat fresh, dark berry, fennel, jam and espresso. Paired with perfectly grilled, Flannery strip, it was a match made in heaven!

11,783 Views

Tasted

Mar 11, 2012

2001
Joseph Phelps Insignia (Napa Valley)

From a magnum, the wine is plush, polished, rich and packed with chocoalte covered blackberries, plum, licorice and ripe boysenberry fruit. Round and lush, this is delicious!

5,803 Views

Tasted

Aug 18, 2014

The perfect match for Flannery beef grilled rare, with its fat, juicy, ripe, dense layers of rich blackberry puree, licorice, smoke, vanilla, earth and jam characteristics. The wine is intense, yet in balance. Still youthful, Phelps Insignia is one of the best examples of age-worthy California Cabernet Sauvignon. Splash decanted, the wine was produced from a blend of 89% Cabernet Sauvignon, 8% Petit Verdot and 3% Malbec.

6,569 Views

Tasted

Nov 28, 2013

1997
Joseph Phelps Insignia (Napa Valley)

Juicy, lush, fat and sweet, with perfectly ripe fruit, density of flavor, silky textures and a blast of blackberry, cherry, spice, smoke and licorice. This is a true wine of pleasure. A wine of this quality with a production level of close to 18,000 cases is truly quite an accomplishment, when you think about it.

6,183 Views

Tasted

Sep 23, 2015

Espresso, fennel, smoke, 5 spice, blackberry jam and wet earth aromas create the complex aromatics. Rich, deep and full bodied, with a supple, sensuous mouth feel and a long, pure, clean blackberry, plum and spicy finish. This is drinking great today and is no danger of falling apart. What a nice treat.

8,212 Views

Tasted

Oct 9, 2012

It's amazing to consider the massive size of the production of this wine along with the consistent level of quality found in Phelps Insignia. Sadly, this was the last vintage I purchased due to spiraling prices. But that should not take away from the blast of licorice, chocolate, espresso bean, black and blue fruits, truffle, earth and cherry liqueur, opulent, velvet laced textures, flamboyant personality and layers of concentrated fruits. With all that, everything is in balance in this delicious, ready to drink California Cabernet Sauvignon.

10,417 Views

Tasted

Jun 8, 2012

1996
Joseph Phelps Insignia (Napa Valley)

Tobacco, earth, cigar box, truffle and blackberry round out the potent nose. On the palate, the wine is plush, round, concentrated and plummy with a sweet, dark chocolate finish.

4,039 Views

Tasted

Dec 9, 2015

1995
Joseph Phelps Insignia (Napa Valley)

A fully developed, elegant, refined, classy wine that offers everything in balance and harmony. The dark red berries, with touches of earth, cocoa, and spice, are ripe, the tannins are sweet and the finish is long, with freshness and energy. I really like the style here. No decanting needed. Just pop, pour and enjoy...

2,660 Views

Tasted

Oct 3, 2021

Ripe, silky round and delicious, this is a finesse styled wine with a lot of charm that is definitely in the sweet spot for current drinking.

5,183 Views

Tasted

Dec 9, 2015

Cassis, licorice, herbs, truffle, blackberry, tobacco and earthy aromas lead to a balanced, fresh, round style of California Sauvignon that ends with soft, ripe, layers of blackberry and cherry. This is drinking great today.

7,431 Views

Tasted

Feb 29, 2012

1994
Joseph Phelps Insignia (Napa Valley)

Licorice, coffee bean, vanilla, blackberry, smoke and jammy scents open to a fleshy, sweet, round, sexy wine that builds and expands on your palate, leaving a lasting impression of sweet, ripe, polished fruits. A true stunning performance from this wine!

5,056 Views

Tasted

Mar 4, 2014

What beautiful wine that expresses the best qualities of the traditional California Cabernet Sauvignon and the modern era. Milk chocoalte covered blackberry, licorice, vanilla, spice and truffle aromas opened to a rich, full bodied, powerful, silky wine, with purity and layers of sweet, black fruits in the finish.

6,049 Views

Tasted

Sep 9, 2012

Served double blind, coffee bean, licorice, black and blue fruit, jam, earth and cocoa scents, along with a deep, dark color let you know we were drinking California Cabernet Sauvignon. Concentrated, rich and lush on the palate, the finish combined ripe dark berries, chocolate and oak. The 1994 Phelps Insignia tasted much younger than I would have imagined. It should age easily for at least another 10 to 15 years.

5,960 Views

Tasted

Aug 3, 2012

The wine had a beautiful dark, purple, blue color. On the nose aromas of cassis, blackberries, coffee, chocolate and toasty oak fill your senses. But the palate is where the wine really shines. The wine is full-bodied and very rich with a lot of everything. You can see how much glycerin is in the wine. The texture is very hedonistic. It's extremely silky and lush. The wine's finish last about 35 seconds.

4,033 Views

Tasted

Mar 25, 2008

Thick, rich, concentrated with a very supple texture and great aromatics. Still young, this will age for years.

4,036 Views

Tasted

Nov 2, 2006

1991
Joseph Phelps Cabernet Sauvignon Backus Vineyard (Oakville)

On the nose herbs, mint, chocolate, cassis, mustard & coffee but not many fruit notes. Good mouth feel with ripe red & black fruit notes. A nice wine, but simple.

3,641 Views

Tasted

Feb 12, 2004

1986
Joseph Phelps Cabernet Sauvignon Eisele Vineyard (Napa Valley)

The perfect, classic California Cabernet to insert as a ringer due to its earthy, cassis and cherry tobacco character. Refined in texture, with sweet, fresh fruits, this tastes at least a decade younger than its true age. I wish I had a few more bottles. It was fun while it lasted.

2,350 Views

Tasted

Jul 28, 2016

1985
Joseph Phelps Cabernet Sauvignon Backus Vineyard (Oakville)

Fading, but still fun to drink with all of its cigar box, tobacco leaf, green herbs, cedar, tangy blackberries and red currants. There is a nice medium/full-bodied, crisp, peppery, red currant note in the finish. Drink from 2022-2025.

1,740 Views

Tasted

Oct 4, 2022

1984
Joseph Phelps Cabernet Sauvignon Eisele Vineyard (Napa Valley)

It took a while for the barnyard notes to blow off and allow the tobacco, earth, cherry, forest and herb scents to emerge. Concentrated and deep, with rustic, old school textures, the wine ends with tart, spicy, peppery cherries. This is a nice, but not great example of classic California Cabernet Sauvignon.

3,806 Views

Tasted

Nov 16, 2013

1984
Joseph Phelps Insignia (Napa Valley)

Tobacco, old wood, spice box, cassis, blackberry and forest floor aromas, mature textures and a spice filled, red berry and cherry finish. This is fully mature. Holding it any longer is pressing your luck.

4,159 Views

Tasted

Oct 5, 2012

1979
Joseph Phelps Insignia (Napa Valley)

This wine featured obvious notes of black pepper, cassis and dark fruits. I wish it had been a little more complex. The finish served up a nice chocolate note. Good mouth feel

2,744 Views

Tasted

Feb 12, 2004

1978
Joseph Phelps Cabernet Sauvignon Backus Vineyard (Oakville)

This is a beautiful example of mature California Cabernet Sauvignon. Concentrated, full bodied and loaded with dark, juicy cassis, blackberry, tobacco, cedar and mushroom characteristics, there is freshness and length, ending with a blast of dark, spicy, red fruits.

2,455 Views

Tasted

Nov 17, 2017

1978
Joseph Phelps Cabernet Sauvignon Eisele Vineyard (Napa Valley)

Black cherries, spice, earth, mushroom, wet forest and smokey scents lead to a fully mature, perfect example of California Cabernet Sauvignon that is still delivering a great tasting experience.

3,936 Views

Tasted

Jun 7, 2013

1975
Joseph Phelps Cabernet Sauvignon Eisele Vineyard (Napa Valley)

Filled with smoke, earth, truffle, cassis and spice, blind, I would have pegged it for a Pauillac. The wine is concentrated, powerful and filled with cassis and blackberry. Some greeness along with tart sensation intrudes in the finish

4,286 Views

Tasted

Oct 24, 2010