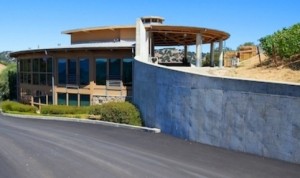 Everything about Bryant Family Vineyard Wines, Napa Valley California Cabernet Sauvignon, wine producer profile, wine tasting notes, wine and food pairing tips, best vintages, history of the property, information on their wine making techniques, terroir and soil. You can also read about the Grapes used for California wine and learn about the extensive History of Napa Valley, California Wines
Bryant Family History, Overview
The Bryant Family Vineyard made its debut in 1992. At the time, the famed winemaker Helen Turley was in charge of producing the wine. It only took two short years before the 15 acre, Pritchard Hill estate located just above Lake Hennessey began turning out world-class wines. For a world class winery, Bryant Family Vineyards has experienced a massive turnover in their winemakers. Helene Turley was the original winemaker. Helene Turley was the winemaker from 1992 until 2001.
At that point in time, a lawsuit was filed between Turley and Bryant Family Vineyards. Turley was replaced in 2001 by Philippe Melka. Following Philippe Melka was Ross Wallace, Mark Aubert, Helene Keplinger, Todd Alexander and Marc Gagnon joined Bryant Family in 2014. David Abreu is the vineyard manager and completing the team is the famed Bordeaux wine consultant, Michel Rolland.
Bryant Family Vineyards, Terroir, Grapes, Winemaking
Bryant Family Vineyard wines are produced from 100% Cabernet Sauvignon. The grapes are fermented in open top, stainless steel, temperature controlled fermenters. The property has an even number of fermentation vats to coincide with their parcels allowing them to vinify each parcel on a separate basis. Bryant Family wine is aged in 100% new French oak barrels. The majority of Bryant Family Vineyard wines are sold through a mailing list to long-time private customers.
Bryant Family Vineyard wines combine lush, soft, textures, intensity of flavor and power, with silky tannins to produce one of the finest Cabernet Sauvignon wines in the Napa Valley.
Bryant Family Vineyard introduced a second wine, Le Petit Bryant in 2004. They have since added two additional wines to their portfolio, a Cabernet Sauvignon based wine, DB4, which is probably named after the owner, Don Bryant and not for a vintage Aston Martin. The next release for Bryant Family was the Cabernet Sauvignon based Bettina Bryant. Bettina is the name of Don Bryant's wife. The fruit is sourced from vineyards owned by David Abreu. They come from his parcels located in Madrona Ranch, Thorevilos and Lucia Howell Mountain vineyards.
Serving and Decanting Bryant Family with Wine, Food, Pairing Tips
Bryant Family wines are best served at 15.5 degrees Celsius, 60 degrees Fahrenheit. The cool, almost cellar temperature gives the wine more freshness and lift. Young vintages of their red wine can be decanted for 1-3 hours, depending on the character of the vintage. This allows the wine to soften and open its perfume. Older vintages might need very little decanting, just enough to remove the sediment.
Bryant Family Wines are best served with all types of classic meat dishes, veal, pork, beef, lamb, duck, game, roast chicken, ribs, hamburgers, barbecue, roasted, braised, grilled dishes and stews. Bryant is also good with Asian dishes, hearty fish courses like tuna, salmon, mushrooms and pasta.
Bryant Family Vineyard Wine Tasting Notes
11 Vintages 71,896 Views Sort by Vintage-Rating
2012
Bryant Family Vineyard Cabernet Sauvignon (Napa Valley)

Powerful, lush, fat, rich, concentrated, lusciously textured wine, with layers of blackberry, blue fruit, licorice, smoke, coffee, chocolate, vanilla and jam. A touch of heat, but there is such a wealth of fruit here, that heat is quickly smothered by another wave of ripe, sweet, dark fruits.

5,059 Views

Tasted

Nov 26, 2017

2009
Bryant Family Vineyard Cabernet Sauvignon (Napa Valley)

Powerful, lush and showy, the wine is packed with blackberries, blue fruits, dark cherries, chocolate, licorice and jammy fruits. The wine is rich, showy, polished and ready to go.

2,828 Views

Tasted

Nov 28, 2020

Spice box, smoke, oak, truffle, blackberry liqueur and Espresso bean scents open to a thick, rich, spicy, lush, dense, intense, polished wine that ends with a fresh, deep, sensuous, cassis and black cherry finish.

5,601 Views

Tasted

Dec 25, 2012

2009
Bryant Family Vineyard Bettina (Napa Valley)

Smoke, chocolate covered black cherries and coffee bean, plush, fleshy textures and a cocoa covered cassis and bitter chocolate finish are found in the already open wine.

4,976 Views

Tasted

Dec 25, 2012

2007
Bryant Family Vineyard Cabernet Sauvignon (Napa Valley)

From 100% Cabernet Sauvignon, this inky colored wine opens with blueberry, blackberry jam, coffee, earth and a myriad of spices. In the mouth, this powerful, full bodied, concentrated wine is lush and flamboyant. Based on how well the 2002 Bryant Family showed recently, I'd give it a few more years for all the components to come together.

7,972 Views

Tasted

May 1, 2012

2006
Bryant Family Vineyard Cabernet Sauvignon (Napa Valley)

Ripe, concentrated, lush and deep, the wine shows layers of black and blue fruit, chocolate, vanilla, licorice and a touch of jam, with soft, polished tannins and a boatload of fruit from start to finish.

3,038 Views

Tasted

Nov 28, 2020

2002
Bryant Family Vineyard Cabernet Sauvignon (Napa Valley)

When your expectations are exceeded, you know it was a good wine. At times, I've found some California Cult wines were too extreme. I did not have high hopes for 2002 Bryant Family. Much to my delight, this stunning wine was much better than expected! With an inviting perfume packed with earth, espresso, black cherry, blackberry, blueberry, smoke, chocolate and truffle, I was hooked. On the palate, the wine was even better than expected! Dense, concentrated, complex and packed with layers of sweet, ripe, polished fruit, everything was in balance and harmony. Nothing was out of place in the long, seamless finish. This sexy wine delivers the goods.

6,804 Views

Tasted

Mar 8, 2012

1999
Bryant Family Vineyard Cabernet Sauvignon (Napa Valley)

Medium/full bodied, licorice, coffee, black and red with earth in the nose, some tartness is creeping into the finish. This was better a few years ago. The fruit has started to fade.

3,977 Views

Tasted

Aug 30, 2012

Coffee, herbs, black and blue fruits started off the perfume. Medium/full bodied, the finished with some green notes in the end.

3,843 Views

Tasted

Apr 15, 2006

1997
Bryant Family Vineyard Cabernet Sauvignon (Napa Valley)

Smoke, incense, spearmint, espresso bean, vanilla and black raspberries start off the nose. In the mouth, the wine is lush and packs a punch with its dense, ripe, jammy strawberries and licorice. There is a minor sensation of heat in the finish, but it's not off putting.

3,082 Views

Tasted

Sep 23, 2015

Licorice, coffee, blackberry, coca, earth, truffle and tobacco scents made up the perfume. On the palate, the wine feels lush. The powerful, velvet textured blackberry, chocolate and jam finish is long, clean and pure.

6,119 Views

Tasted

Mar 9, 2011

1996
Bryant Family Vineyard Cabernet Sauvignon (Napa Valley)

Jam, smoke, licorice and very, ripe fruits open the bouquet. Silky, soft, luscious and ripe on the palate, there is freshness and length in the sweet, fruit that dominate the finish.

4,511 Views

Tasted

Dec 9, 2015

1995
Bryant Family Vineyard Cabernet Sauvignon (Napa Valley)

Jammy fruits, oak, coffee bean and hints of dill create the perfume. On the palate, you can sense some heat and extreme ripeness. Yes the texture is silky, but it's made in a style that is not aging well. Drink up.

3,679 Views

Tasted

Dec 9, 2015

Clearly, this wine was not at the level of previous bottles tasted just 2 years ago. Either this wine has started to fade and drop its fruit, or this was an off bottle. At 18 years of age, I suspect the wine requires drinking in the near future.

3,268 Views

Tasted

May 9, 2013

This is filled with smoke, cassis, licorice, truffle, chocolate and coffee scents. Sexy, supple, soft and silky, this opulent wine feels like velvet when it spills over your palate. Combining lushness and intensity, this stellar wine finishes with a rich chocolate covered, cherry finish, What a treat!

3,851 Views

Tasted

Feb 24, 2011

1994
Bryant Family Vineyard Cabernet Sauvignon (Napa Valley)

Incense, smoke, burnt toast, coffee bean, jammy blackberry and prune scents produce the aromatics. On the palate, the wine is rich, fat, plush and oaky, the fruit is ripe, but there is a lot of wood in the wine that will appeal to some tasters more than others. There is more fruit than wood, and there is enough lushness and sweet red berries to keep the wine interesting. But the oak is still quite present.

3,288 Views

Tasted

Mar 3, 2014