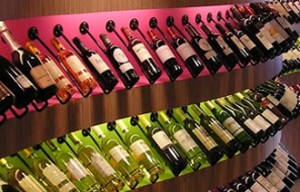 The article was written by Pascale Bernasse Wine Tours of France with coordination from Leslie Orndoff.
Bordeaux is beautiful city. But face it, today, the region is famous for its stunning wines and not the city. While it's fun to visit chateau and taste the wine at the property, there are times when you want to enjoy one or more glasses of wine. The place to do that is often at one of the numerous Bordeaux wine bars.
To make this easy for all the numerous visitors to Bordeaux, we've put together a list of the top 10, best wine bars in Bordeaux. Each Bordeaux wine bar on this list has their own style and character and list. These bars all offer you a way to taste wines from the Left Bank, Right Bank and the smaller satellite appellations.
The concept of the wine bar in Bordeaux is now fashionable. This is a positive development and trend for the region. Because until recently, those that wished to sample local wines—or wines in general—would do so at restaurants, chateaux, or from wine merchants.
Today, there is a growing number of Bordeaux wine bars that cater to those who are looking to sample wines from well-respected estates or to those eager to try a variety of French wines.
To help guide you to an authentic Bordeaux wine bar experience, here is a compilation of the top ten wine bars in Bordeaux:
1.Le Wine Bar known for its welcoming, colorful owners and its successful blending of French and Italian wines and food.
This is perhaps Bordeaux's best example of a modern wine bar. Opened by Italians, Giancarlo Savini, Emmanuel Cadei, and their French wives, this 25 seat wine bar sits in a quite corner in the historic St. Pierre neighborhood. The owners' Italian influence can be felt with lunch and dinner plates displaying burrata and bruschettas alongside foie gras and cured duck magret. The wine list is comprehensive with a focus on Bordeaux as well as other French wine regions. They offer roughly 60 wines by the glass and nearly 300 by the bottle. 19 rue des Bahutiers
2. Grand Bar Castan known for its reminiscent Belle Epoque décor and its stunning waterfront views. Originally opened in the 1890s, stepping into the Grand Bar Castan is like stepping back in time. Renovated in 2005 to its original Victorian style including its stone walls and antique furnishings, it is not a typical wine bar. Visitors can enjoy cheese, charcuterie, and one of the many moderately priced bottles of wine; or perhaps indulge on numerous wines from Margaux and other Left Bank wines. More than wine, after a thorough wine tasting, try one the Castan's aged single malt whiskies, vintage Champagnes, or 50-year-old Armagnacs. 2 quai de la Douane
3. Wine More Time known for its rotating list of wines by the glass and its selection of small-production wines from France. Doubling as a wine shop, Wine More Time caters to a more young-ish crowd on the weekends. Go for the reasonably priced, yet eclectic, small- production wines from France, Europe, and South America. Or pick a bottle from the retail display area and enjoy it along side some of the bar's plates of cheese and charcuterie (there is a small corkage fee). 8 rue St.-James
4. Max Bordeaux known for offering First Growths by the glass and some of the best wines from a variety of different appellations by the glass. Clean, modern lines greet wine lovers when they walk into this wine bar that is less a wine bar than a gallery and a cellar. Max Bordeaux offers a strong selection of 1855 Classified Growths as well as wines from other, sought after Bordeaux regions. has a The tasting process is refined and streamlined, with rows of bottles neatly placed in a temperature-controlled, airtight display case, known as an Enomatic wine dispenser. Simply purchase a card, slide it into the Enomatic, and choose from one of the 48 selections (in 25, 50, or 75 milliliters). 14 cours de l'Indendance
5.L'Univerre known for its extensive wine list of Grand Crus Class wines as well as traditional wines from smaller producers. A more recent arrival to the wine bar scene in Bordeaux, L'Univerre is the brainchild of Fabrice Moisan. His curated menu is short, with well-executed dishes of classic French comfort food paired with an extensive wine list (which is 62 pages long!). While most Bordeaux wine bars stick to Bordeaux, that is not the case here as you can also find wines from the Rhone valley, Burgundy, the Loire as well. In the cellar are older vintage Bordeaux that are priced to sell and Fabrice is open to queries about his other rare bottles. 40 Rue Lecocq
6. Bar a Vin known for its extremely knowledgeable staff and because of its association to L'Ecole du Vin. One of the few wine bars open all day, Bar a Vin offers an extensive wine selection, many reasonably priced—two to eight euro, depending on the vintage. The tasting room's decor is both elegant and contemporary, with a large stained glass window juxtaposed against modern furnishings. The young, hip crowd ventures in around 6:00 for an aperitif before heading out to dinner. 3, cours du XXX juillet
7. La Winery known for its concerts and art exhibits as well as specialized tastings that determine your "wine sign." Located in the Medoc about a half hour drive from the city of Bordeaux, La Winery stocks over 2000 different wines from all over France and other parts of the world, though they emphasize estate bottled French wines. Find your "wine sign" through a discovery session lead by a wine professional. After tasting six distinctly different wines and answering specific questions about them, you will be presented with a wine profile book that will suggest the wines that best suit your taste. It is best to call and reserve your spot for one of these unique and informative tastings. La Winery has a selection of about 20 wines in the Enomatic that can be paired with gourmet meats and cheeses throughout the day. Rond point des Vendangeurs, D1, Arsac en Medoc
8. L'Essential is a St. Emilion landmark owned by Jean Luc Thunevin. L'Essential, located just above the offices for Ets. Thunevin is my favorite wine bar and hangout in Bordeaux. Visitors will often bump into many of the most famous winery owners from the Right bank as they visit there as well. L'Essential known for serving innovative wines and its sleek, modern design, L'Essential is known for serving innovative wines and its sleek, modern design is a perfect example of a modern wine bar with clean lines, bright colors and bottles lining the walls in a smooth orderly fashion. Here wine enthusiasts can sample traditional Bordeaux wines and some of the best examples of modern wine making. This is the only place I know of to taste multiple vintages of Valandraud as well as Go to L'Essential to taste an array of wines from Pomerol, St. Emilion, Chateauneuf du Pape and other wine regions without spending too much money. Order some good cheese and settle in for an unique experience. 6 Rue Guadet
9. L'Envers du Decor known for its great selection of wines and its beautiful outdoor seating in the heart of St. Emilion. L'Envers du Decor is Saint Emilion's first wine bar and it is considered to be one of the top establishments by the locals. The staff is friendly and knowledgeable about the wine, and the owner takes care to know each of the wineries that supply his wine list. Wines are paired with bistro-style food and can be taken on the bar's lovely outdoor terrace. Go here if you want to feel like a local and enjoy simple regional food to accompany your wine. 11 Rue du Clocher
10. Chai Pascal in the heart of the St. Emilion village is known for its selection of regional wines, reasonably priced Grand Crus, and authentic French food. Chai Pascal may be one of the smaller wine bars in Saint Emilion, but it more than makes up for its stature with its welcoming, comfortable atmosphere. The bar is owned by Pascal Fauvel (often seen in the front of the house) and Catherine Papon-Nouvel. Papon-Nouvel is the owner of Chateau Petit Gravet and Clos Saint Julien in Saint Emilion. Wines can be taken with charcuterie, cheese platter, or an authentic country cassoulet. The Internet is free too. I know. I've used it often enough during visits to the region. 37 Rue Guadet
Bordeaux has taken its rightful seat as a premiere place to enjoy French food, culture, and wine. It has found its rhythm through a new found openness that, combined with hearty revitalization efforts, culminate to tell the tale of the once great and still remaining wine capitol of the world.