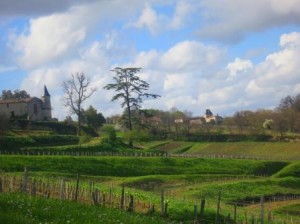 2012 Bordeaux…. What is there to say that hasn't already been said? A lot! Not all vintages are created equal. 2012 Bordeaux is a complicated vintage. While nature produced 2009 and 2010, 2012 is a year for winemaker's and vineyard managers. The choices made by the vineyard manager or winemaker makes or breaks 2012 Bordeaux, because Cabernet Sauvignon and in many vineyards, Cabernet Franc had difficulties achieving ripeness.
If you want to read detailed interviews from the top Bordeaux wine makers from every major appellation that offer detail and personal insight on the 2012 Bordeaux vintage: 2012 Bordeaux Harvest Reports, News, Interviews and Photographs
What is the signature of 2012 Bordeaux wine?
At its best, 2012 Bordeaux wines are lighter in style, perhaps similar to 2001 or 1999, blended with 2002. In the Right Bank, where the wines were more successful overall, numerous chateaux compare the vintage with 1998. On the surface, that is a fair argument. If you are looking at the weather. Of course the same case can be made for 2001, 1964, 1950 and other previous vintages where Pomerol and St. Emilion excelled, provided the logic is that the vintage is defined by the success in the Right Bank, and lack of equal achievement in the Medoc and Pessac Leognan. But things are much more complicated than that. 2012 Bordeaux wines are lighter and less successful than found 1998. The tannins are coarser. 1998 Bordeaux wines are more sensuous in texture. Tasters will find more licorice and darker fruits in 1998, than they will in 2012. From my tastings, perhaps 2012 reminds me of a blend produced from 2002, 1999 and 1985.
To understand 2012 Bordeaux, it is important to look at the overall picture and pay a little attention to what took place during the growing season. The growing season got off to a late start. Generally speaking, late vintages are never the best years. But that does not mean good wines cannot be produced, especially with today's vineyard management skills, selection and technical abilities.
After the wet, cold winter, which continued into spring, Bordeaux suffered with a rainy April. Fears of mildew and rot required spraying. June was cool, flowering was uneven. These conditions forced growers to remove grapes and bunches that were not evenly ripening. Yields were reduced, which can be a good thing, as that leads to better concentration, but that was not the case with 2012. These factors forced the harvest back 2-3 weeks, depending on the appellation.
Moving into the summer, July was scorching, with temperatures soaring up to 42 degrees Celsius, which is a whopping 107 degrees! 2012 Bordeaux marks another vintage affected by drought, which stressed the vines, especially the young vines. All that brought down the quality of the second wines. The vines at many estates shut down. Fortunately, once again, September arrived to help, but as assistance did not arrive until late in the month, for some estates, especially those with Cabernet Sauvignon in the Northern Medoc, it was perhaps too little, too late.
By October, it was obvious that not much was to be gained by waiting for the grapes to ripen further. With rain, cool temperatures and a lack of sun, most estates were busy harvesting Cabernet Sauvignon by October 8. But the fruit was not fully ripe. Growers could have used one week or more time with the grapes on the vines. You can taste and feel that in the wines. There is a rough, dry textural feel to the wines in the finish with many wines from the Medoc.
Things were better in the Right Bank, especially in Pomerol and St. Emilion, as both appellations are dominated by Merlot. As Merlot ripens earlier than Cabernet Sauvignon, for the most part, harvesting took place under good conditions and the fruit achieved a good level of ripeness.
With 2012 Bordeaux wine, chateaux that tried to make bigger, denser, more concentrated wines than the materials allowed by nature, ended up making wines with harsh, drying or green tannins. Another problem with 2012 Bordeaux is, too many wines display too much new wood, exacerbating the dryness in the wines. The best wines from 2012 Bordeaux were produced with a light touch. The wines at their best can be charming, elegant, fresh and provide a good sensation of purity. The fruits are more cherry than blackberry. The density is not the same as you will find in 2009 or 2010, many if the wines are on the lighter, refined, side of the style range. For consumers seeking wines to drink while waiting for their 2009 or 2010 to develop, as well as for buyers desiring wines to drink young, not everyone has patience or a cellar, 2012 offers several good choices. This is not a year to buy second wines. Small wines in Medoc are also difficult. But there are some nice surprises with values wines from many of the satellite appellations and the better Cotes de Bordeaux estates. St. Emilion is up and down at the top and value end of the spectrum with successes and not sot successful wines in both categories.
I managed to taste several 2012 Bordeaux wines from every appellation in the Left Bank, Right Bank, Pessac Leognan and numerous satellite appellations. Tasting notes on the wines probably start to be published early next week. I will have all the tasting notes online before the end of April. It is a hard job tasting that many wines. It's even more work editing all the tasting notes!