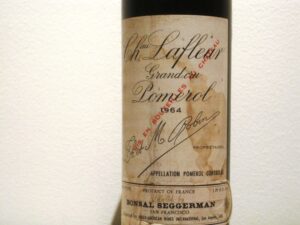 1964 Bordeaux Wine Vintage Summary with harvest information, vintage characteristics, buying tips and links. If you are seeking more in-depth information on anything and everything related to the Bordeaux wine region please see the: All About Bordeaux Wine Guide
1964 Bordeaux wine resembles 1950 and 1998. This is because the top wines in all three years ended up being Right Bank vintages which favored wines produced in Pomerol and St. Emilion Those appellations were harvested before the heavy rains. Because Pomerol is always the first to harvest, that explains how Pomerol was able to make some very good 1964 Bordeaux wine.
1964 Bordeaux wine was slated to be the product of a stunning year with a warm spring, even flowering and a warm, dry summer. By the start of an almost perfect September, the French Ministry of Agriculture had declared the vintage would be great, if not one of the best Bordeaux wine vintages in history! Everything was going great until October 8, when the heavy rain began to fall and never stopped. It rained non stop for weeks. Several growers delayed picking, hoping the rain would stop. It didn't. Many producers waited as long as they could to harvest, hoping for more maturity in the fruit. In the Medoc, the harvest was conducted in dreary, wet, sunless and often rainy conditions. However, that was not the same for Pomerol and select chateau in St. Emilion. Because Pomerol picked before the heavy rains, many of the 1964 remain stunning today. But the wines of Left Bank are for the most part, green, rustic and dilute. Avoid the sweet, white Bordeaux of Sauternes, the vintage was a disaster, due to the non stop rain.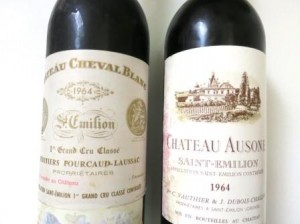 Chateau Latour is the 1964 Bordeaux wine of the vintage in the Medoc. Latour was one of the few producers in the Left Bank to harvest before the rains fell. Graves/Pessac Leognan  which usually starts their harvest before the Medoc also made some fine, medium bodied wine. But most 1964 Left Bank wines have long since faded away.
1964 was the year the Beatles became worldwide superstars, thanks to their successful invasion of America. What better way to celebrate that historical fact than with a great Bordeaux wine? Several of the top Pomerol and St. Emilion wines are still drinking well today, provided they were well stored. Pomerol was the more successful appellation in the Right Bank in 1964. If you see an odd bottle of 1964 available and it's from Pomerol, if it looks like it's in good shape, it's worth taking a chance on. 1964 Cheval Blanc can be sublime. Chateau Ausone is successful as was Figeac. 1964 Bordeaux wine can be found most often in Pomerol. Other than Latour and Montrose, avoid the wines from the Left Bank.
The following Bordeaux wines represent the best blend of price and quality from the vintage: 1964 Best Bordeaux wine for the money today To read about other Bordeaux vintages from 1945 to today: Bordeaux Year to Year Detailed Vintage Reports & Guide 1945 to Today