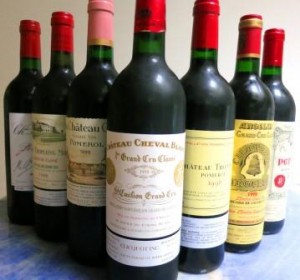 1998 Bordeaux Wine Vintage Summary with harvest information, vintage characteristics, buying tips and links. If you are seeking more in-depth information on anything and everything related to the Bordeaux wine region please see the: All About Bordeaux Wine Guide
1998 Bordeaux wine from Pomerol and St. Emilion are stunning examples of what the Right Bank does best when the region produces ripe Merlot and Cabernet Franc!
But 1998 Bordeaux wine did not have an auspicious beginning. Following on the heels of a moderate winter, April and May were cool, moist months, lacking sunshine. Still, the flowering was even. June ran hot and cold. July with its shortage of sun and warmth offered little promise. August, with ample heat and sunshine was perfect!  In fact, August was so hot, temperatures reached over 100 degrees for several days! An August hail storm that struck the Pomerol appellation on the plateau forced growers to do a severe green harvest.  In part, that green harvest added to the concentration of 1998 Bordeaux wine, especially from Pomerol.
September provided much needed rain, nourishing the vines. The weather remained nice for most of September, allowing Pomerol and St. Emilion to be picked under splendid conditions.  However, by the time the Right Bank chateaux concluded harvesting their Merlot dominated vineyards, most properties in the Medoc, with their Cabernet Sauvignon dominated vineyards, still had not developed perfect ripeness.  Different harvest times are normally not a problem. Grapes in the Medoc are always picked after Pomerol and St. Emilion. But September concluded with a torrential rainstorm, continuing through the remainder of the harvest.  Over 3 inches of rain fell in the Medoc between September 26 and October 1.  Clearly, 1998 Bordeaux wine, similar to 1964 and 1950 Bordeaux was slated to be a year where the Merlot based wines of the Right Bank were destined to steal the show.
1998 Bordeaux wine at their best display a lot of elegance, charm, opulence and concentration.  They are round, rich and, in the best cases, express a flamboyant, fleshy style, coupled with freshness and character.  At 10 years of age, many wines are already beginning  to show well. Yet, the top 1998 Bordeaux wine can still benefit from additional cellar time because they will continue getting better, gaining complexity, while putting on weight.  In this vintage, I am not as big a fan of the wines from the Medoc as I am of the Right Bank wines.  Of course there are exceptions: for example,  Chateau Lafite Rothschild and Chateau Mouton Rothschild.  Other Left Bank Chateau also released fine 1998 Bordeaux wine. Pessac Leognan was also very successful with their 1998 Bordeaux wine from top to bottom, starting with a stunning Chateau Haut Brion. But make no mistake, 1998 Bordeaux belongs to the Right Bank.
1998 Bordeaux wine from Pomerol gets a slight edge over St. Emilion.  That being said, Cheval Blanc, perhaps due to its proximity, being on the Pomerol border is stunning!  However, the wines from Pomerol are everything you'd hope for. They are rich, concentrated, ripe, pure, lush, opulent and offer hedonistic charms.  St. Emilion, while very good, is lighter and did not achieve the same level of ripeness as found in Pomerol.
2000 Right Bank wines are better than their counterparts in 1998. Most 2000 Bordeaux shows better levels of concentration and there is an addition level of polish to the tannins that makes them better wines. The 2000 vintage will also be longer lived than 1998. However, 2000 Bordeaux sells for a massive premium making the wines much more expensive than what you can find in 1998. That is something to think about when considering what wines to buy.
1998 is a strong vintage for dry white Bordeaux, especially from Pessac Leognan. As expected, Haut Brion Blanc is a superstar wine!  The vintage is moderate for the sweet white bordeaux wines of Sauternes and Barsac.
The following wines offer the best ratio of high quality and price for the vintage. They might not always be the highest scoring wines, but they are worth having in your collection.  1998 Best Bordeaux wine for the money today
To read about other Bordeaux vintages from 1945 to today: Bordeaux Year to Year Detailed Vintage Reports & Guide 1945 to Today