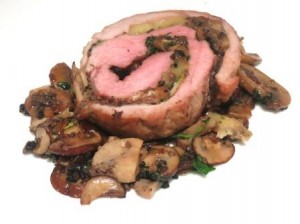 Many of the best old wines, especially mature Bordeaux often develop truffle aromas, along with numerous other complexities. Pairing those characteristics found in older wines with truffle dishes is a naturally perfect combination! Especially when it is so easy to do.
Take 2 pounds of veal shoulder and have your butcher butterfly and pound the meat until it's thin enough to roll, but thick enough to hold the ingredients in place.
Next, take an assortment of fresh mushrooms, clean and slice them. Take a hot, non-stick pan, add butter, olive oil and sweat some shallots. Add the mushrooms, thinly sliced garlic, salt, pepper and even some demi stock and cook until the mushrooms are browned. Add thyme and let them cool down for a bit.
Lay out the veal and place half the mushrooms, truffle and thin slices of Fontina cheese evenly on the Veal. Carefully roll up the veal, tying it together with string. Let this sit and come together at room temperature while your oven heats up to a temperature hot enough to get a sear. Place the veal on the top rack, let it brown a bit on all sides and reduce the heat to 325 degrees until it's finished. Let it rest, remove the string, slice it, placing each slice on some of the remaining mushrooms and serve. What could be easier?
The dish combines assertive earthy scents with neutral flavors and rich, thick textures. In our home, this cries out for older Bordeaux wine, due to its earthy character and rich textures. However, any rich wine with dpeth of flavor that is not too fruit forward will pair perfectly.
With prices for First Growth Bordeaux at their current levels, it's always a treat when a bottle gets shared. 1995 is a difficult vintage. Many wines are tannic and display a stern edge to their personality that at close to 20 years of age, it should be obvious to even the most optimistic taster, that is the character these wines are going to display throughout their entire adult life.
With close to 3 hours of decanting, 1995 Mouton Rothschild developed a nose of tobacco, espresso bean, earth, crème de cassis, ash, herbs, spearmint and spicy cherries. While still tannic, they were not over bearing. The wine is slightly more developed than anticipated, which is a good thing as it allowed the opulently styled blend of 72% Cabernet Sauvignon, 19% Merlot and 9% Cabernet Franc to express itself. The finish was the best part of the experience with its rich, concentrated, spicy, sweet and fresh, red and black fruits. You can drink this now, or give it another decade. 95 Pts