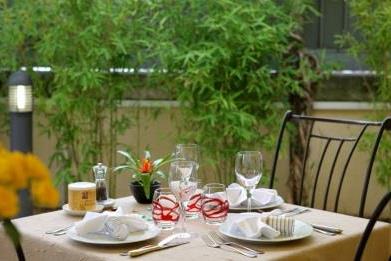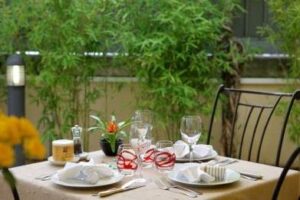 As anyone can tell you, when you are traveling and looking for suggestions on where to eat, ask a local. In Chateauneuf du Pape, when Philippe Cambie offers a dining tip, trust me on this, take his advice. He know's what he talking about.
Jeff Leve Philippe, if a wine lover was visiting the Southern Rhone Valley and they only had time for one meal, if you had to pick one place, where would it be?
Philippe Cambie "It is a common question that I get asked. The obvious answer is Table Sorgues?
Jeff Leve What is the history behind Table Sorgues?
Philippe Cambie "They started out in the wine business. After fifteen years as the head of Chateau de la Caze, in the Gorges du Tarn in the Lozere region, Jean-Paul and his wife opted for a career change. They sold their previous business and opened Table of Sorgues here in Provence. It's close to Avignon and not far from Chateauneuf du Pape. The restaurant is located in their home. They honestly welcome you. It's the perfect place to enjoy the pleasures of Provencal, gourmet cuisine made from local produce in a warm and relaxed atmosphere with great wine from the region!"
Jeff Leve "Being in Chateauneuf du Pape, people want to know, how is the wine list?
Philippe Cambie "It's a superb wine list. You can drink, François Villard, Georges Vernay, Clos du Cailloux, Janasse, Mont-Olivet and Clos des Papes for example!"
Jeff Leve "I am thirsty! What about the harder to find wines?
Philippe Cambie "Does Rayas fit the bill? There are others too!"
Jeff Leve I imagine locals want to taste something aside from Chateauneuf du Pape, from time time. Do they also offer wines from other regions?
Philippe Cambie "A lot of Burgundy from Ramonet, Roumier, Raveneau and Faiveley is on the list."
Jeff Leve I know you like cooking. Can you share a recipe of a dish they might serve, that you would also make at home?
Philippe Cambie "OK, try this… With a confit of tomatoes, roasted saddle of lamb with anchovies and olives…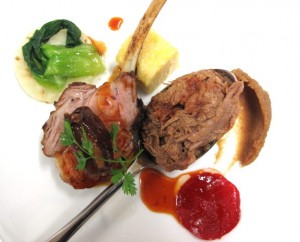 • 1 rack of lamb (trimmed – defatted)
• 1 lamb shoulder (trimmed – defatted)
• 2 lemons
• 1kg2 of ripe tomatoes peeled
• 2 dl lamb jus (A default veal)
• 4 tablespoons chopped black & green olives
• 6 anchovy fillets in brine
• QS: olive oil – butter – chopped shallot – Espelette pepper – fresh ginger – salt & pepper – sugar
When that is ready, this is what you do…
Season the lamb shoulder in the pot with butter & olive oil and lemons. Add the chopped ginger, pour water to cover and cook in a moderate oven 150 degrees Celsius well covered for about 4 hours. Remove from the oven, let it cool.
While it's cooling cut the tomatoes into four, remove the seeds, drop the shallots in butter, add the tomatoes, salt and pepper with a pinch of sugar, simmer until the water evaporates and you have a beautiful consistency, similar to applesauce.
Next, season, the lamb with salt, pepper, butter and to get color, finish it in the oven at high temperature 220 Celsuis for about 15 to 20 minutes, let it rest. While its resting, Grease the baking dish and deglaze with lamb jus, add the olives and anchovies. Lastly, take slices from the shoulder, along with the chops and arrange in plates with the with the tomato sauce in a circle and serve!
I'm going to try making it at home, but to get the real thing at Restaurant Table Sorgues – Avenue 19 84700 Sorgues 04 90 39
For dessert, if they are in season, try the figs!