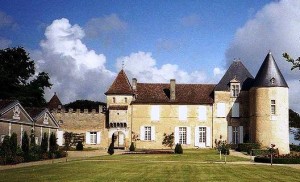 Chateau d'Yquem is in a class by itself. There I said it. It does not matter what wine producing region you travel to. There will always be a discussion or friendly argument between the growers and producers as to who is making the best wine in the appellation. Tasters will also never agree as to the best wine. There is no right or wrong. It really comes down to a matter of personal opinion.
When it comes to Sauternes, that is a completely different story. For centuries, it has been universally agreed that Chateau d'Yquem is without peer. In the 1855 Classification, Chateau d'Yquem was the Bordeaux property awarded its own, unique level of classification, "Premier Cru Superieur." For more information on the classification of the sweet wine of Bordeaux, please see 1855 Sauternes- Barsac Classifications
More than 150 years later, Chateau d'Yquem remains the only First Growth without equal. In a fractious region like Bordeaux, it's amazing when you realize all the other chateaux in every appellation agree on that point! Chateau d'Yquem is expensive. Consumers feel when compared to other Sauternes, d'Yquem is not better. If that is they see it, that's fine with me. Although I think that has something to with the fact they have never experienced a fully mature vintage of Chateau d'Yquem.
The fact that Chateau d'Yquem is above all the other estates in the appellation is clearly apparent when you visit the estate. Bordeaux is not an appellation of extreme elevations. Yet, Chateau d'Yquem is located on top of a hill, which at its peak is close to 75 meters. This plateau allows you to look down on all the other estates and vineyards. It's quiet. The air feels different. There is a stillness and micro climate at Chateau d'Yquem that does not exist at any other Bordeaux property. While there is nothing like visiting and tasting at one of the First Growth estates in the Medoc, or of course Chateau Haut Brion in Pessac Leognan, even the chateau at d'Yquem is perhaps a little more regal. There is something special about it, that other estates do not seem to share. I cannot tell you why, but it's a reality.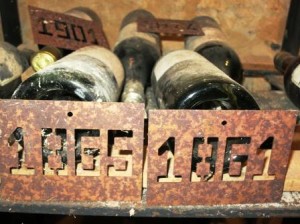 There is a lot to see at the property. Perhaps there is no better sight than the famous wine cellars of Chateau d'Yquem, with their incredible array of old bottles, collecting dust and character. Vintages from the 1800's, when America was in the middle of the Civil War and Abraham Lincoln was president are there. There are older vintages a well. One can only dream. The famous comet vintages are represented. It's an incredible site to see.
Prior to the 2000 vintage, Chateau dYquem was not sold as a future. The wine remained in barrel for up to 48 months before it was bottled and sold. That changed on a permanent basis with the 2003 vintage, when Chateau d'Yquem was purchased by Bernard Arnault, the head of LVMH, who also owns Chateau Cheval Blanc in St. Emilion. One of the first decisions made by Arnault was to install the charming, bright, Pierre Lurton as the director of the property.
To produce the wine of Chateau d'Yquem, it requires painstaking work, which starts in the vineyards. To harvest the grapes with ample levels of botrytis, the berries need to be picked one at a time. In vintages like 2001, when everything went according to plan, it was not a difficult year for the production of their wine. Other vintages require a lot more effort. It can take as many as 13 passes through the vineyards to pick the fruit they need to make the wine. Yields are always incredibly low as well. They average between 8 hectoliters per hectare to 10 hectoliters per hectare. This translates to about 1 glass of wine per vine.
2012 was a difficult vintage for everyone in Sauternes. For the 10th time in slightly more than a century, Chateau d'Yquem did not produce any wine. Pierre Lurton the director stated, they were not able to make a wine to the standard of what Chateau d'Yquem can produce. That was a difficult decision for the property and for the Sauternes. If Chateau d'Yquem declassifies their entire harvest, it will be very difficult for other producers in the region to sell their wines. 2012 saw the announcement of completely new, modern, gleaming cellars dedicated to the production of their dry white wine, "Y."
The following vintages of Chateau d'Yquem were tasted over several months. The 1937 was the best wine I tasted in 2012. I think the finish remained with me for weeks, and the memory is still lingering. At least to me, that is what the best wines are for, they help create and retain memories.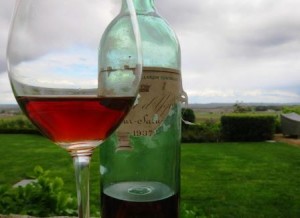 1937 Yquem – With a deep copper hue, the aromatics are explosive! Chocolate, coffee, crème brulee, orange, caramel, flowers, spice, butterscotch, earth and cocoa are revealed. Silky, velvet drenched layers of orange coated with cocoa and chocolate remain on the palate for well over 60 seconds. At 75 years of age, this wine is still going to improve for another 25-50 or even 75 years! 100 Pts
1961 Yquem With a beautiful color, slightly discernible scents of flowers, spice, pineapple and crème brulee popped up. Too much acidity and not enough fruit after 50 years made this a wine to open if you have it, but pass on buying it if you don't. Stick to 1961 Red Bordeaux. 83 Pts
1962 d'Yquem – Butterscotch, spice, honey, tropical fruit and crème brulee. Rich, sweet, opulent and sensuous, the wine feels great as it flows over your palate with sweet caramel and spicy, tropical fruits. I loved this wine! 96 Pts
1967 d'Yquem – Carmel in color, with an intoxicating nose of smoke, caramel, roasted pineapple, spice, orange rind and burnt sugar. While rich, some of the intense sweetness seems to have faded. The wine is more focused on the caramel and crème brulee, than decadent honeyed fruits. That is not to say this was not wonderful, but it's not in the same league as the perfect 1975 Chateau d'Yquem. 95 Pts
1975 d'Yquem – I cannot think of many wines that have displayed this level of consistency. This stunning wine has been perfect on more occasions than I can count. After a night of great wines, time and time again this has been scored as the wine of the night on numerous occasions. With its flashy display of decadent tropical fruits slathered in honey, vanilla, flowers, spice and candied citrus peel, it's easy to see why. On the palate, the more than :60 finish has the perfect balance of acidity, giving it lift and freshness coupled with dense, ripe, over ripe and extremely ripe tropical fruits. This is the wine to buy, if you can afford it. 100 Pts
1988 d'Yquem – Honey, flowers, pineapple, apricot, orange and tropical fruits slathered in honey, along with rich textures and mouthful of perfectly ripe, sweet, ripe, honeyed fruit and fruits. This is drinking great today and is only going to get better over the next several decades. This could be my favorite vintage of the famous trio, 1988, 1989 and 1990. 98 Pts
1996 d'Yquem – Pineapple, apricot and tropical fruits coated with honey and nuts in the perfume, there is a sweetness and intensity of overripe orange and spicy tropical fruits coated with honey, with enough acidity to keep the wine fresh. This already drinking well and should for decades. 95 Pts
2001 d'Yquem – If some artists or performers are known and described by only one name, Jimi, Picasso, Matisse, Madonna, Garbo, perhaps the only descriptor needed for this wine is 2001 d'Yquem. I know that works for anyone lucky enough to have tasted this nectar. The best vintage since 1975 for the estate is off the charts, in all the right ways! It blends intense, massive layers of pure, ripe, honey drenched fruits with bracing acidity give it a laser like focus that is found in few other wines. While it's not close to maturity, drinking this now is a thrill a sip ride. If you lay down a few bottles for your kids, OK, make that your grandchildren, they will remember you fondly. 100 Pts
2003 d'Yquem – While d'Yquem is never inexpensive, recent vintages are appallingly expensive. It's not realistic for buyers to purchase futures, or new releases for more money than previous vintages. 2003 marks the last realistically price year for d'Yquem. This is good news because the wine is fabulous. It gets better each time I taste it. With an ocean of fat, super sweet, incredibly ripe, dense, thick waves of pineapples, apricots, oranges, tangerines, peaches and nectarines all coated with macadamia nut honey, vanilla and nuts, it's a treat to sniff, swirl and best of all sip. It's not the 2001, but it's a beautiful d'Yquem that sells for less than half the price. 97 Pts
2005 d'Yquem – Sweet, fresh and delicious, with honeysuckle, pineapple, orange peel, tangerine and nectarine, all drizzled with honey. Lacking the body and zest found in the top vintages of d'Yquem, this is more of a charming style, than one that demands your attention. 94 Pts
2006 d'Yquem – Better than the previous vintage, with its showy nose of vanilla, coconut, orange rind, apricot, marmalade, pineapple and white peaches that were soaked in honey for weeks on end. The wine is rich, intense, pure and refined, but it's not the most concentrated or exotic style. 96 Pts
2007 d'Yquem – I wish I could afford this elixir. It has all the right stuff with its racy personality and decadent layers of juicy, ripe, honey coated tropical fruits, spices, vanilla, nuts and coconut. The wine is perfectly balanced between sweetness and acidity, with freshness and a beautiful purity of fruit. It sort of reminds me of the 1989 d'Yquem in its youth, except that was only $75 a half bottle. 98 Pts
2009 d'Yquem – Thick, rich and intense, with powerful, fresh, sweet, pure waves of ripe and over ripe tropical fruit drenched in honey, nuts, crème brulee, vanilla, orange and honeysuckle, the wine coats your tongue, mouth and palate with sweetness, yet there is the right amount of acidity to give it lift. This stunning vintage of Chateau d'Yquem should outlive anyone reading this tasting note! 99 Pts