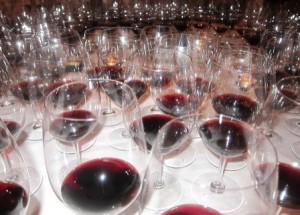 To paraphrase Mark Twain; Everyone complains about high prices for wine, but nobody does anything about it.  Savvy consumers can do quite a bit about it.  They can explore the wide world of wine and seek values.  While Bordeaux wine at the moment is the main topic du jour, a massive array of wine exists providing value, quality and character. To help you discover value wines, Kyle Meyer offers a few tasty tips.
Value wine. Defined? Relative worth, merit or importance. Note the word relative. That aspect of value is critical to the world of fine wine. When we say something is a good value in the wine business we're talking about wines that could be $3- $3000 a bottle due to the relativity of that value in comparison to wines of the same quality, ilk, style, demand, score, what have you.
When I think of value in a bottle of wine from a retailer point of view I'm thinking first about the classic 'bang for the buck'. The wine that delivers the greatest level of quality for the lowest price in the context of either a genre or the rest of the wine world. I imagine this is what most folks think of when they consider what may be a great value.
For example, let's take a wine like the $10, 2011 Herencia Altes Garnatxa Negra from Spain's Terra Alta region. Why is this wine a value? Let's break it down.
First we have low yields. Low yields are usually a key component in more expensive wines. As the vineyard yields less grapes the theory is that those grapes are higher in concentration and therefore have the capability of producing deeper, richer, more concentrated wines. Makes sense. So, it would also make sense that if a wine that sells for $40 has the same yield in the vineyard as a wine that sells for $10, it goes without saying that the potential level of quality is the same for both, making the $10 wine a potential value.
Next we have vine age. The vines for this Spanish Grenache are at least 50 years old with many much older. When one considers, for example, that many of the Chateauneuf du Pape wines from France's Rhone Valley are produced from the same grape variety grown on vines the same age but Chateauneuf sells for, at minimum, 3 times the price of the Herencia, then one has to again consider that the Herencia is again a potentially great value.
Then there's the 'celebrity endorsement'. Bob Parker himself said the wine, "…is a naked, unadulterated, unmanipulated effort with great minerality (from the chalky, limestone soils) and an intensity and richness (from the old vines) that are normally found in $50+ wines." Hello! Hey, if one of the greatest wine critics of all time tells you this $10 juice is equal to a lot of wines that sell for $50 I guess you just have to admit the wine is a great value. Case closed.
But value is relative, remember? Next example. 2000 Latour Martillac Pessac Leognan Rouge, a great bottle of Bordeaux from a legendary vintage, for $50 a bottle. Sounds expensive, right? How can a $50 bottle wine be perceived as a value? Let me tell you…
First, let's talk inflation.  The current vintage of Latour Martillac (the 2010) sells for, on average, around $45 a bottle. Well, the 2000 originally sold for south of $25 on release a decade ago. However, inflation and the general increase in prices on Bordeaux have created a situation where you can get a prime vintage of this wine, direct from the chateau, at a price that is the same as the current release.
Which would you choose? That's right, since most people buy Bordeaux from both the classified wines of the Left Bank, as well as wines from the Right Bank, then age it in their cellars so it can mature, there is absolutely no reason to buy the younger wine when you can get the same quality wine (or better) with 10 years of bottle age on it, that was on the Wine Spectator Top 100 wines list of 2003, for the same price! That, friends, is value.
Final example.  Another Bordeaux. Pape Clement Pessac-Leognan 2010. Robert Parker 100 points. One of ten wines from the 2010 Bordeaux vintage awarded a perfect score. This wine can be found for just south of $200 a bottle. Value? You have to be kidding me! Right? How can any wine that sells for $200 be considered a value in today's world?
Easy, look at the 'competition'. After doing some research I discovered that, of the other nine wines that scored a perfect 100, there is one that sells for around $230, two that are selling for $300+, three that are north of $1000, two that are north of $2000 and two that are simply unobtainable. When you do the math, Pape Clement 2010, being substantially less expensive than all of its new 'peers' is, even at $200 a bottle, an outstanding 'value'…thanks, of course, to that 100 point score which made the wine an instant collector's item.
Three wines, three price points, all incredible values. It all depends on what you're looking for…
Written By Kyle Meyer