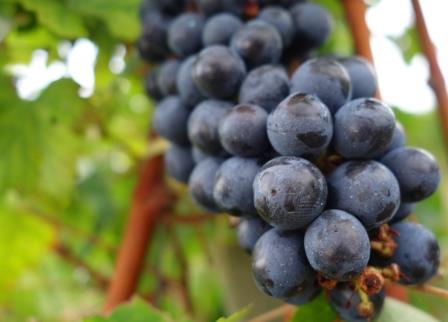 There is a holiday for almost anything these days. Fortunately for wine lovers, that is, wine lovers who enjoy wines made from Cabernet Sauvignon, August 30, 2012 was deemed National Cabernet Sauvignon Day!  The celebration actually takes in all Cabernet based wine, so this could include Cabernet Franc as well.  This means that all over the world, for the third year in a row, people are opening wines produced from Cabernet Sauvignon. Not that most of us need another reason to open a bottle of wine. I know I don't.
Before you reach for that bottle of Cabernet in your cellar, lets take a look at the history and character of wines produced from Cabernet Sauvignon.
Cabernet Sauvignon comes in all shapes and sizes and produces an incredible array of wines, and wine styles. If you want to read about wines we've tasted from Cabernet Sauvignon, please see our Wine Tasting Notes. At the end of this article, I'll share a tasting note from one of the best Cabernet Sauvignon wines I've had in ages. However, if you'd like to know more about this amazingly, complex, versatile grape, please read on. And if you're reading this article with a glass of wine in your hand, that's even better!
Cabernet Sauvignon is planted all over the world in a myriad of climates. It reaches its full potential in Bordeaux, especially in the Meodc as well as in Pessac Leognan. It is used to produce much of the world's most expensive wine. It is also used to make a lot of inexpensive wine.
While Cabernet Sauvignon is perhaps the most famous red wine grape in the world, it was created relatively recently. At some point in the 17th century, French wine growers crossed Cabernet Franc and Sauvignon Blanc to create a unique grape with special flavors and tough, thick skins that made it easier to grow. The grape began earning a good reputation for producing strong wines of character in the 18th century. This was due to its success in the Bordeaux wine region. It seems to have first taken hold in the gravel based soils of Pauillac, the home of three of the five First Growth chateaux. Chateau Mouton Rothschild, then known as Chateau Brane Mouton and Chateau d'Armailhac were two of the first well-known Bordeaux wine producers to embrace Caberent Sauvignon. Today, Cabernet Sauvignon is the dominant grape in the Left Bank of Bordeaux. Cabernet Sauvignon is also the most important grape in Pessac Leognan, although it has competition with Merlot.
The actual discovery of the true origin of Cabernet Sauvignon is moderately recent. In 1996, a team of scientists led by Carole Meredith, the owner of Lagier Meredith, (a Rhone varietal producer from California) used plant DNA material to determine the fruits origin. It is thought that the variety was created by an accidental crossing that took place sometime in the 17th century between Cabernet Franc and Sauvignon Blanc.
While the relatively hardy Cabernet Sauvignon grape can be grown in a variety of terroirs, it is at its best in poor, deep gravel soils and warm temperatures. It needs a longer growing season than Merlot and Cabernet Franc. It is most famous for the wines made in the Left Bank of Bordeaux, as well as for the wine it produces in California. While Cabernet Sauvignon is always blended with other grapes in Bordeaux, there are numerous producers making 100% Cabernet Sauvignon in California.
As we mentioned, in Bordeaux, Cabernet Sauvignon is always used as part of the blend. It can be over 90% of the blend in some vintages at select estates in the Left Bank. At other properties, it might be as low as 50%, or even a little less. In the Right Bank, not much Cabernet Sauvignon is grown. Some properties use up to 25%, for example Chateau Figeac in St. Emilion has almost one third of their vines devoted to Cabernet Sauvignon. Chateau Cadet Piola has 28% of their vines planted to Cabernet Sauvignon. Chateau Troplong Mondot also in St. Emilion has slowly increased the amount of Cabernet Sauvignon in their vineyards over the past two decades. They are currently close to 15%. Chateau Pavie is experimenting with some plots of Cabernet Sauvignon as well. But across the board, not many Right Bank Bordeaux estates use that much of the variety in their blends.
In Pomerol, based on recent vintages, Chateau Clinet uses between 10% and 15% Cabernet Sauvignon in their wine. More often, if a Right Bank chateau includes it in their wine, on average, it ranges from 5-15% of the blend. The rest of the blend is usually Merlot, Cabernet Franc or both. In California, many wineries produce wine from 100% Cabernet Sauvignon, although blends are common as well. Cabernet Sauvignon based wines are the most expensive wines produced in California, with prices for Screaming Eagle hitting well over $1,000 per bottle! Harlan Estate is not far from that price point either.
At its best, Cabernet Sauvignon produces wines with deep, dark colors that offer complex scents and concentrated flavors ranging from blackberries, creme de cassis, black cherries, boysenberry, blueberry and chocolate when young, to fragrances of tobacco, truffle, cedar wood, earth, lead pencil and leather when mature. When the berries are not ripe, distinct aromas of green peppers or olives can be found. The wines can be rich and concentrated, as well as tannic. Cabernet Sauvignon wines have the ability to age for decades when grown in good soils and allowed ample time to ripen.
The actual Cabernet Sauvignon berries are small. They have dark colored, thick skins and can, under the correct conditions, become intensely, concentrated with flavor. It is the ability to offer concentrated flavors, refined textures and complex aromatics, along with high levels of tannin allowing the wine to age and evolve that make this an ideal grape for producing wine.
Trust me, I'll be opening a nice bottle of Cabernet Sauvignon tonight to celebrate not only National Cabernet Sauvignon Day, but the grand opening of the new Umami Burger in Los Angeles with Adam Flieschman. But to get a jump on the celebration, we opened one of the best bottles of Cabernet Sauvignon produced in Napa. 2001 Harlan Estate Cabernet Sauvignon has just about everything you'd want in a wine.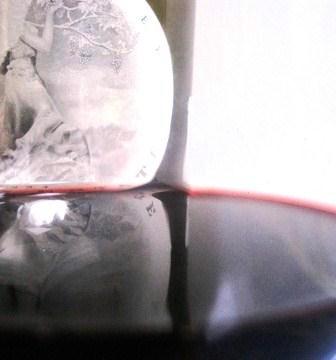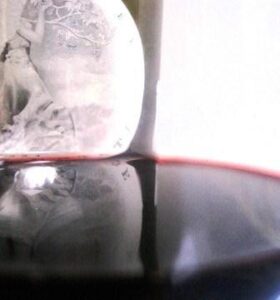 With prices where they are, opening a First Growth, Screaming Eagle or bottle of Harlan is a rare treat. Quite often, these tremendously, expensive wines do not offer an experience close to their cost. For lovers of California Cabernet Sauvignon, this was about as good as it gets. The first thing you notice is how young, fresh and vibrant the wine is. For the tasters who think high alcohol wines do not age, this wine refutes that argument. With an explosive nose of licorice, coffee bean, earth, blackberry, spice and cigar box, the wine coats your mouth with flavor. Rich, plush, round and palate filling, there is a beautiful sense of purity to the fruit. There is no sensation of heat, even though the wine could be above its stated 14.5% alcohol level. Everything is in balance. the wine is not an over the top tasting experience. This has morphed into an elegant, sophisticated, California Cabernet. 98 Pts