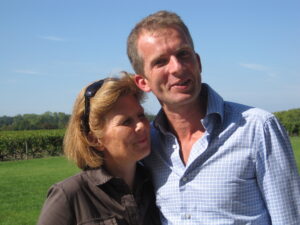 A Grave Situation in Pessac Leognan indeed…
Monday, July 7
I've been to Bordeaux numerous times. But for some unknown reason, I have not spent much time in Pessac Leognan or Graves. After spending a full day in Pessac Leognan, I realized I truly need to spend more time here. Graves is not far from the city of Bordeaux. In fact, if you have not been there, it is difficult to comprehend Haut Brion is smack dab in the center of Pessac with cars, industry and businesses all over the place!
Smith Haut Lafite is more than a Chateau. The industrious Daniel and Florence Cathiard  also operate a restaurant and the finest spa in Bordeaux, Les Source De Caudalie.
Before the tasting, we were shown the new, underground wine tasting room. The steep, staircase that opens like a secret, trap door leads into a hidden, underground , copper lined chamber that would not be out of place in a James Bond film! We stopped in without much notice and were not able to taste the 07 red or white. Based on the quality of the 06, I imagine they produced one of the top whites in 07. I'll try and taste that next time.
04 Smith Haut Lafite Rouge with its deep, ruby red colr was already showing well. Very supple, lots of energy and ripeness finishing with a chocolate covered raspberry finish. 90 Pts
05 Smith Haut Lafite Rouge kicks into high gear with its spicy cassis, chocolate and blackberry scented nose. This fat, concentrated Bordeaux wine offers thrills that are completed by a very sexy, flashy, opulent, long blast of fruit. 93 Pts
06 Smith Haut Lafite Blanc with a lychee, sweet candied nose is very concentrated and filled with ripe fruit. This thick, Bordeaux Blanc ends with an intriguing lemon, lime note that lasts over :30. 93 Pts
Domaine de Chevallier is owned by the skilled and generous Olivier Bernard. I say generous because a few years ago at a dinner with the GJE, Mr. Bernard served one of the greatest wines of my life. It was a 6L of 1865 Margaux! That was an experience I will never forget. Chevalier has been producing good wines for decades. Recently, with the assistance of Stephane Derenoncourt, Chevalier has really stepped up their game. At this point in time, Stephane only works with the red wines.
07 Chevalier Blanc exploded form the glass! You read that correctly. The fragrance jumped from that glass faster than the Alien went after Sigourney Weaver. And it was all over my senses! The perfume explosion filled the room with exotic scents of lemon lime, grapefruit and guava. Full bodied, concentrated, rich and intense. Great acidity that keeps the wine fresh. The finish seems endless. This is one of the finest Bordeaux Blancs I have ever tasted. I talked about it all night. Truly, this is a riveting wine!
06 Chevalier Blanc is much more subdued than the off the charts 07. But, what isn't? The grapefruit nose and full bodied palate finishing with a liberal dose of lemon zest is a very nice wine. But, along with less depth, there is also less acidity than the 07.
04 Chevalier Rouge with its tarry, black fruit and tobacco nose is starting to open. Not as complex or deep as the 05, but, it will not require aging to deliver pleasure either. 89 Pts
05 Chevalier Rouge was closed and hard to get a bead on. But, with coxing and some air, I caught a glimpse of the wine. Big entry, tannic, good length and soft tannins. This should age well. 92 Pts
06 Chevalier Rouge is a lush style of wine for the vintage. Lots of ripe black fruit and chocolate in the finish. This is another 06 I think will be as good or better than the 05.
For fans of statistics, Chevalier is a 35-hectare vineyard planted 10,000 vines/ha; average age is 30 years; encépagement = 65% Cabernet Sauvignon, 30% Merlot, 2.5% Petit Verdot, and 2.5% Cabernet Franc; 45 hls/ha in 2007; 100% hand harvested; fruit sorted three times then moved to small stainless by gravity; 6-day cold soak at 15° C; 28-day maceration; microbullage during fermentation and barrel aging; malo and aging in 35% new, 35% one-wine old, and 30% two-wine old, barrels – Saury, Taransaud, Nadalié, Seguin-Moreau, Berthomieu, and Dargaud – with lees stirring for first six months and for an estimated total of 19 months. Blend is currently 63% Cabernet Sauvignon, 30% Merlot, 5% Petit Verdot, and 2% Cabernet Franc.
After Chevalier, we made our way over to Haut Bailly. This was my first time at the property and I came away with both good and bad news. The bad news is, I have no idea how I have not been following this wine for the past decade. I am ashamed to admit, it was off my radar. Not for any reason other than, I cannot follow every wine. Can I? The good news is, it's on my radar screen now where it belongs!
The tasting allowed my to get to know Veronique Sanders and the new owner, Robert Wilmers, a fellow American. The cellar master for Haut Bailly, Jean Christopher Paignac is also a world champion hog caller. That's right! I had trouble believing it as well. Not that I know much about hog calling, but, like hot dog and pie eating contests, I felt sure the award and contest were better suited to Americans. I asked for proof.
Jean Christopher Paignac stepped up and with the voice of a man who was sure of his place in life said, "It would be his absolute pleasure!" Ladies and gentlemen, boys and girls, Jean Christopher let out a bellow that sounded as if it came from the bowels of Satan! With bulging neck veins, the whites of his excited eyes looking as if they were about to pop from his skull and blood filled veins protruding in his forehead ready to explode, he let out another hog call that was loud enough to be heard all the way to Pomerol! I was stunned. This impromptu performance proved I was in the presence of greatness. Bravo Jean Christopher Paignac!
After that, there was nothing left to do but taste.
06 Haut Bailly was filled with smoky plums and cassis. Great freshness. Very ripe, elegant tannins. Supple in style, concentrated and shows a lot of finesse. 94 Pts
05 Haut Bailly took me by surprise. I admit, I liked the 06, but I loved the 05! Gobs of black fruit, smoke, chocolate and tobacco. Dense and filled with elegant, ripe fruit. This is at a whole new level compared to the other vintages tasted. There is a lot going on in this wine and the style, elegance and finesse is a pleasure to taste, swirl, sniff and sip. This was so good it is one of the few wines I had to buy after tasting it. If you like Haut Bailly or Graves, this is a wine you need to buy. I did. 95 Pts
04 Haut Bailly, with its chocolate, mint, raspberry aromatics and soft, round, silky entry make this a wine worth seeking out. 91 Pts