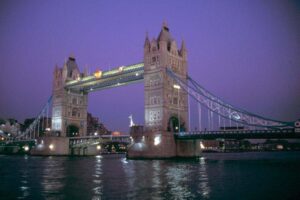 Tuesday, July 8
London Bridge is falling down…
At one point several years ago, fine dining in London offered limited choices. Today, it's a dining destination.  I've been to The Square and sampled the culinary styling's of Gordon Ramsey. The Fat Duck was an experience even if there was no duck. Those pale in comparison to scoring reservation at Chez Morgan!
After my long and extensive Bordeaux trip I was ready to return home. Traveling on airline miles, the best available flight back to America was through Heathrow. With the opportunity to see my friends in London and to sample Charles stellar, cooking skills, I jumped at the chance!
My original plan was to ship a 91 La La and 91 Chapoutier Pavillon Hermitage. Actually, the wines were sent. But, the person who arranged the shipping declared the value for the wines at $2,000. FedEx demanded duty of close to $500! That seemed like a hefty corkage, even for London. After much difficulty, the package was refused and returned and I managed bring a bottle with me from Bordeaux. Shipping wines from Europe might be expensive, but, it's easy. Sending wines the other way is a much more arduous task. Fortunately, things got sorted out.
Charles Morgan, Tom Mann, Linden Wilkie, Russell Faulkner and Neal Martin, the sesquipedalian scribe of the wine world were all kind enough to join me for dinner and to catch the end of the Federer, Nadal match. As I was not able to attend Wimbeldon, watching it in England was the next best thing.
Over an amazing platter of charcuterie, including Pata Negra and a fabulous roast, we enjoyed several Rhones. I wrote down a few scant few notes hoping to convey the quiddity of the wines. Neal, that was for you. These are simple impressions of most of the wines we shared.
90 Bonneau Marie Beurrier showed the ripeness and great style of the vintage. Dense, very ripe and meaty. Great palate presence. Better balanced, riper and much more concentrated than the 89, this is drinking perfectly today. 94 Pts
95 Bonneau Celestins is filled with sappy, cherry, spice, pepper and strawberry notes. Still young, I'd give this very structured Chateauneuf another 5 years before popping another bottle. 95 Pts
95 Chave saying it rocked, is an understatement. Big, rich, concentrated and filled to the brim with spicy, red and black fruits. Great texture and a long finish completed the experience. 96 Pts
90 Jaboulet Thalabert Crozes Hermitage was the surprise of the night. I was surprised at how much I liked this wine at 18 years of age. Lots of ripe black fruit, earth and spice notes. 91 Pts
83 Pegau was a nice bottle of fully mature Chateauneuf. This was my first 83 Pegau which I was thrilled to be able to taste. Probably a year or two past its prime, if I had any, I'd drink it sooner than later.