Wednesday July 9
That Old Bordeaux wine is how old?
Preparing to take on the myriad of issues associated with flying out of Heathrow, I could not think of a better way to get ready than to have a long, civilized meal, and some nice wine before hopping on the plane. Stephan Browett of Farr Vintners was kind enough to allow me to join him.
Prior to lunch, I met Stephan and his team for a small blind tasting of various 05 Bordeaux. The tasting room, a large, space littered with old dead soldiers was a great place to taste. Empty bottles of Petrus, Le Pin, DRC, Lafleur, countless First Growths and stunning large format bottles from historic vintages from the past hundred years provided all the decorations the room needed. The purpose of the tasting was to decide if they were going to make a major purchase, so that was fun. But, my time was limited, so, on to lunch.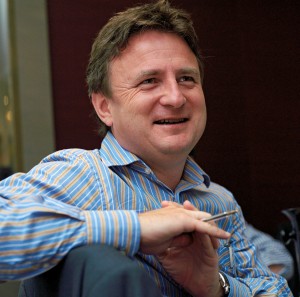 A short drive from Farr during a typical, London, summer rain brought us to Chez Bruce, owned by the same gentleman who is also the proprietor of The Square and now Ledbury as well. Shortly, we settled in for a proper afternoon lunch and a few more wines served double blind to me.
1950 Cheval Blanc The first wine popped sported a very dark, brown color with vague hints of red and brick poking through. The longer the wine remained open, the darker the color got. By the end of the lunch, the wine was a completely different shade. As Spock would say, "Fascinating." Incredible scents of licorice, earth, truffles, herbs, soy, kirsch, black cherry, root beer and fresh coffee wafted from the glass in a continuous stream of perfume. In the mouth, your palate was drenched with very concentrated, dense, blackberry, coffee, black fruit and cola notes. The viscous texture with the silky patina of age was a treat I will not forget. The finish, texture and flavor continued opening and improving in the glass during the two hours we spent with the wine. It reminded me of the 21 Cheval Blanc. 97 Pts
1964 Cheval Blanc was up next. At first, the wine was marked with VA, but that faded after a short time in the decanter and glass. Spice, earth and a decadent array of truffles. Rich, silky, opulent fruit poured over your palate like oil dripping from a spout. The wine finished with a plethora of roasted, opulent, black fruits accompanied by velvet textures. Surely, 64 Cheval has to be in contention for wine of the vintage in a year that favored the Right Bank. 95 Pts
1961 Gruaud Larose, a wine that I truly enjoy was an off bottle.
Fortune smiled as another bottle magically appeared…
1975 Certan De May is fully mature. Spicy plums and earthy notes are easy to find in the aromatics. Austere in style, this traditionally styled, brawny, masculine Pomerol is big in style, but like many people I know, it could use a bit more length in the finish. 90 Pts