Profiles on the following Hermitage wines along with reviews can be found here.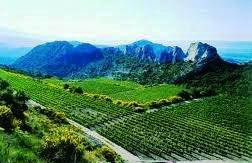 Rhone Valley Hermitage Wine Wine Guide  and producer listings with links to pages on every important property in the Hermitage appellation with wine tasting notes, histories of the properties, images, technical information and Hermitage wine buying tips.
Hermitage wine, with the right amount of bottle age, can be compared to any of the world's great wines. Hermitage wines are full bodied, rich, tannic wines that can evolve for decades. In fact, they often require 15-20 years before being fun to drink, let alone mature.. On the nose you'll find black fruits, herbs, olives, cassis, iron and earthy scents. They do not drink well young. Hermitage wines must be allowed to mature.
Hermitage is a small appellation. The total size about 321 acres of vines. Think about this… Chateau Lafite Rothschild is 247 acres. Cote Rote is huge in comparison with a whopping 497 acres! Hermitage is located about 30 miles south of Cote Rotie, not far from the village of Tain l'Hermitage.  While the appellation of Hermitage is small, many of the best producers also make wine from nearby communes, such as; Crozes-Hermitage, Cornas and St. Joseph. The production of those appellations dwarfs that of Hermitage.
Hermitage is one of the older wine growing areas in the world. The Ancient Greeks planted vines in about 600 BC. Demand for the wines of Hermitage during the 18th century was quite strong. The top wines sold for as much, or more than the best wines of Bordeaux. In fact, some negociants and Bordeaux chateaux added Syrah from Hermitage to their wines to give them more backbone, strength and vigor. Many Burgundy producers also included a portion of Syrah from Hermitage to add structure and color to their wine. This practice continued for over a century.
The only red wine grape allowed is Syrah. Marsanne and Rousanne are the two white wine grapes allowed to be planted in the appellation. While it's legal to add white grapes into the red wine, similar to what they do in Cote Rotie, it is not a common practice in Hermitage.
The best vineyards of Hermitage are located on the steep hillsides. There are three main hills in the appellation with varying degrees of granite, limestone, iron, sand and quartz. While there are Hermitage vineyards that are not located on the three hills, all the best Hermitage wines come from hillside plantings.
Hermitage wines are rich, concentrated, tannic and offer scents of fresh black raspberries, blackberry, earth, spice, black cherry, mineral and smoke. In their youth, they can mouth searingly tannic. When they age, the wines magically transform into an elegant, refined, tasting experience.
The best Hermitage vintages in recent era are 2009, 2003, 1999, 1998, 1990, 1989 and 1988.
A lot of new oak is not popular in Hermitage wines. Chapoutier uses almost 100% new oak, but most employ 30% or less. Hermitage wines are also produced in minute amounts. Chave and Jaboulet are large producers, but most Hermitage wine makers produce under 500 cases for the entire world, in a successful vintage!
For the best value in Hermitage wine with some bottle age, look for wines from 1998 & 1997.
Aside from red Hermitage wine, there are also outstanding Hermitage white wines and you can also find Vin de Paille, a sweet wine made from grapes dried on straw mats.