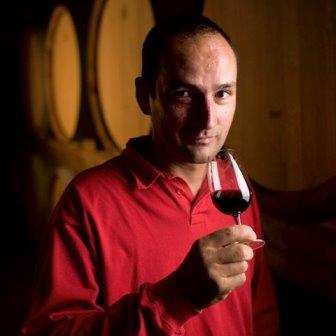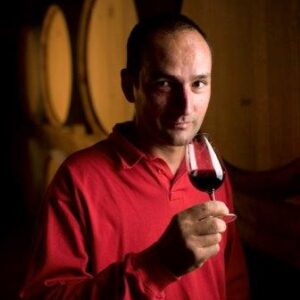 Learn everything about Yann Chave, Hermitage with wine tasting notes, wine and food pairing tips, best vintages, a history of the property and information on the vineyards and winemaking. If you want to read about other important wineries and wine makers from the Rhone valley: Links to all Rhone Valley Wine Producer Profiles
Yann Chave History, Overview
Yann Chave is not a domaine with a long history in Hermitage. It was created quite recently as it was founded in 1970 by Nicole and Bernard Chave after they made their first vineyard purchase of 4 hectares of vines, close to the village of Mercurol.
At the time, only 1 hectare was planted with vines. The remainder of the land was being used for fruit trees. By 1972, they saved enough money to begin planting vines on their other 3 hectares of vineyard land. And no, Yann Chave is not related to the famous JL Chave.
Yann Chave Vineyards, Wines, Winemaking
At first, they sold their grapes to negociants and the Tain l'Hermitage cooperative. In 1983, they broke ground and slowly began building their own winery and cellars.
The first vintage for Yann Chave where they produced, bottled and sold their own wine was made from the 1996 vintage. The domaine was named after the son of Bernard Chave, Yann Chave.
From that point forward, they continued adding vines to their holdings and today, they own 17 hectares of vines in the Northern Rhone. The vines are dispersed into two appellations.
They have 15.5 hectares in Crozes Hermitage and 1.5 hectares of vines in the Hermitage appellation. They also maintain lease agreements with other growers in the region so they now make wine from 20 hectares of vines in total.
In 2003, they finish construction on a brand new, modernized cellar. Yann Chave is now entirely owned and managed by Yann Chave who took over from his father Bernard Chave.
The actual Northern Rhone domaine is located in the middle of Crozes Hermitage. In total, they have 19.24 hectares of vines for the production of red wine and .76 hectares for white wine
In Hermitage, their vines are located next to Le Meal on the hill of Hermitage. The vineyards are on a steep hillside with a terroir of granite soils. On average, their vines are 30 years of age.
Their vines in Crozes Hermitage come from Mercurol, La Roche de Glun and Pont de l'Isere. All farming is done using only organic vineyard management techniques.
Yann Chave produces 3 red wines and 1 white wine. However, Yann Chave only produces 1 red wine in Hermitage. The remaining wines come from his vines in Crozes Hermitage.
Yann Chave Hermitage comes from vines planted in the lieux-dits of Beaumes and Peleat. 80% of the vines are planted in Beaumes, which is next to Le Meal.
The vines are still young, but they are aging, as they are on average 30 years of age. Yann Chave Hermitage is vinified in stainless steel vats.
The Hermitage wine of Yann Chave is then aged in neutral 600 liter barrels for an average of 17 months before bottling. The average annual production is close to 550 cases per year.
Yann Chave produces 3 wines from vines they own in Crozes Hermitage.
Yann Chave Crozes Hermitage Rouge
Yann Chave Crozes Hermitage Le Rouvre Rouge
Yann Chave Crozes Hermitage Blanc
The red wine of Yann Chave from Crozes Hermitage is produced in much of the same method as they use in Hermitage, but with less aging and vatting time.
The white wine of Yann Chave is usually a blend of 70% Marsanne and 30% Roussanne and is aged in neutral tanks.
When to Drink Yann Chave, Anticipated Maturity, Decanting Time
Yann Chave, when young, should be decanted at least 1-2 hours, give or take, allowing the wines to soften and open their perfume. Older vintages might need very little decanting, just enough to remove the sediment.
Yann Chave is usually better with 7-9 years of cellaring and should be at its best between 10-20 years of age.
Serving Yann Chave with Wine, Food, Pairing Tips
Yann Chave is best served at 15.5 degrees Celsius, 60 degrees Fahrenheit. The cool, almost cellar temperature gives the wine more freshness and lift.
Yann Chave is best served with all types of classic meat dishes, veal, pork, beef, lamb, duck, game, roast chicken, roasted, braised and grilled dishes. Yann Chave is also good with Asian dishes, hearty fish courses like tuna, mushrooms and pasta.
The white wine of Yann Chave is best served with a myriad of different seafood dishes, shellfish, crab, lobster, sushi, sashimi, chicken, pork and veal, as well as Asian cuisine.
Yann Chave Wine Tasting Notes
8 Vintages 18,302 Views Sort by Vintage-Rating
2020
Yann Chave (Hermitage)

Fresh, round, earthy, ripe, dark red fruits with a peppery edge on the juicy, blackberries and plums. There is length and lift in the rich finish. Drink from 2024-2039.

1,204 Views

Tasted

Oct 4, 2022

2019
Yann Chave (Hermitage)

Full-bodied, deep, dark, rich, round, and focused on its core of ripe, blackberries, black currants, smoke, peppery olives, and herbs. Drink from 2026-2040.

1,389 Views

Tasted

Oct 9, 2022

2015
Yann Chave (Hermitage)

Olives and herbs permeate the black and dark red berries. You also find an array of yellow spices and a touch of smoke. The wine is concentrated, deep, long, and with 1-2 hours of decanting, ready for the start of its drinking window. Drink from 2022-2035.

1,435 Views

Tasted

Oct 9, 2022

2012
Yann Chave (Hermitage)

Still bearing the deep color from its youth, the wine is loaded with ripe, sweet, peppery, dark red berries, earth and chalky, rocks and stones. There is a solid depth of flavor and plenty of bright, red, spicy fruits in the finish. Another 5 years of cellaring should be perfect for this wine.

2,738 Views

Tasted

Oct 4, 2018

2012
Yann Chave Blanc (Crozes-Hermitage)

Medium. full bodied, with a yellow and orange, buttery, citrus character, oily textures and a fruit and stone finish. The wine was made from a blend of 70% Marsanne and 30% Roussanne.

1,772 Views

Tasted

May 16, 2017

2010
Yann Chave (Hermitage)

Young, inky, dark and brooding, with a few hours of air, the wine started to really open up. The wine is concentrated, rich and long. The licorice, cracked pepper, rock, earth and ripe, fresh blackberries are there from start to finish in the nose and on the palate. Another 5 -10 years will add a lot of complexity to this wine.

3,103 Views

Tasted

Nov 12, 2015

2009
Yann Chave (Hermitage)

Still holding on tight, yet, there is no doubt as to how this is going to grow up. With good concentration, depth of flavor, and plenty of ripe tannin coupled with a showcase of smoked meat, thyme, blackberry, dark cherry and crushed rocks, the wine will need another 7-10 years before it starts showing its best.

2,206 Views

Tasted

Mar 15, 2018

2009
Yann Chave Le Rouvre (Crozes-Hermitage)

Young, deeply colored, vibrant, tannic, full bodied and demanding time, with effort, peppery, fresh dark berries, earth and spices come to the forefront.

4,455 Views

Tasted

Jan 17, 2015