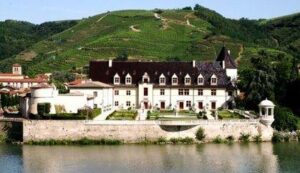 Guigal Cote Rotie Rhone wine producer profile with wine tasting notes, wine ratings, a history of the property, information on wine making and terroir, along with wine tasting reviews and images. If you want to read about other important wineries and wine makers from the Rhone valley: Links to all Rhone Valley Wine Producer Profiles
Domaine Guigal is the most famous producer of Cote Rotie in the Rhone valley. Guigal also produces great wines from a myriad of appellations in the Rhone valley including; Chateauneuf du Pape, Hermitage and Cote Rotie. Wine lovers enjoy arguing about almost anything. But the vast majority of experienced tasted agree, the benchmark for quality in the appellation is set by Guigal Cote Rotie wines.
Guigal is also the leading negociant for the Rhone valley. Guigal Cote Rotie vinifies an astonishing 40% of all the produced in the appellation! Amazingly, all this was accomplished in less than 60 years. This is a major accomplishment when you consider that most of the major European wine dynasties got their start in the 1800′, if not earlier!
Eitenne Guigal got his start in the St. Etienne area when he took a job with Vidal Fleury. After 15 years at the firm, he left in 1946 and formed Ets, Guigal, short for Establissements Guigal. in 1984, Guigal purchased the firm that gave him his start, Vidal Fleury. Etienne passed way in 1988 at the age of 79. Marcel Guigal was managing the properties by that time. Philippe, the only son of Marcel was born in 1975. They are all active in producing Guigal Cote Rotie.
The company continued adding to their holdings with the purchase of Chateau d'Ampuis in 1995. At the time they bought the property, the domaine was in poor condition. Since then, it has been completely rebuilt and modernized. The company installed their own cooperage at the property allowing them to produce wood barrels to their complete satisfaction. Aside from wanting to save money, Guigal now has the ability to dry age the wood for three years, which is double the time used by most cooperages.
To produce Guigal Cote Rotie, they prefer picking late to allow the grapes to reach the full potential of phenolic ripeness and flavors. They are usually one of the last to harvest in the appellation. As the largest landowners in Cote Rotie, it takes two teams of fifty workers each to harvest their grapes. Destemming is determined at the time of the harvest. Some stems are included only if they are ripe. For the production of Guigal Cote Rotie, the wines get different treatments, depending on their terroir. From Cote Blonde, they are only pumped over. Fruit from Cote Brune, which is stronger is pumped over and punched down. For Guigal Cote Rotie, alcoholic fermentation and maceration lasts between three to four weeks. .
The massive cellars of Guigal contains as many as 4,000 casks and ten 60 hecotliter barrels. The barrels are used for Chateauneuf du Pape. The bottoms of the barrels are made from steel for better hygiene. The barrels are old, some can last as long as 50 years!
To produce Guigal Cote Rotie, each of the five wines gets a different treatment:
The Brune et Blonde, (B & B) ages in small oak barrels and foudres for 36 months. Close to 20,000 cases are produced each year. The wine usually includes a small portion of Viognier that is never more than 5%. This is a very good introduction the charms of Guigal Cote Rotie.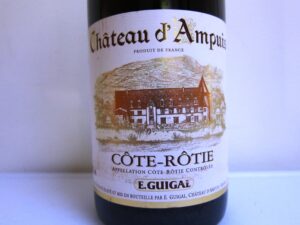 Ampuis is aged for 38 months a combination of new oak barrels and foudres. The wine made its debut vintage in 1995. Annual production is slightly more than 2,000 cases each year. The wine is made from fruit that's picked from 7 different vineyards with vines ranging from 25-75 years of age. While not at the level of the companies more famed wines, it sells for a lot less money. This is an outstanding Cote Rotie wine.
The top three wines from Guigal are affectionately referred to as the La La's, which is short for either La Landonne, La Mouline or La Turque.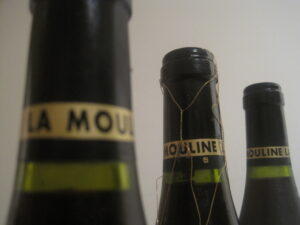 La Mouline is not a single vineyard wine. It is a trademark. The first vintage for this wine was 1966. It was not until 1971 that Guigal decided 100% new oak was better for the wine. La Mouline is usually the first of the three top wines to be harvested. It includes the highest portion of Viognier as well. It's often close to 10%. Depending on the vintage, that percentage can go up or down. The wine rests in 100% new oak for 42 months. La Mouline is a contender for one of the most exotic and erotic wines on the planet! The intoxicating perfume offers floral, spice, bacon fat, pepper, earth, truffle, black and red fruit, minerality and hints of white summer fruit in the aromas. The texture is unlike any other wine. It's polished, rich and concentrated, yet never over powering. The wine is always in balance. It's one of the few phenomenally expensive wines that's worth the money. La Mouline is a unique tasting experience that is unequaled by other wines. Made from 60-70 year old vines, on average, production is only 400 cases for the world.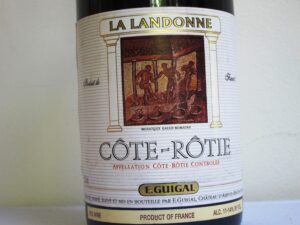 La Landonne made its debut in 1978. Produced from young Cote Brune vines averaging 15-25 years of age, the wine is aged in 100% new oak barrels for 42 months. This is the biggest, most tannic and sturdiest of Guigal's Cote Rotie's. It also expresses the most minerality, along with blackberry, grilled meat, spice, tobacco and truffle. La Landonne is 100% Syrah. It takes much longer than the other La La wines to mature. It lasts longer as well. Annual production hovers at close to 800 cases per year.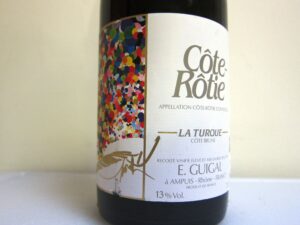 La Turque started out in 1985. Produced from 20-30 year old vines, like all three "La La,"wines, the wine is aged in 100% new oak for 42 months. 7% Viognier on average is included in the wine. La Turque is in some ways a combination of the other two wines, La Landonne and La Mouline It's bigger than La Mouline, darker, denser and more tannic, but it lacks the power, structure and tannin found in La Landonne. Production is close to 400 cases per year.
Wine Tasting Notes
Displaying 48 vintages | 394975 Views Sorted by vintage
2009 E. Guigal Côtes du Rhône

From a blend of 50% Syrah, 40% Grenache and 10% Mourvedre, this surprisingly deeply colored wine is filled with pepper, earth and dark cherries. In ripe vintages, this simple wine gives a lot of pleasure for under $10. However, it does not last and should be consumed in the first few years of its life. Look for the 2010.

87

points - Tasted

Nov 1, 2011

3426 Views

2007 E. Guigal Hermitage Ex-Voto

Powerful aromatics packed with blackberry and black cherry liqueur, crushed stone, smoke, licorice, coffee, crème de cassis and vanilla get your attention. This thick, viscous, flamboyant wine is a head turner. Silky, polished and richly textured, the finish is packed with layers of perfectly ripe, pure blackberries. I love this style of wine!

97

points - Tasted

May 2, 2012

2028 Views

2007 E. Guigal Côte-Rôtie Brune et Blonde

Open, plush, rich and round with black raspberry, kirsch liqueur, pepper, espresso bean and garrigue, this seductive, bright Cote Rotie is already drinking well.

90

points - Tasted

May 28, 2012

2241 Views

2004 E. Guigal Côte-Rôtie Château d'Ampuis

Medium bodied, lighter style of Guigal Ampuis offers fresh, kirsch, plums, earth and spice. This is already fun to drink. I would not hold it hoping for the wine to improve. I'd drink it over the next 5-10 years.

91

points - Tasted

Mar 31, 2012

2462 Views

2003 E. Guigal Côte-Rôtie La Mouline

This is so rich and decadent, it's off the charts! The perfume explodes from the glass with its powerful black and red fruit aromas interspersed with coconut, vanilla, spice and olive infused nose. Powerful, rich, concentrated and dense, this full bodied with offers an exotic texture that coats your senses. Everything about this wine is intense, yet it's in perfect balance. Still young, this is going to be one of the starts of my collection when it hits maturity

99

points - Tasted

Dec 8, 2009

3424 Views

2003 E. Guigal Hermitage Ex-Voto

2003 Guigal Ex Voto is one amazing tasting experience. Incredible layers of concentration. This wine is so packed and stacked with ripe fruit, it tastes as though Guigal managed to place a magnum of wine into a 750 bottle! This is not quite at the level of 03 Chave, but it's close. The Chave is a bit plusher and slightly more opulent. This future legendary wine delivers the goods.

98

points - Tasted

Jan 4, 2011

2249 Views

2001 E. Guigal Hermitage Ex-Voto

The debut release of the Hermitage Ex-Voto, the spectacular 2001 spent 42 months in new French oak. Produced from four vineyard sites, l'Hermite, Les Murets, Les Greffieux, and Les Bessards, it boasts an amazingly thick purple color as well as a rich, sumptuous bouquet of smoke, licorice, creme de cassis, and earth. Full-bodied and rich, with good acidity and magnificent concentration, this is a tour de force in red Hermitage. Given its high tannin and crisp acidity, it will require patience. Anticipated maturity: 2015-2040

96

points - Tasted

Jan 4, 2011

3212 Views

2001 E. Guigal Côte-Rôtie La Turque

5 spice, licorice, kirsch, violets, bacon fat, blackberry, fennel, earth and fresh pepper aromas grab your attention. This full bodied, powerful, sexy, exotic, spicy, kinky wine, finishes with fresh cherries and spice This wine keeps getting better and better. Another few years of bottle age will add a lot to this wine.

95

points - Tasted

Feb 21, 2011

2392 Views

Offering scents of raw beef, pepper and blackberries. In the mouth, fresh plums which combine sweet and tart with just enough acidity to make the wine fresh finishing with a lush palate feel. Give it time or allow it air.

95

points - Tasted

Jun 10, 2009

2843 Views

1999 E. Guigal Côte-Rôtie La Turque

This is a true OMFG wine! When a wine has it all, flavor, palate presence, incredible persistence of finish and continues getting better with each sniff and sip, you know you are in the presence of greatness. Blacker in color and on the palate spectrum than the majestic Mouline, this has even more concentration and additional layers of complexity. Take everything found in the Mouline, add pepper, plums and blackberries and you get an idea of what to expect in the perfume. What makes this all work is, with so much going on, everything is in perfect harmony. While both 99's are in my opinion perfect examples of Cote Rotie, on this night, I preferred La Turque for the first time.

100

points - Tasted

Sep 20, 2007

5586 Views

This is just as compelling as its stable mates. Smokey coffee notes blended with a liqueur of blue and black fruits. Very sensuous mouth feel with a complex finish that never quits. It must last at least :60! Otherworldly is an apt descriptor

100

points - Tasted

Feb 14, 2005

5485 Views

1999 E. Guigal Côte-Rôtie La Mouline

1999 La Mouline is filled with smoky bacon fat, kirsch, oak and pepper. Round opulent textures are paired with a mélange of red and black fruits. This bottle seemed tight and not as fresh, concentrated or lively as other bottles. I do not think this is a perfect example as this wine usually knocks me out.

95

points - Tasted

Oct 14, 2010

7167 Views

This displays every quality a great wine needs in an embarrassing display of over abundance. Incredibly sensuous, deep layers of lush, opulent, rich, ripe fruit melt over your senses. The perfume has so many layers, it's easy to get lost in the wine. Cherry liqueur, raspberries, flower and hints of summer fruit kick off the array of fragrance found in this magic elixir. Everything in this amazing wine is in perfect balance including the long, pure, seamless finish in this majestic Cote Rotie.

100

points - Tasted

Sep 20, 2007

8000 Views

This Cote Rotie has not budged over the past few years. Still very young and primary. But, that does not stop it from offering glimpses of its ample, future charms. 99 La Mouline is incredibly concentrated. Almost black in color. The wine is so rich and thick it feels like molten fruit flowing over your senses as it enters your palate. La La lovers with this in their cellar are sitting on liquid treasure.

100

points - Tasted

Mar 10, 2007

8013 Views

An exotic, kirsch note starts the aromatic fireworks that includes flowers, peach, spice, a melange of red furit, coffee, pepper and earth that takes the wine to another dimension! This is so, opulent, rich, fat, sexy, silky, lush and opulent, it should be illegal. La Mouline can be enjoyed young, but with time, this bottle will develop into an otherworldly elixir.

100

points - Tasted

Aug 15, 2005

7899 Views

Another off the charts wine! Sherry, pepper, flowers, coffee and a liqueur or red and black fruits and spices start off with a bang. This is incredibly concentrated and complex. I found myself asking, does wine get any better? Or, it is just a matter of style?

100

points - Tasted

Feb 14, 2005

7867 Views

1999 E. Guigal Côte-Rôtie La Landonne

Incredibly dark, black purple color. Deep aromatics of black fruit, smoke, bacon and iron wake you up and say hello.The palate is consumed by layers of amazingly ripe, black and red fruits. This is as big as it is plush. If you're looking in the dictionary for a wine to define seamless, this is it! Absolutely flawless. Just far too young

100

points - Tasted

Sep 1, 2005

3321 Views

Soaring aromatics of blackberry liqueur, BBQ spices and wet stones fill the air. This is best described as liquid silk. Even though it's very primary, the compelling quality and complexity of this wine is easy to discern. Off the charts!

100

points - Tasted

Feb 14, 2005

3289 Views

1999 E. Guigal Côte-Rôtie Château d'Ampuis

I like wines young, old and in the middle. I prefer finding them finding them in the sweet spot. Coming up on 14 years of age, this is the sweet spot. The perfume with its spice, earth, kirsch, black raspberry, bacon fat and pepper pop the moment the wine hits the glass. In the mouth, the lush, polished, ripe berries and cherries are in full force. There is not a hair out of place. If you cannot afford the famous La La's, (and who can?) this is a contender for the best value in a high end Cote Rotie from a legendary vintage in the marketplace today.

96

points - Tasted

Nov 30, 2012

1839 Views

Smoke, earth, charcoal, kirsch, wild strawberry, bacon fat, floral and spice box scents make up the perfume. Silky textures, freshness, purity of fruit and concentration of flavor are found in every sniff and sip. This is drinking perfectly today. I'll probably try drinking my remaining bottles over the next 10-12 years to retain the beautiful array of fresh fruits. If you're not familiar with Cote Rotie, while not inexpensive, this is a good bottle to see what the fuss is all about.

95

points - Tasted

Jul 9, 2012

2686 Views

Bacon fat, floral, boysenberry, earth, kirsch, pepper and garrigue pop along with the cork. Silky, rich and filled with layers of sweet, ripe, delicious red and dark berries, this Cote Rotie is moving full speed ahead on all cylinders.

95

points - Tasted

May 29, 2012

2800 Views

Licorice, dark cherries, cassis, bacon fat, herbs and hints of juicy plums open to a powerful, concentrated, fresh wine. With rich, silky textures and a long finish filled with ripe berries, pepper, vanilla and earthy flavors, this is a knock out Cote Rotie that keeps improving. Still young, this should continue to evolve for at least another decade or more. While not cheap, for a Cote Rotie of this quality, this is the wine to buy.

96

points - Tasted

Mar 9, 2011

4815 Views

The showy nose expresses notes of fresh pepper, chocolate covered cherries, herbs, fresh earth and wild strawberries with a tiny hint of vanilla, ending with smoky bacon fat. Thick, rich, sophisticated and elegant, this wine feels great slipping over your palate. Ripe, strawberry, cherry and black raspberry flavors fill your mouth with an exciting bolt of flavor with the perfect amount of lift. The long finish lasts at least 35/40 seconds. This is drinking beautifully today.

96

points - Tasted

Dec 27, 2010

3853 Views

Violets, bacon fat, licorice and jammy fruits are easy to discern in this Cote Rotie. Supple entry. Still tannic. Good concentration and depth of flavors. A long bright, red fruit dominated finish pleases the palate. With 60 minutes of decanting, this still seemed young. It fleshed out after about 2 hours.

94

points - Tasted

Dec 1, 2008

663 Views

1998 E. Guigal Côte-Rôtie La Landonne

Guigal La Landonne is normally a wine that demands 15-20 years, or more before it becomes civilized. The good news to report is, the 1998 is already a thrill to sip! With silky, polished tannins, velvet textures and serious levels of concentration, the wine feels great on your palate, ending on a long, ripe black cherry, stone, smoke, licorice and bacon fat drenched note. Enjoy this wine young for its sweet, delicious, baby fat, or give it another decade or more, either way, this is a stunning example of what Guigal does best.

98

points - Tasted

Dec 19, 2012

2483 Views

Dark fruit, spice, licorice, black cherry, pepper and bacon fat. Concentrated with tannins and ripe, dark fruit, this structured wine requires time.

96

points - Tasted

Jul 1, 2009

7512 Views

Expressive notes of pepper, blue fruit, smoke and blackberry liquor were in full force. However, this needs another decade or more to begin showing its secrets and charms. Very concentrated and full bodied, filled with ripe dark fruit, ending in a long tannic finish.

97

points - Tasted

Feb 14, 2008

7441 Views

The perfume jumps from the glass. The layers of ripe black fruit continue flowing over your palate. The finish seems to continue endlessly. Wow, what a wine

98

points - Tasted

Nov 12, 2007

7516 Views

1998 E. Guigal Côte-Rôtie La Mouline

This is as intense as it is concentrated. Smokey jammy fruit blended with minerals makes for an intoxicating perfume. It shows of La Mouline's exotic side with its sexy, plush personality.

98

points - Tasted

Feb 14, 2005

3904 Views

1998 E. Guigal Côte-Rôtie La Turque

Bacon fat, flowers, black raspberry, smoke, charcoal and licorice notes make the perfume come alive. Rich, intense and concentrated, this full bodied, ripe, sweet, tannic wine is built to age. Interestingly, it was not as open as the 1998 La Landonne.

97

points - Tasted

Dec 19, 2012

1247 Views

Smokey black fruit, flowers, earth, herbs, burnt wood and an interesting aroma reminding me of wet cement. can be found with a little swirling. The wine is huge, very dense, tannic and concentrated.

96

points - Tasted

Feb 14, 2005

2421 Views

1998 E. Guigal Côte-Rôtie Château d'Ampuis

Black cherry, tar, kirsch liqueur, charcoal, pepper and bacon fat. Silky smooth with ripe cherries, plums, spice, fennel, cocoa and black raspberries are in the soft, voluptuous finish. this is drinking very well at the moment. It made a perfect pairing with rare, grilled, Flannery strip steaks and mushrooms. This is not that far off the level of quality found in the 1999 or 2003 Guigal Ampuis. By the, this wine was popped and poured. I worked on this wine for about one more hour after writing the initial note and upped its score a point. This is a very strong, stylish Cote Rotie.

94

points - Tasted

Jul 20, 2012

2447 Views

Licorice, flowers, spice, blackberry liqueur, truffle, smoke, plums and bacon fat aromas popped the moment the cork was pulled. rich, round, concentrated, stylish and filled with gobs of juicy, dark fruit and spice, this beautiful Cote Rotie is drinking perfectly today. It's not a La La, nor does it pretend to be. It's a wonderful Northern Rhone wine that is just now starting to show its stuff.

94

points - Tasted

Oct 27, 2011

2648 Views

Dark, rich colors with no lightening at the edges. Sappy aromas and hints of pepper, licorice, coffee and spicy, jammy fruit. Thick, rich and tannic. A good wine that will vastly improve over the next several years.

93

points - Tasted

Aug 10, 2004

611 Views

1997 E. Guigal Côte-Rôtie La Turque

Almost as seductive as La Mouline, not as powerful as La Landonne and the perfect way to end a once in a life time tasting.

94

points - Tasted

Feb 14, 2005

2227 Views

1997 E. Guigal Côte-Rôtie La Mouline

From the first intoxicating scent, you know you're in for a treat. Licorice, flowers, kirsch, black cherry liqueur, sizzling bacon fat, pepper, earth, black raspberry and earthy aromas are all over the place. Pure silk, velvet and opulence, the wine feels lush as it crosses your palate. Acidity is in balance as the full bodied, concentrated wine feels fresh and lively. Still young, this is starting to drink great. Most vintages of La Mouline are expensive because the quality is high, very little wine is made and the demand outstrips the supply. With that in mind, 1997 Guigal La Mouline could be the best value for one of these prized wines. If you have not tasted La Mouline, or if you're looking to add more Guigal to your collection, this is the vintage to buy!

97

points - Tasted

Mar 15, 2012

1740 Views

This is one sexy little beast. Plush, lush, rich and filled with earthy, spiced cherries, assorted red and black fruits topped with a floral note. Close to mature, a few more years will help it develop. But if you have more than a few bottles, pop one. You won't be sorry.

97

points - Tasted

Mar 25, 2008

1082 Views

A very seductive style of wine filled with deep cherry, black fruit, flower and spice aromas.

95

points - Tasted

Feb 14, 2005

629 Views

1997 E. Guigal Côte-Rôtie La Landonne

Still deep in color, aromas of kirsch, jammy black raspberry, stone, fresh herbs, cracker black pepper, spice box and smoke pop with little effort. Rich, lush, silky, pure black and red spicy fruits effortless coat your palate. There is a beautiful sense of purity to the velvety fruit. The wine finishes with bright, fresh, spicy, black cherry and licorice with a lot of energy. This is become a much better wine over the past few years. Drink it now or age it for a decade and enjoy over the next few decades after that. Over the years I've always favored La Mouline, but La Landonne continues gaining ground in the race to naming a favorite of the three La La's. Guigal La Landonne is always an expensive wine. But if you want a good example of why these wines are so prized, this is probably the best priced example in the marketplace today.

97

points - Tasted

Dec 26, 2012

1271 Views

Coffee, black fruit, pepper and earthy notes were easily findable. Very concentrated with a finish lasting over 40 seconds, this intense, round, rip, rich wine has a lot to offer.

95

points - Tasted

May 12, 2005

2661 Views

The most accessible young La Landonne of the night. Elegant and sophisticated as well as complex.

93

points - Tasted

Feb 14, 2005

2622 Views

1996 E. Guigal Côte-Rôtie La Turque

A solid Cote Rotie, but not a great vintage for La Turque. The nose offered enticing aromatics. But the lack of depth and concentration, coupled with none of the normally easy to find exotic qualities enjoyed in the La La's, makes this medium/full bodied wine a pass, especially when you consider the price.

93

points - Tasted

Dec 2, 2012

1113 Views

1995 E. Guigal Côte-Rôtie La Mouline

Flowers, licorice, kirsch, smoke and black raspberry scents open to a fresh, bright, zippy Cote Rotie, with supple textures and a lush, polished finish. A few more years will add another level of complexity to the wine.

97

points - Tasted

Dec 18, 2012

1138 Views

With a beautiful nose of boysenberry, flowers, earth, black cherry, spice, earth, bacon fat and pepper, this sensuous, rich, fresh, sexy, structured bottle of Cote Rotie is drinking beautifully today. However, it has the stuffing and backbone to age and improve for another 15 or more years.

97

points - Tasted

Aug 2, 2012

1696 Views

1995 La Mouline starts out with a nose filled with smoke, black cherry, kirsch, bacon fat and truffle. In the mouth, the wine is big and powerful with a lot of brightness and acidity. This high pitched wine ends with notes of kirsch, chocolate and cherries. This requires at least a few more years of bottle age. 97 Pts

96

points - Tasted

Oct 14, 2010

2690 Views

Provencal herbs, bacon fat, fresh ground pepper, earth, black raspberry, truffle, BBQ steak and smoke aromatics make up an exciting perfume. Exotic, rich, silky textures are followed by a long finish of sweet, ripe plums, earth and black cherry liqueur.

97

points - Tasted

Aug 24, 2010

2811 Views

This offers the same level of concentration as the Landonne, but it is a more refined, stylish, elegant wine.

94

points - Tasted

Feb 14, 2008

2084 Views

1995 E. Guigal Côte-Rôtie La Turque

Perhaps more air, or bottle age would have helped this wine. It was a good Cote Rotie, but not a great La Turque. The wine was a bit on the beefy, masculine, tannic side of the style range, lacking the often exotic, ostentatious style it's known for. I just looked at my other recent notes and they do not seem like the same wine. Perhaps it was a minor storage issue along the way. I'm more than open to trying it again.

94

points - Tasted

Mar 18, 2013

774 Views

Bacon fat, pepper, kirsch, black cherry, violets and smoke create the nose. On the palate, the wine is fresh, intense, pure, refined, polished, powerful and elegant. Starting to come around, a few more years will help soften the wine while adding more levels of complexity.

97

points - Tasted

Dec 19, 2012

1212 Views

Coconut, black pepper, bacon fat, pepper, plum, floral, licorice and cassis scents popped from the glass. Layers of juicy black fruit, stone and spice fill your palate with plush sensations. The plum, dark cherry and spicy blackberry finish remains in your mouth for over 40 seconds.

97

points - Tasted

Aug 24, 2010

3159 Views

Rich, exotic and powerful. Black fruits mixed with herbs, spices, flowers and more explodes from the glass. The palate is gently coated with wave after wave of ripe, unctuous juice. The finish last over :40! 95 Guigals are a little brighter than other years with slightly elevated acid levels. This is not a bad thing, it's just a stylistic difference from more hedonistic years like 88, 91 or 97.

97

points - Tasted

Aug 6, 2007

3264 Views

This wine took the best of La Landonne adding it to La Mouline and created the wine of the vintage for Cote Rotie!

95

points - Tasted

Feb 14, 2005

3003 Views

1995 E. Guigal Côte-Rôtie La Landonne

WOW! This perfume packs a punch with its pungent aromatics of coconut, smoke, blackberry liqueur, licorice, tar, bacon fat, earth and Asian spice aromatics. Powerful, dense, balanced and harmonious, this wine has really improved over the past few years. The hard, austere style has morphed into a wine of beauty, intensity and complexity. The long, pure, palate staining finish is filled with pepper, iron and sweet black raspberry and black plum flavors.

98

points - Tasted

Aug 24, 2010

3330 Views

Black fruits, bacon fat and earthy notes roared out of the glass. The huge, densely concentrated wine delivered an endless, elegant, powerful finish. Very complex. This is still young and needs at least another decade before reaching maturity

96

points - Tasted

Feb 18, 2006

2675 Views

Beautiful scents of vanilla, black fruit, blackberry jam, pepper and smoke. Balanced and rich. Tannic. Needs time.

95

points - Tasted

Jul 12, 2005

2612 Views

A bigger, beefier style of La Landonne. The tannic backbone gives the wine a stern style for a Guigal Single Vineyard.

93

points - Tasted

Feb 14, 2005

2579 Views

1994 E. Guigal Côte-Rôtie La Landonne

Black fruit, tobacco, truffle, earth, pepper, cassis, blackberry and spicy aromatics are easy to find. Dense, full bodied, solid and structured, this has softened and become a more interesting wine over the past few years. Still young, this beefy style of La Landonne ends with a big dose of mineral driven, spicy black fruit.

95

points - Tasted

Aug 19, 2010

2569 Views

1994 E. Guigal Côte-Rôtie La Mouline

With three hours of air, the wine developed much softer textures, without losing the beautiful aromatics of bacon fat, baked cherry pie, brown sugar, earth, garrigue, kirsch, peach and spice. Silky red cherries, spice and white peach is found in the sultry finish. Drink it now, or age it. But it needs more air than you might think. Working my way slowly through a case bought on release. This is the best showing yet. But I am convinced some of that has to do with the decanting, as I normally do not give many wines this much air. The wine began to fade a bit after 4 hours in the glass or decanter.

96

points - Tasted

Jun 16, 2012

1965 Views

Licorice, kirsch liqueur, jammy black cherries, flowers, peaches, truffle, earth, smoke and espresso bean aromas grab your attention and keep it there. On your palate, this concentrated, rich, intense wine fills your mouth with exotic textures and ripe, powerful, masculine, red with black fruits. This beautiful Cote Rotie ends with a fresh, black cherry, black raspberry, spice and tart kirsch finish. Fully mature, there is no reason to wait to open a bottle.

95

points - Tasted

Sep 11, 2011

2026 Views

The nose exploded from the glass with mint, spearmint, flowers, red and black fruits, herbs and pepper. The palate is best described as syrup of Syrah. This is a very sophisticated, elegant wine that continued improving in the glass. Is any wine more exotic than one of the La La's? Great stuff!

95

points - Tasted

Feb 15, 2004

2050 Views

1994 E. Guigal Côte-Rôtie La Turque

Smoke, bacon fat, juicy black cherries, garrigue, charcoal, truffle and earthy scents create a complex, powerful, spicy perfume. Powerful, refined, structured, complex and sophisticated, the wine has layers of depth and concentrated ripe berries. While not as opulent or exotic as La Turque can deliver, after an hour in the glass, the wine opened, softened and came together to deliver a long sensation of plums, spice, olive tapenade and sweet black cherries. This will improve with a few more years of age. Along with the undervalued 1997, this is probably the best value for one of Guigal's legendary wines in today's world.

96

points - Tasted

Dec 31, 2011

1980 Views

1991 E. Guigal Côte-Rôtie La Turque

Speechless... That is what happens to tasters with wines at this level. OK, spending a night with twins is even more erotic, but this is an amazing tasting experience. And it cost less than the twins too. Stunning levels of extract, exotic, hedonistic, decadent textures and a finish that is still going strong after 60 seconds only paints a part of the picture.

100

points - Tasted

May 15, 2013

365 Views

If a wine is going to score 100 Pts, it should make its qualities known with the first sniff, swirl and sip. It took that long or less to know this was sheer perfection in a glass. When the explosive perfume roared from the glass, pure black raspberry liqueur, truffle, black cherry, violets, smoke, vanilla, mint and licorice took over your senses. Sensuous, supple, opulent textures and a long seamless, sweet finish, was almost overflowing with pure, spicy, ripe black and red fruits. Those sensations remained in your mouth for over sixty seconds.

100

points - Tasted

Mar 26, 2012

2964 Views

This blasts out of glass with bacon fat, fresh herbs, spices, garrigue and more. Intense waves of fruit cascade over your palate in a seamless fashion. The finish is well over a minute. This is very compelling wine.

98

points - Tasted

Mar 10, 2007

3599 Views

Bacon fat, flowers, jammy black and red fruit, spice and earth explode from the glass. This perfume is so explosive, I thought it might break the glass! Concentrated, full bodied and filled with a myriad of black fruit flavors and exotic, silky textures, this is a thrill a sip Cote Rotie!

100

points - Tasted

Oct 20, 2006

4643 Views

Black cherry liqueur, earth, wood and floral tones make themselves known. Very complex. A finish with layers of liquid silk. Very concentrated and full-bodied.

98

points - Tasted

Feb 14, 2005

2676 Views

Wow is the best way to begin to describe its aroma. Scents of crushed, ripe, jammy, black fruit and exotic spices exploded from the glass. Flowers and wood aromas completed the symphony of scents. Full bodied, immense concentration and complexity. Each sip and sniff offered something new to discover. The seamless mouth feel and finish lasted close to :60 seconds.

99

points - Tasted

Aug 15, 2004

2860 Views

1991 E. Guigal Côte-Rôtie La Mouline

If an award is ever offered for the most consistent 100 Pt wine ever made, clearly, 1991 Guigal La Mouline is at the top of the list to receive it. With a nose packed with smoke, flowers, black raspberry, bacon fat. spice, pepper and kirsch liqueur, it's impossible to pull away from the glass. But the real fireworks take place on the palate, with the exotic, sexy, lush, textures and the seemingly, endless, fresh, spicy, cherry finish. This is bottled decadence.

100

points - Tasted

Dec 20, 2012

1339 Views

1991 La Mouline opens with bacon fat, pepper, kirsch, black cherry and earthy aromas. Plush, soft, rich and sweet on the palate, the wine offers layers of exotic textures. The finish ends with a long, spicy black cherry note.

97

points - Tasted

Oct 14, 2010

4588 Views

Liquid sex. There is no better way to describe this opulent, decadent, exotic Cote Rotie wine. This is so complex, sensuous and concentrated, it scores off the charts! The perfume explodes from the glass with almost ripe, ripe and fully ripe dark cherry, floral, spice, maple, vanilla and dark berry notes. The wine glides over your palate like oil. The purity of intense, ripe fruit is stunning. The finish is seamless.

100

points - Tasted

Sep 20, 2007

5039 Views

Explodes with ripe cherries, intense black fruit and floral notes. Extremely concentrated. Rich and exotic. But, on this night, not quite as complete or complex as the compelling 88. Still, it was a riveting tasting experience.

97

points - Tasted

Mar 10, 2007

4027 Views

The array of aromas in the perfume has to be smelled to be believed. Blueberries, sherry, blackberry liqueur, oranges, flowers and pepper was absolutely compelling. I described this wine as "Soul of Syrah, or Essence of Cote Rotie." The endless layers of fruit that cascade over your palate needs to be experienced by any lover of great wines, let alone a fan of Cote Rote or Guigal.

100

points - Tasted

Feb 14, 2005

4450 Views

1991 E. Guigal Côte-Rôtie La Landonne

Smoke, boysenberry, flowers, black cherry liqueur, earth, charcoal, and creamy cherry scents created a complex perfume. Big, rich, mouth-filling, long and lush, this still tannic wine is powerful and intense. At 21 years of age, it's slowly starting to flesh out. Give it another 5- 8 years and this will be off the charts!

98

points - Tasted

Mar 25, 2012

2421 Views

Spice, black fruit and minerality in the nose. Very concentrated and still seemingly youthful on the palate. This big wine is loaded with black fruit and an iron component. Long and mouth filling

96

points - Tasted

Jun 29, 2009

3407 Views

Deep, dark and brooding, this powerful, concentrated display of ripe black fruit and minerals remains on your palate for close to sixty seconds.

97

points - Tasted

Sep 20, 2007

3523 Views

Black fruit, smoke, cassis and spicey wood notes were in full force. Very dense, thick wine with superb concentration. The palate gets the best part of this wine with endless waves of flavor. Very young, will improve for 2-3 decades

97

points - Tasted

Feb 14, 2005

2977 Views

Intoxicating mineral, black fruit, spice, forest perfume. The fpalate is washed with waves of round, dense, dark fruit. Still young. Tannic and structured. Elegant and balanced with ample complexity keeps you interested in this wine.

97

points - Tasted

Nov 14, 2004

3010 Views

1990 E. Guigal Côte-Rôtie La Turque

Wines like this leave you speechless. Coming up on 24 years of age, this is still young, vibrant and alive. It's packed with ripe, sweet, exotic fruits, complex aromas and a silky, flamboyant, opulent finish. Tasted blind with the 1898 and 1991, this was just a bit less concentrated than its brothers and sisters. Still, I'd be honored to drink this any day.

98

points - Tasted

May 15, 2013

281 Views

1989 E. Guigal Côte-Rôtie La Turque

Stunning! This was perfect in every way possible. A compelling perfume with a myriad of scents including pepper, earth, black cherry, plum liqueur, Asian spice, bacon fat, and licorice. Intense, rich and long, each sip was a command to try it again, and again again, until your glass was drained. This is drinking perfectly today and if well stored, it's going to get even better with time!

100

points - Tasted

May 15, 2013

272 Views

Black cherry liqueur, truffle, earth, jammy black raspberry, smoke, spice and fennel aromas caught your attention and kept it where it belonged. In the mouth, your palate was coated with layers of sensuous, ripe, red and black plums, spice and cherries. Purity, intensity and exotic textures are the hallmark of this stunning bottle of Cote Rotie.

98

points - Tasted

Oct 1, 2011

3300 Views

This Cote Rotie offered tobacco, smoke, cassis, bacon fat and cherry liqueur scents. The supple, fleshy, velvety textures felt great caressing your palate before you enjoyed the long seamless, exotic ripe kirsch filled finish.

98

points - Tasted

Aug 12, 2010

3724 Views

The concentration of the La Landonne paired with the exotic quality of the La Mouline makes this an amazing bottle of wine! This is a must have wine. Smoke, black fruit, flowers, licorice and spices tease and please my senses. Very lush and rich, like liquid silk on steroids. Still young, some tannin remains. This will improve. Perfectly balanced

99

points - Tasted

Feb 14, 2005

3765 Views

1989 E. Guigal Côte-Rôtie La Landonne

Explosive nose of iron, blackberry liqueur, Asian spice, smoke, black cherry liqueur and earth, full bodied, concentrated, rich and powerful, the finish is palate filling and long.

98

points - Tasted

Nov 9, 2012

1212 Views

Ripe, dense, black fruit, minerals and spices jumped from the glass. Concentration and complexity of flavors are the hallmark of this young wine.

97

points - Tasted

Sep 20, 2007

2110 Views

This offered black, jammy raspberries, cassis and forest smells. Very dense, concentrated juice. Ripe, fat, sexy fruit.

97

points - Tasted

Feb 14, 2005

2005 Views

1989 E. Guigal Côte-Rôtie La Mouline

Truffle, cherry blossoms, smoke, red berry tea, peach jam, smoke, tobacco, fresh herbs and caramel, soft, sensuous, supple and exotic in texture with a fresh, sweet, ripe, spicy, strawberry and red cherry finish. As good as this bottle was, I've had better examples. Still, this was delicious.

96

points - Tasted

Nov 9, 2012

1226 Views

Black cherries, herbs, smoke, pepper, peach and dark fruit dominated your senses. The palate presence is sultry. The long rich finish and exotic texture stays with you for over sixty seconds.

98

points - Tasted

Sep 20, 2010

3528 Views

Flowers, Kirsch, earth and spices are clearly in evidence. Like the comment I made regarding the 89 La Landonne, on it's own, it would have blown me away, but with the other La Mouline's being opened, as great as it was, it didn't offer as much as the 82, 83 or 85. Still young, it will improve.

98

points - Tasted

Feb 14, 2005

3427 Views

1988 E. Guigal Côte-Rôtie La Turque

Intriguing notes of citrus, black raspberry, oak, earth, smoke, black cherry and spice. Soft, silky textures and a powerful, red fruit and dark cherry tinged finish make this a treat to experience.

97

points - Tasted

Aug 12, 2010

6576 Views

It has the power of Landonne and the sensual, exotic personality of Mouline. This bottle was no exception. Take layers of smoky, barbequed fruit, add spices, black cherries and earth and you've found the first layer of perfume in this wine. Full bodied, dense, rich and intense. The falls across your palate as elegant as a ballerina at a performance.

99

points - Tasted

Mar 10, 2007

4464 Views

The kinky, earthy, cherry, bacon fat and floral aromas were singing like the Morman Tabernacle Choir! But, the exotic, opulent, concentrated kirsch, black cherry flavors that flowed like an endless river over my palate were out of this world! The finish was absolutely flawless. Does wine get any better?

100

points - Tasted

Sep 9, 2005

5077 Views

Black Raspberries, minerals, jammy fruit, smoke and toffee notes make a compelling perfume. Deep layers consisting of mountains of fruit fill ever nook and cranny of your palate. The 88 La Turque perfectly combines the power of La Landonne with the silky exotic quality of La Mouline. 100 Pts

100

points - Tasted

Feb 14, 2005

5121 Views

1988 E. Guigal Côte-Rôtie La Mouline

Slightly more concentrated than the 89 with additional plummy, black fruit, stone and bacon fat flavors. This full bodied wine shows the youngest of the 89, 90, 91 trio. It matches power with exotic textures.

99

points - Tasted

Sep 20, 2007

8078 Views

With its sexy, bacon wrapped, black fruit drenched in cherries and herbs is the easiest to spot. The spellbinding aromatics are accompanied by waves of deep fruit caressing every sweet spot on your palate. This was an utterly compelling bottle.

98

points - Tasted

Mar 10, 2007

8006 Views

This is one of the most hedonistic wines I've ever tasted! This wine had it all! It was absolutely seamless with an otherworldly texture. Perfectly ripe cherries, blackberries, oak and spices filled the air. The finish seemed to last for days hitting all the right spots for everyone at the table Sexy, rich, opulent and dense, words are not enough to describe wines like this.

0

points - Tasted

May 21, 2003

5224 Views

1988 E. Guigal Côte-Rôtie La Landonne

Time and time again it's proven, after 20 years, there is no such thing as a great wine, just a great bottle. For some wines, it's not such a big deal. But when it's 1988 Guigal La Landonne, that hurts. Beefy, powerful, intense, peppery, blackberry, earth, cherry and stone aromas led the way. But the wine fell flat in the mouth and finish. Having had better bottles of this stunning Cote Rotie in the past, this specific bottle was not correct and should not be seen as an indicator of where this is at today.

93

points - Tasted

Sep 30, 2011

3057 Views

The levels of concentration and depth in this wine were off the charts. The black fruit, herb, truffle and spice infused perfume were amazing. But, the explosion took place when the wine hit your mouth! The seamless finish seemed to last close to ninety seconds. Wave after wave of the most decadent ripe fruit I've ever tasted graced my palate. This was the best tasting bottle of 88 La Landonne I've experienced. Still young, this will evolve and improve for 15-20 or more years.

100

points - Tasted

Mar 10, 2007

4552 Views

Black and blue fruit plus, layers of smoke, cherries, cassis, licorice and earth state this is a very serious wine. Extremely concentrated and dense with so much going on in your mouth that you stunned. A flawless wine! At least another 2 decades of life remaining

99

points - Tasted

Feb 14, 2005

1818 Views

1987 E. Guigal Côte-Rôtie La Turque

With browning at the rim of the glass, fresh Provencal herbs, bacon fat, pepper, kirsch,, earth and strawberry scents are the first thing you meet. This fully mature wine is just starting to fade, ending with tart kirsch, licorice and pepper flavors.

93

points - Tasted

Feb 21, 2011

1883 Views

1985 E. Guigal Côte-Rôtie La Turque

Oh My God, I am speechless! Words are not adequate to express the emotion, sensation, sensuality or exotic character of this mind-blowing wine! The perfume grabbed your attention. Your nose finds it impossible to leave the glass with its powerful scents of 5 Spice, truffle, incense, smoke, jammy blackberry, iron, cherry and barbeque aromatics. The erotic sensations that coat your palate, take your breath away. Picture,dense, molten cherries, truffle, spice and earth. Add the viscosity of motor oil combined with intense purity and the perfect amount of lift to keep it fresh and you get a glimpse of what this hauntingly, beautiful wine delivers. The finish lasts well over 60 seconds. At 26 years of age, this is still young. If well stored, 1985 La Turque could easily remain at this level, or even improve for another 10-15 years. It's not often that expensive wines deliver an experience equal to the cost of the wine. If you ever wanted to know what one of the world's great wines taste like at maturity, this might be the wine to buy.

100

points - Tasted

Oct 1, 2011

2323 Views

Truffle, black raspberry, spice, tobacco and orange peel scents open up in this wine. With sensuous and round textures, this Cote Rotie wine ends with powerful spicy, cassis and pepper sensations.

95

points - Tasted

Aug 12, 2010

1853 Views

85 was the debut vintage for this wine which says hello with an explosion of flowers, licorice, wood, jammy black fruit and smoke. The palate is bathed in concentrated black and deep red fruits. This was my first 85 la Turque. I was absolutely blown away. The perfect finish could last almost 60 seconds. If any wine scored over 100 Pts, this would be it!

100

points - Tasted

Feb 14, 2005

2524 Views

1985 E. Guigal Côte-Rôtie La Mouline

The nose alone was 100 Pts. An endless array of earthy, spicy, floral, peppery, smoky scents with fresh, pure, ripe red cherries, black cherries, raspberry and bacon fat tossed in for good measure. In the mouth, there is an exotic texture that cannot be found in any other wine. The pure, sensuous, hedonistic, fresh mouth feel builds to a crescendo that lasts over sixty seconds. Few legendary wines live up their status. 1985 Guigal La Mouline not only lives up to its billing, it might even surpass it!

100

points - Tasted

Aug 3, 2012

2087 Views

Stuffed with ripe and over ripe delicious, fat, sexy cherries and blackberries that slip, slide and glide over every inch, nook and cranny of your palate. The Cote Rotie wine offers intense purity with a lusty, luscious, sexy personality. Opulent and glycerin filled, this is pure hedonism. This will probably improve, but it's so good now, if I had a bottle left in my cellar, it would be next to impossible to keep my hands off it.

99

points - Tasted

Dec 8, 2010

2974 Views

How any Cote Rotie, not make that how can any wine be this good? Nosing this wine is akin to touring a perfume factory. But, the texture is best described as "Sex in your mouth!" This was so rich and decadent, it was almost surreal. The seamless finish lasted well over a minute. Truly, this bottle offered one of the finest tasting experiences I've ever had.

100

points - Tasted

Mar 10, 2009

3169 Views

This has the density of the 1983 La Mouline coupled with the exotic quality of the 1982 La Mouline times two! Smoke, dark cherries, floral tones and wood take over your senses. I lost count of the lush layers of silky, dense, concentrated, exotic fruit that bathed my palate. The endless finish was absolutely seamless.

100

points - Tasted

Feb 14, 2005

3047 Views

1985 E. Guigal Côte-Rôtie La Landonne

Crushed stone, iron, cooked meat, spice, blackberry, black cherry liqueur, earth and pepper aromas were in full force with a minimum of swirling. Dense, thick, rich and concentrated, this pure, intense, structured, powerful Cote Rotie is still young. With a density of flavor and no hard edges, this animalistic, sauvage wine ends with a long, dark, mineral and pure, spicy, intense black raspberry finish.

98

points - Tasted

Oct 1, 2011

1515 Views

This is filled with spice, black fruit, soy, leather, olives, smoke, earth and coco. This is a serious, concentrated wine that smells and feels intense. In the mouth, this full bodied wine offers layers of spicy black fruit, mineral infused fruit. This is a very meaty wine that's bigger than the 85 La Mouline but not as exotic.

97

points - Tasted

Dec 8, 2009

1468 Views

Very slightly corked. The muted notes of black fruits, BBQ smoke, and earthy, mushroom scents were there, but a perfect bottle would have taken this to a completely different level due to its thick, dense, extremely concentrated, old vine intensity.

93

points - Tasted

Feb 14, 2005

1301 Views

1983 E. Guigal Côte-Rôtie La Mouline

If you're going to give a wine a big score, it should blow you away from the first sniff, sip and swallow. As good as it starts off, each subsequent taste must at the very least, remain at that level, but it should actually kee[ getting better in the glass. Similar to a great meal demanding you grab a piece of bread to sop up every last drop of flavor, the wine should be so good, you want to lick the glass in an effort to taste every possible drop. 1983 Guigal La Mouline was that good! The cork popped and the aromatics explode. Flowers, cherries, spice, truffle, cherry blossoms, underbrush and fresh pepper were easy to find. In the mouth this offers an amazing tactile experience. Plush, lush, silky, opulent, refined, elegant, exotic and rich layers of pure fresh, lively cherry juice caress your palate in a finish that must last over 60 seconds. While the finish remains in your palate for a minute, the memory of sharing special wines like this with a good friend lasts a last time. For me, that is what our best bottles are for. 100 Pts

100

points - Tasted

Oct 21, 2010

6856 Views

Slightly lacking in freshness, this bottle was a little advanced for its age. Still, it was very enjoyable with its bacon scented, cherry accented nose, but the finish was a bit light. Better bottles would get a much higher score.

93

points - Tasted

Mar 10, 2007

5827 Views

This Cote Rotie gives meaning to the term exotic. This decadent wine boasted cherries, herbs, bacon fat and a cornucopia of scents and smells. The sexy kirsch finish is unreal and delivers flavors and textures that remain in your mouth for well over a minute! IMO, there is no finer expression of Syrah than the wines produced by Guigal.

100

points - Tasted

Mar 15, 2006

6762 Views

A perfume that could be sold under the name "Off the Charts!" Ripe cherries, flowers, wood and spice tones filled the glass. The initial taste was bright with a slight tart quality which quickly faded as the wine put on weight in the glass and morphed into a push, lush, hedonistic, exotic wine.

98

points - Tasted

Feb 14, 2005

5905 Views

Wow should suffice, because adjectives do not do this wine justice. To say it's soul of Syrah and essence of Cote Rotie only begin to do describe it. The color is a bricky raspberry. The perfume is intoxicating. Scents of flowers, mint, spearmint, ripe and over ripe red fruit, spices and earth explode from the glass and take over your senses. You don't drink this wine, because it glides across your palate in a river of velvety, silky ripe red and black fruits. Every nook and cranny of your senses tastes this wine! This is a flawless, seamless bottle of wine! The finish last 60 seconds or more. There is no other wine on the planet that is this rich, exotic and hedonistic.

100

points - Tasted

Apr 4, 2004

6726 Views

1983 E. Guigal Côte-Rôtie La Landonne

Huge, deep, massive in concentration, this dark berry, spice and mineral scented wine fills your mouth with intense ripe black fruits.

96

points - Tasted

Mar 15, 2006

1740 Views

This was a huge step up in class from the 82. More concentrated and complex offering layers of aromatics and flavors. Very thick, almost dense. Still young. Time will only make this better! The finish was absolutely seamless.

99

points - Tasted

Feb 14, 2005

1951 Views

1983 E. Guigal Côte-Rôtie Brune et Blonde

Close to death. It's a good thing we opened it now and put it out of its misery. The hay and barnyard notes coupled with a short, tart finish were not appreciated. The best thing I could say about the wine was, it had a short finish allowing me to move on to better wine.

75

points - Tasted

Feb 14, 2005

2039 Views

1982 E. Guigal Côte-Rôtie La Mouline

Mind-blowing levels of kirsch, herbs, bacon fat, earth and cassis were the starter course for this Cote Rotie. The exotic, plush, opulent and dense layers of ripe fruit caressing your palate were as good as a wine gets.

97

points - Tasted

Mar 10, 2007

1818 Views

Wow! What a nose! Cherries, wet underbrush, anise, coffee and an exotic spicy note. The mouth feel is what got me. Lush, plush, sexy and exotic.

97

points - Tasted

Feb 14, 2005

1783 Views

1982 E. Guigal Côte-Rôtie La Landonne

This shows fresh black, spicy and peppery fruit with touches of leather, licorice and earth. Not nearly as concentrated as the 85 and further along on the evolutionary scale, this wine is fully mature

94

points - Tasted

Dec 8, 2009

1567 Views

This boasted aromatics of dark roasted black fruit, cassis, forest, chocolate, licorice and coffee notes. This big, full bodied wine is just approaching it's peak of maturity.

94

points - Tasted

Feb 14, 2005

1547 Views

1979 E. Guigal Côte-Rôtie La Mouline

Like Michelle Pfeiffer, she has aged gracefully. Tom who had not had a La La before lost his virginity with this wine. Not a bad way to lose it. The perfume is intoxicating. The melange of fruit, spices, flowers and earth is riveting. The palate enjoys a silky bath of ripe fruit. Slightly light on the finish, this remains a wonderful example of a fully mature La Mouline.

95

points - Tasted

Aug 6, 2007

1059 Views

1979 E. Guigal Côte-Rôtie La Landonne

Murky in color, spice, jammy black raspberry, candy apple with cinnamon, earth, wood, smoke and cherry pipe tobacco aromas led to a wine that was starting to fade in its spicy, cherry finish. Drink it if you have some, as there is no reason to hold this wine.

90

points - Tasted

Dec 4, 2011

1266 Views

1978 E. Guigal Côte-Rôtie La Mouline

The perfume was explosive. Overripe blackberry, plum, strawberry and raspberry, coupled with spice, flowers, truffles and smoke which become more concentrated in the glass. The decadent layers of fruit and glycerin has to be tasted to be believed! Countless layers of soft, exotic textured red and black fruit overload your senses with pleasure. The seamless finish seems like it lasts well over one minute! .

100

points - Tasted

Nov 10, 2004

2522 Views