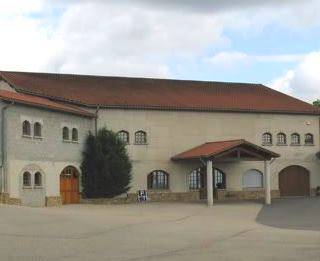 Learn everything about Domaine Jamet Cote Rotie with wine tasting notes, wine, and food pairing tips, best vintages, a history of the property, and information on the vineyards and winemaking. If you want to read about other important wineries and wine makers from the Rhone valley: Links to all Rhone Valley Wine Producer Profiles
Domaine Jamet History, Overview
Domaine Jamet Cote Rotie was founded in 1950 by Joseph Jamet with .35 hectares of vines in the Northern Rhone Valley. At first, the property sold its entire crop to negociants. They began to bottle and sell their own wine by 1976.
Today, Jamet is managed by Jean-Paul Jamet and Corinne Jamet along with their son Loic Jamet. Jean-Paul Jamet took over producing Domaine Jamet from his father in 1991. At the time, Jamet consisted of only 4 hectares of vines, which explains why those early vintages are so difficult to find today.
The brothers more than doubled the size of their holdings since they began managing the property. The Domaine of Jamet is located in Le Vallin, not far from the peak of the plateau, just behind Ampuis. In 2001, Jamet completed a renovation and modernization of the cellars. In 2015, Domaine Jamet added a new wine to their lineup when they produced their first vintage of Condrieu, Vernillon, which is aged almost entirely in amphora.
Domaine Jamet produces 4 different Cote Rotie wines from 8.5 hectares of vines that are distributed over 25 parcels in the Cote Rotie appellation. Those vines are placed in as many as 17 different lieux-dits.
The family owns more land on the Cote Brune, with about 25% of their vines planted in Cote Blonde. On the Cote Brune, their largest plantings are in the Chavaroche and le Truchet lieu-dits.
On the Cote Blonde, their largest plantings are in the Lancement vineyard. Their vines range from on average, 25 to 50 years of age. They have old vines, some of which were planted in the early 1940s.
The essence and character of Domaine Jamet Cote Rotie are a direct result of the blending of the wine that comes from the distribution of the parcels and their unique array of terroirs and steep, rocky, soils.
Domaine Jamet is well-situated on the plateau of Le Vallin. Perhaps their best vines are planted on the Cote Brune in the Les Moutonnes, Rochains, Fongeant, Chavaroche, and La Landonne vineyards in steep, terraced, hillside vineyards with soils of granite, rocks, schist, iron, clay, limestone, and sand soils.
Their vineyards are planted to almost 100% Syrah. Their oldest vines are more than 60 years of age. On the Cote Blonde, they have parcels planted in Lancement and Leyat.
The best vintages of Domaine Domaine Jamet Cote Rotie are: 2022, 2021, 2020, 2019, 2018, 2017, 2016, 2015, 2012, 2010, 2009, 2007, 2005, 2003, 2001, 1999, 1998, 1997, 1995, 1991, 1990, 1989 and 1988. Older vintages of Jamet are now almost impossible to find.
Domaine Jamet Cote Rotie Vineyards, Grapes, Wines, Winemaking
Domaine Jamet produces 4 Cote Rotie wines.
Domaine Jamet Cote Rotie, the standard Cuvee; this wine comes from a myriad of parcels which varies from vintage to vintage. In fact, the grapes come from as many as 20 parcels located in a diverse array of terroirs using fruit from various vineyards including Cote Blonde, Cote Rodin, Cote Rozier, Cote Rodin, Chavaroche, Bonnivieres, Fongeant, Gerine, Landonne, Lesardes, Leyat, Moutonnes, Rochins, Plomb, Tartaras, and Truchet. It is the blending of all the parcels that creates the true magic of Domaine Jamet.
Jamet is a traditional Cote Rotie that retains a large portion of stems. This is because the vast majority of their fruit is whole cluster fermented during the vinification process.
The percentage of stems used varies, depending on the vintage. But most of the time, the entire crop is vinified with all of the stems attached. On average. Vinification takes place in stainless steel vats. The destemmed grapes get cap punching, while the whole bunch fruit is pumped over.
Jamet Cote Rotie is aged in 15% new, demi-muids with the remaining wine aged in oak barrels and large oak casks ranging from 3 to 10 years of age for close to 22 months before bottling.
Domaine Jamet Cote Brune, a single vineyard wine that is produced from .5 hectares of old vine Syrah on the Cote Brune. 70% of those old vines were planted back in the 1940s. The remaining vines were planted in 1993. The wine made its debut with the 1976 vintage.
The grapes are completely whole bunch fermented. The wine is aged in varying degrees of new, French oak that varies from 20% to 35% new, French oak for up to 24 months before being bottled.
Domaine Jamet Fructus Voluptas, the entry-level Cote Rotie for the Jamet family was first produced in the 2008 vintage. Produced from 10% Syrah, the vines, which were planted mostly in 2000, or a few years earlier, are placed in schist soils. The wine is aged in used, French oak casks for an average of 16 months before bottling.
Domaine Jamet La Landonne Starting with the 2018 vintage, Jamet began producing a small amount of 100% Syrah from La Landonne.
The grapes are completely whole bunch fermented. The wine then ages for up to 16 months in used, oak barrels. The production is quite small, as it is close to only 300 cases, more or less per year.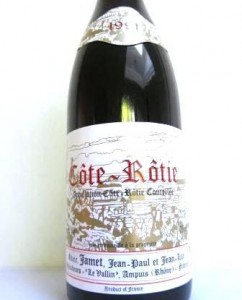 Domaine Jamet Cote Rotie in character is a traditional, beefy, animalistic, masculine, structured, peppery, and powerful style of Cote Rotie that ages well and develops complexity with time. The Cote Brune is a less interesting wine, without the same level of complexity or charm.
In 1996, 1997, and 2000, Domaine Jamet produced a wine specifically for the local, French Market, Jamet Cuvee Elegance. That wine is no longer in production.
In 2013, Domaine Jamet announced a major change for the Domaine. The Jamet family announced the brothers were going their own separate ways in Cote Rotie. Jean-Luc Jamet created his own new, Domaine using grapes from the Jamet family-owned vines planted on the Lancement lieu-dit.
Since the split, Jean Luc Jamet has released several different Rhone Valley wines starting with the 2013 vintage. From Cote Rotie, Terrasses, which is made from fruit planted in various lieux-dits: Chavaroche, Cote Boudin, Fongeant, Lancement, La Landonne, Moutonne, Mornachon, Tartaras and Rochains.
Jean-Paul Jamet remained with the property and continues making the wine and managing Domaine Jamet. The 2012 and 2013 Cote Brune wines are labeled Domaine de Jean-Paul & Corinne Jamet Cote Rotie Cote Brune.
In addition to their Cote Rotie, Domaine Jamet also produces a Condrieu, as well as 2 red Cotes du Rhone wines, 2 red IGP wines, Cotes du Rhone Blanc, and a Vin de France that is made from 100% Viognier.
When to Drink Domaine Jamet, Anticipated Maturity, Decanting Time
Domaine Jamet, when young, should be decanted at least 1-3 hours, give or take, allowing the wines to soften and open their perfume. Older vintages might need very little decanting, just enough to remove the sediment.
Domaine Jamet is usually better with 10-12 years of cellaring and should be at its best between 10-25 years of age.
Serving Domaine Jamet with Wine, Food, Pairing Tips
Domaine Jamet is best served at 15.5 degrees Celsius, 60 degrees Fahrenheit. The cool, almost cellar temperature gives the wine more freshness and lift.
Domaine Jamet is best served with all types of classic meat dishes, veal, pork, beef, lamb, duck, game, roast chicken, roasted, braised, and grilled dishes, tomatoes, eggplant, and sausage. Domaine Jamet is also good with Asian dishes, and hearty fish courses like tuna, mushrooms, and pasta.
http://www.cote-rotie-jamet.com
Domaine Jamet Wine Tasting Notes
20 Vintages 107,858 Views Sort by Vintage-Rating
2020
Domaine Jamet Vernillon (Condrieu)

Jamet purchased their vines in Condrieu in 2015, so it's still a recent addition to their winery. Yellow and orange fruits with a strong floral note on the nose and mouth, with fruit and freshness in the finish. Drink from 2022-2025

1,695 Views

Tasted

Sep 26, 2022

2020
Domaine Jamet Syrah (Vin de Pays des Collines Rhodaniennes)

Medium-bodied, and produced from 100% Syrah, the wine is fruity, jammy, peppery, forward, and easy to drink. You can enjoy this with pleasure on release. Drink from 2022-2026.

1,676 Views

Tasted

Sep 26, 2022

2020
Domaine Jamet (Côtes du Rhône)

From vines planted in Ampuis, just outside of Cote Rotie, the wine shows a spicy, red berry, thyme, herb, and tangerine character on the nose and palate. Fresh, fruity, and already fun drink, you can enjoy this on release. Drink from 2022-2029.

2,270 Views

Tasted

Sep 26, 2022

2019
Domaine Jamet Côte Brune (Côte-Rôtie)

Medium/full-bodied, the wine is plush, round, full, and powerful. The nose opens with smoke, olives, crushed rocks, flowers, cocoa, and dark red fruits. Fresh and vibrant on the palate, the luscious wine finishes with a touch of salt, peppery herbs, and olives and a crisp, red berry spicy end note that longers and expands. Drink from 2025-2055.

2,225 Views

Tasted

Oct 8, 2022

2019
Domaine Jamet La Landonne (Côte-Rôtie)

Deep garnet in color, the wine is powerful, full-bodied, and intense. The nose, with its flowers, smoke, dark red fruit, herbs, and incense along with its structured profile is built to age and evolve. Drink 2028-2055.

1,977 Views

Tasted

Oct 8, 2022

2019
Domaine Jamet (Côte-Rôtie)

Medium/full-bodied, the wine is plush, round, full, and powerful. The nose opens with smoke, olives, crushed rocks, flowers, and dark red berries. Fresh and vibrant on the palate, the wine finishes with a touch of salt, peppery herbs and olives in the crisp red berry spicy end note.

4,967 Views

Tasted

Oct 8, 2022

2019
Domaine Jamet Équivoque (Côtes du Rhône)

Medium-bodied, fresh, bright, soft, sweet, peppery red fruits in an elegant, easy-to-drink, forward style. Drink from 2022-2026.

2,164 Views

Tasted

Oct 8, 2022

2016
Domaine Jamet (Côte-Rôtie)

Full-bodied, spicy, floral, rich, deep, and vibrant, the lifted wine delivers loads of fresh, sweet, red berries, pepper, cocoa, and a touch of salt that carry through from the mid-palate until the finish. Drink from 2026-2047.

6,431 Views

Tasted

Oct 8, 2022

2015
Domaine Jamet (Côte-Rôtie)

Perched exactly between power and elegance, this is simply stunning. Layers of lusciously-textured, perfectly ripe, dark red fruits, thyme, smoke, incense, and cocoa take over your palate and expand while they linger in the finish. Drink from 2022-2045.

5,371 Views

Tasted

Oct 8, 2022

2009
Domaine Jamet (Côte-Rôtie)

Clearly, the wine and I have improved since I lasted it, as this is a knockout bottle! The nose, with its smoked cherry, crushed stone, leafy herb, tobacco, and red fruits. Concentrated, balanced, fresh, and showy, the distinctive character and lush quality in the long finish ties everything together. Drink from 2022-2040.

3,809 Views

Tasted

Oct 25, 2022

Medium bodied, spicy, fresh, lively red fruits, spice box, earth, olive tapenade and leafy forest notes, medium bodied, with a bright, crisp red fruit finish. Far too young, this needs at least 3-5 years to come together.

4,356 Views

Tasted

Dec 15, 2014

2009
Domaine Jamet Côte Brune (Côte-Rôtie)

Really young, but someone has to taste wines in the name of science now and then. Fresh, lively, meaty, beefy style, with some oak sill showing, but that does not take away from the crisp, stony, peppery, earthy fruit. Still, this needs more time.

2,743 Views

Tasted

Feb 10, 2017

2005
Domaine Jamet (Côte-Rôtie)

Medium bodied, fresh, bright, tannic, with ample levels of kirsch, black raspberry, earth, strawberry and pepper, the wine needs a few more years to come together.

4,321 Views

Tasted

Aug 12, 2012

2003
Domaine Jamet (Côte-Rôtie)

Light in color, the wine is medium-bodied, soft, elegant and earthy with a peppery, black raspberry, and red plum profile, close to full-developed, the finish is all about the red cherry and plum profile. Drink from 2022-2029

1,902 Views

Tasted

Oct 8, 2022

Meaty, beefy and animalistic, peppery, with earth, kirsch and charcoal tones, this stony, meaty, sweet and tart red berried wine has depth and flavor and is drinking well today.

2,981 Views

Tasted

May 18, 2014

2001
Domaine Jamet (Côte-Rôtie)

Just a super wine that is starting to show. Classic in nature, the fruit is fresh, with notes of thyme, kirsch, black pepper and beef blood. Medium bodied, with the structure to continue evolving. Drink it now before it sheds the last of its youth, or age it for more secondary nuances.

3,339 Views

Tasted

Sep 29, 2018

2000
Domaine Jamet (Côte-Rôtie)

Meaty, smoky, earthy, slightly rustic red fruits with peppery spices and green olive accents are in the perfume and on the medium-bodied, palate. Perhaps, a bit more interesting on the nose, over the palate, which ends with a dryness to the finish. The wine is fully mature. Drink from 2023-2030.

2,676 Views

Tasted

Jan 11, 2023

1999
Domaine Jamet (Côte-Rôtie)

This gem was worth waiting for. Clearly in the zone, the wine screamed with its smoky nose filled with bouquet garni, sage, peppery red fruits, and raspberries, the wine is full-bodied, intense, long, zesty, and vibrant. There is length, purity, power, and character that does not want to stop. No decanting needed, just pop and pour, drink from 2022-2035.

2,962 Views

Tasted

Sep 24, 2022

Attention grabbing scents of jammy blackberry, violet, garrigue, wet earth and bacon fat are present. On the palate, the wine is big, concentrated, tannic, animalistic and brawny. The wine finishes with dense, fresh cherry girotte. After 2 hours in the glass, the wine softened and morphed from sweet and sour, sauvage to more of a delicate, array of cherries. Still young, this will improve over the next few years.

4,288 Views

Tasted

Dec 22, 2012

Cherry blossoms, honeydew, kirsch, spice, cloves, bacon fat, earth, beef blood and stone make up the complex perfume. Bright, fresh, sappy, red fruit with supple textures ends with a refreshing black cherry filled finish. This powerful, masculine wine has continued evolving and improving since it first arrived in bottle. At 12, this Cote Rotie is ready to enjoy tonight and over the next 10-15 years.

5,212 Views

Tasted

Aug 14, 2011

Kirsch, pepper dried fruits, bacon fat, earth, licorice and cherries make up the perfume. Full bodied, powerful and structured, with freshness along with dusty tannins, the wine finishes with a smoky cherry sensation. This needs another 2-3 years before it reaches full maturity.

5,963 Views

Tasted

Jan 3, 2011

Incredibly concentrated with intense levels of very ripe, sweet, dark fruit. Meaty, beefy, big and bouncy this has a lot going on. Multiple layers of black fruit flood your palate.

5,928 Views

Tasted

Apr 14, 2008

Perfume consisting of rich, deep black and red fruits soaked in bacon fat soars from the glass. Very meaty and beefy. This wine drank well without much airtime.

4,357 Views

Tasted

Nov 28, 2007

A perfume redolent of juicy ripe fruit dripping in bacon fat, a sexy, meaty mouthfeel and long finish combined to make a great wine.

4,656 Views

Tasted

Dec 14, 2006

1998
Domaine Jamet (Côte-Rôtie)

Animalistic, forest, earth, herbs, exotic spice, dark kirsch liqueur and stone make up the complex perfume. On the palate, it's pure cherries coated with fresh, sharp, cracked black pepper. This is one spicy Cote Rotie that is ready to drink.

5,061 Views

Tasted

Aug 7, 2011

Animalistic aromatics, spice and black fruit. Still tannic. Concentrated, rustic, brawny and masculine in style. This needs a few more years before coming around.

4,315 Views

Tasted

Apr 2, 2008

1995
Domaine Jamet (Côte-Rôtie)

With scents of grilled meat and barbecue beef, garrigue, kirsch, iron and spice. The palate enjoys full bodied sensations of ripe, peppery cherries and black raspberries. This Rhone wine has moved into the prime time drinking stage. Like many 1995 Rhones, there is an austere character to the wine.

4,152 Views

Tasted

Oct 7, 2011

1991
Domaine Jamet (Côte-Rôtie)

Black raspberries, grilled meat, smoke, bacon fat, earth, spice, pepper and herbs grab your attention, and keep you focused on what's in your glass. Powerful and stuffed with a wild, masculine, personality, the wine offers ample freshness and purity. The meaty finish is filled with ripe black cherries, pepper and Provencal herbs. This beautiful expression of Cote Rotie is drinking perfectly today.

3,374 Views

Tasted

Aug 24, 2011

1988
Domaine Jamet (Côte-Rôtie)

Smoked meat, kirsch, herbs and coco aromatics. Full bodied and chewy with a slight hint of acidity accompanied by an ending note of tart dark berries. With time, the wine the tartness morphed into an exotic melange of dense, chewy, ripe red and black fruit.

2,687 Views

Tasted

Nov 21, 2004