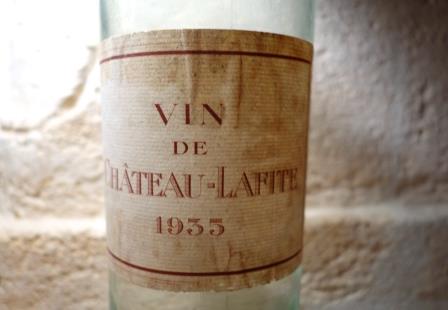 I know I procrastinated more than I should in putting together my annual list of the best wines tasted in 2015. Even though I love putting together my annual list of the top ten best wines, I am clearly guilty of taking my sweet time putting it together. In part, I'm busy with things outside of the Internet. The delay is also exacerbated by wondering if another wine might come along and earn its place on the list. Hours before Christmas eve, here it is. This year's list of the top ten best wines in 2015 was no exception to my penchant for procrastination. But it is a fun list with some great memories.
Wine is the only time machine that works and the proof is right here, just recalling the wines and the people I shared so many special bottles with brings back the vivid memories of that special occasion.
There are more top ten best wines of the year lists than I could possibly count, let alone read. Yet, looking at these lists of the top ten best wines allows the reader to gain insight into each writers preferences, likes, dislikes and passion on the topic.
This list combines not only many of the best wines I tasted in 2015, and I was able to taste a lot of wine, but the important place makers that each bottle represents. Without the special memories, wine would be just another alcoholic beverage. It's the special moments and the people we share our bottles with that really allow the wine to remain alive, long after the bottle has served its purpose.
This morning, I feel a little like George Bailey, 2015 has truly been a wonderful 12 months of wine and life. To relive the year, these bottles bring back the best memories and tasting experiences from 2015. I hope you enjoy reading about my top ten best wines of the year 2015.
#10 – 1996 Salon proves the true greatness of Champagne. This bottle was sublime and hands down is the best young Champagne I have ever tasted. Served double blind with my tasting group, 7 Blind Men, this is what I wrote: "I don't taste a lot of high end Champagne, but after just one sip of this wine, perhaps I've been missing out. Stunning in every way, the wine packed so much fresh, sweet, citrus, brioche and almond scents, paired with the perfect amount of effervescence to make this a real treat. The texture paired creaminess with acidity and length to keep this interesting all the way through. This was incredibly young and fresh and vibrant, it's hard to believe it's already 20 years of age. If only I could afford a bottle, or a case…" 99 Pts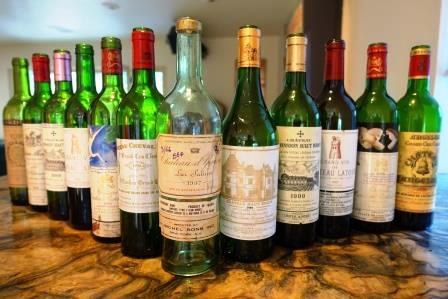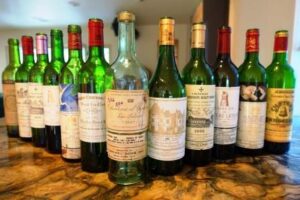 #9 – 1937 d'Yquem – I have only managed to taste this wine twice so far, which to be honest is 2 times more than I ever imagined I'd taste it. The bottle has meaning because it was brought to my home for my birthday party. No, I was not born in 1937. But my friend was. And to bring such a bottle to my birthday party, with many of my friends present meant a lot to me. "Amber in color, the perfume is striking with its crème brulee, orange, caramel, floral, butterscotch, earth, honey, cocoa and hint of chocolate. Concentrated, sweet, fresh, lush, silky and deep, the wine is rich, sweet, long and still delivering its voluptuous goods at close to 80 years of age. The finish keeps on going. Amazingly, 3 days later, the empty bottle was still serving up the same intoxicating nose." 97 Pts
#8 – 2003 Vieille Julienne Reserve is close to off the charts. This is one of the best Chateauneuf du Pape wines I've ever tasted. Perhaps even more importantly, it shows that while many producers made wines that aged far too fast, there are wines that will age, improve and evolve in the Rhone Valley from the often maligned vintage. Especially from the southern Rhone valley. Thanks to David Pougatsch for bringing the bottle. "This is stunning! Perfectly balancing power and elegance, the fruit shows a beautiful sense of purity, the textures are soft and silky and the finish, with its pure kirsch essence goes on and on. There is no sensation of heat or over ripeness, which is difficult in the 2003 vintage. Something else to consider, believe it or not, except I promise this is true, about 25% of the wine remained in the bottle, which was recorked, but left on the bar top. 24 hours later, this was still absolutely delicious! I was amazed and happy to know I still had a few bottles of this stunner in my cellar." 100 Pts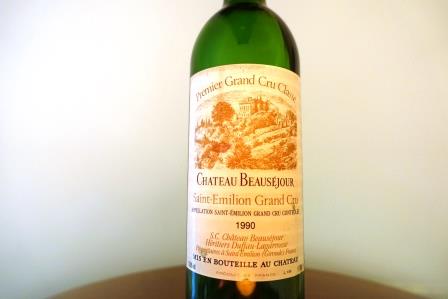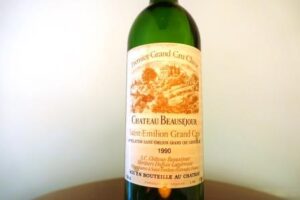 #7 – 1990 Beausejour Duffau at its best deliver one of the most opulent, decadent tasting experiences possible in a bottle of wine. I've had this wine numerous times. In fact, I tasted it 3 times this year and 2 of the 3 bottles were sublime! However as you might expect, each bottle is not the same, due to provenance. But this bottle, brought to dinner by Gregg Tenser was off the charts. If you don't believe me, read my tasting note. "Spicy, smoky, licorice, incense, espresso bean, blackberry liqueur, roasted plum, wet earth and black peppery aromatics were in full force. And that was not even close to the main event. On the palate, the wine is intense, erotic and incredibly sexy in a good girl, gone bad way. The texture was akin to liquid silk. This decadent wine can be summed up as pure sex in a bottle. As a tip, I'm positive that the 2009 and 2010 at the same age will be even better!" 100 Pts
#6 – 1982 Latour continues to provide thrilling tasting experiences. This bottle, tasted in Bordeaux has never been moved from the original owners cellar. This was breathtaking! "This is so good, the scale should be adjusted to allow for 101 Pts! This is everything a great Bordeaux needs to be with its majestic blend of silk, velvet and power. The exotic nose is compelling, with its cassis, blackberry, tobacco, earth, cigar box, cocoa, and dark chocolate nose. But the real action takes place on your palate. Layer after layer of perfectly ripe, sensuous, powerful fruit coats your palate and stays there, lingering and expanding for over 60 seconds." 100 Pts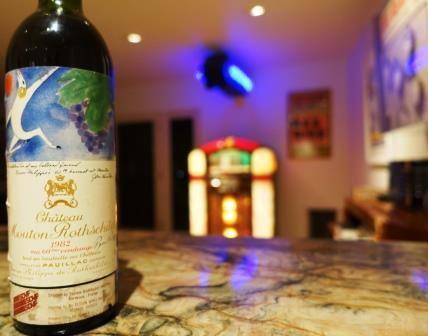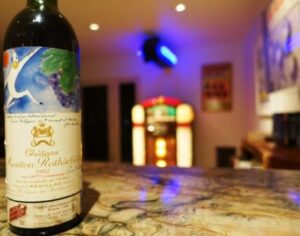 #5 – 1982 Mouton Rothschild can rival the greatness of 1982 Chateau Latour, and that is saying something. From my cold cellar to share with friends on my birthday, this bottle delivered everything it promised. What it truly amazing is that I somehow managed to taste this wine 4 times over the past 12 months and 3 out of 4 times, the wine scored 100 Pts! "This was a beautiful bottle. With wines more than 30 years of age, each bottle is going to be a different experience. This was a stunner. 3 hours of decanting produced a nose of flowers, tobacco, cedar, cassis, blackberry, spice and cigar box notes. Full bodied, rich and concentrated, there was an elegance to the regal bearing that really showed up. At almost 35 years of age, this can still age and improve." 100 Pts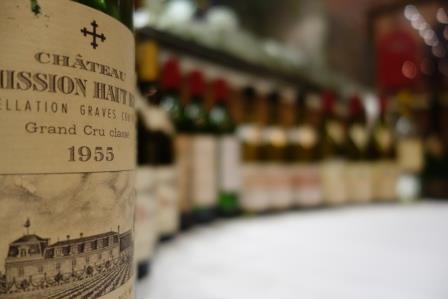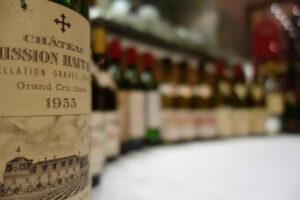 #4 – 1955 La Mission Haut Brion has been what is from time to time referred to as a unicorn wine, a bottle that is talked about, but for price or scarcity, it is never seen. Finally, I was able to scratch that list thanks to David Goldman, a member of my 7 Blind Men. "The nose, with its array of smoke, tobacco, cigar box, cassis, truffle, dark chocolate, cherry, barbecue, and sweet plum scents is unreal. As good as that was, the incredibly polished, silky, rich, opulent, velvet drenched textures stole the show. At 60 years of age, this amazing wine remains vibrant and alive, with a smoky, fruit filled finished that does not want to quit. Served double blind, I was sure it was 1961 Haut Brion. Who knows, this is that good and it could even be better! I might never see this again, but the memory is going to stick with me for the rest of my wine drinking days. Few wines deserve 100 Pts. There are even less wines that demand their own scale as they want to expand the range to 101 Pts. 1955 La Mission Haut Brion screams for a new scale, it's that good!" 100 Pts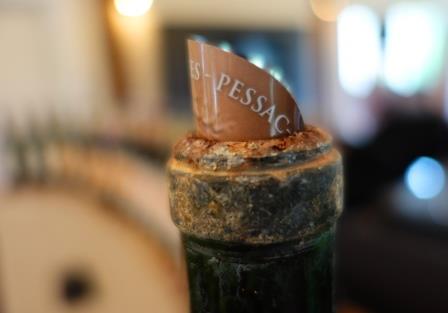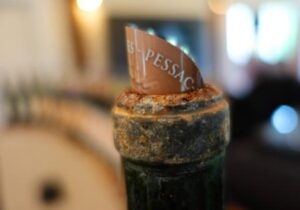 #3 – 1915 Chateau Carmes Haut Brion in magnum! From a bottle with the original cork intact, if this was served blind, I would have guessed it to from the 1960's. The bottle was opened at the chateau with the owner and part of a 100 year vertical. This was a tasting I will not forget. "If the magnum did not come from the chateau owner's cellar, due to its youthful appearance, I would not have believed this was 100 years old. Menthol, tobacco, truffle, mocha and spice box in the nose was just the starting course. If you had more time, there was clearly more aromatic subtleties to find. As hard as it to believe, the wine has a lot of fruit remaining for a wine half its age, let alone a wine that has hit the century mark! Silky, soft, elegant and still with sweetness of fruit coupled with charm and the earthy, tobacco patina of age, this was an amazing treat I will not be forgetting. When you add the fact that is a war wine, and we're talking World War 1, that makes this even more incredible! Clearly, this is already a definite candidate for my wine of the year." 95 Pts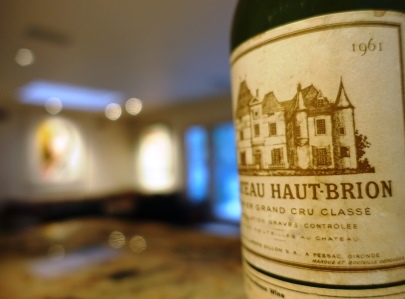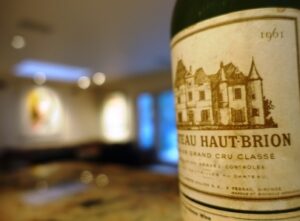 #2 1961 Haut Brion – This is a true story. I went to lunch with a good friend of mine who brought a bottle of the legendary 1961 Haut Brion. The cork was pulled and you could tell from the visuals alone, this was not a sound bottle, due to its murky look. Like David Copperfield, he reached into his wine bag, brought out a second bottle and popped the cork. I will never forget that amazing gesture. WOW! "Heart stopping from start to finish. The nose reminded me of walking into a store that sold only flowers, spice and Cuban cigars. The texture felt like spun silk. This is purity and elegance at its best, with a sweetness of fruit, concentration of flavor and a smoky, spicy, pure, fresh cherry finish that demanded you take another sip. The finish must have remained in your mouth for at least 60 seconds. Popped and poured, this was an incredible tasting experience!" 100 Pts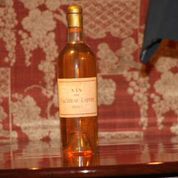 #1 1935 Lafite Rothschild Blanc is the wine of the year. In fact, Lafite Rothschild Blanc is a contender of the wine of the decade and it's only 2015! Clearly, the most memorable bottle of the year is a wine I never thought I would see, let alone taste. I knew the wine existed as I wrote about it on this site. But until Olivier Bernard and Anne Bernard of Domaine de Chevalier served it double blind, I had never even seen an empty bottle. Thank you for the incredible memory. "It's had to imagine that a white Bordeaux wine close to 80 years of age could be good. Rest assured, served double blind, it was that good. Golden, amber in color, the wine was better on the nose, with its butterscotch, butter, apricot, orange marmalade, honey and nut aromas, than on the palate, which came up a bit shy. But so would, or will you at 80 years of age. The fragrance remained in full force for hours, but the semi sweet fruit dried up after 30 minutes in the glass. The easiest way to think of the wine, is to imagine a cross between an old, dry Sauternes and an even older vintage of white, Pessac Leognan. I know I'll never see another bottle, but the memory is going to linger for years!" 93 Pts on the wine tasting notes scale, but 101 Pts on the wine experience scale!!!
Every top ten list needs at least one item that is deserving of special mention and my list of the top best wines from 2015 is no exception.
1998 Chateau Angelus was perhaps the most significant bottle of the year. Yes, I know it does not receive 100 Pts for the wine in the glass. But it deserves more than 100 Pts for the memory it created as it was the first bottle I shared with my girlfriend and for that reason, it will always remain in both our memories. I told you wine was a time machine that works! Thank you Maggie Keegan for making 2015 a really great year! 2016 will be even better. "With 90 minutes of air, the truffle dark cocoa, plum, smoke and licorice nose was in full bloom. Concentrated, plush and silky, the wine offered freshness and opulent textures along with sweet, earthy, plums in the finish. This is really in a good place as it approaches 18 years of age. If your bottles are well stored, it can still improve from here." 95 Pts