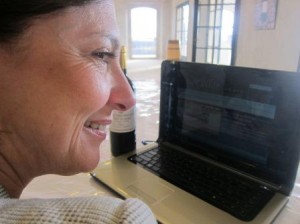 When the surprising news was released that Sylvie Cazes was stepping down as President of Chateau Pichon Lalande, people were shocked, Sylvie Cazes had been in that position for less than 2 years.  She officially began her tenure at Pichon Lalande in February, 2011.  In an equally surprising development, it was also announced that Sylvie Cazes was stepping down as President of the UGC, Union of Grands Cru Bordeaux. Her tenure at both positions will be completed by the end of the year.
Sylvie Cazes will remain an  an active member of the Bordeaux city council and an owner of Chateau Lynch Bages.  When Cazes was picked to replace  Gildas d'Ollone as director of the of the famed, Second Growth, Pauillac estate, she was also given the task of managing Chateau Haut Beausejour, St. Estephe, Chateau Bernadotte in Haut Medoc, and Chateau Réaut la Gravière, which is located in AOC Bordeaux.
Sylvie Cazes was not the first member of the Cazes family to manage a property in Pauillac, aside from Chateau Lynch Bages. Her older brother, Jean Michel Cazes was in charge of   Pichon Longueville Baron  from 1987 until 2000.  Jean Michel was replaced by Christian Seely.
The reasons given for her abrupt departure were personal.  Cazes will be replaced at Chateau Pichon Lalande by Nicolas Glumineau from Chateau Montrose. Nicolas Glumineau has worked at Chateau Montrose since 2007. Prior to that, Glumineau worked at Chateau Margaux and Chateau Haut Brion. Nicolas Glumineau will start at Pichon Lalande almost immediately. His first day is slated for November 19. Sylvie Cazes will remain at Pichon Lalande until December 31, to help with making sure there is a smooth transition.
Herve Berland, who joined Chateau Montrose earlier this year, after leaving Chateau Mouton Rothschild in Pauillac will replace the outgoing Nicolas Glumineau.
While Cazes will no longer be working directly with any specific Chateau, she will remain active in Bordeaux with her position in the Bordeaux City Council and as a member of the committee that is developing the Bordeaux Wine Cultural Center, which is slated to open in 2014.
These jobs are both tremendously important and influential positions in the Bordeaux wine industry. It will be interesting to see who is picked to fill those roles.   The President of the UGCB is an elected position.  Frederic Rouzaud, the owner of Chateau Pichon Lalande was responsible for bringing in Nicolas Glumineau from Chateau Montrose at Pichon Lalande. to replace the outgoing Cazes.