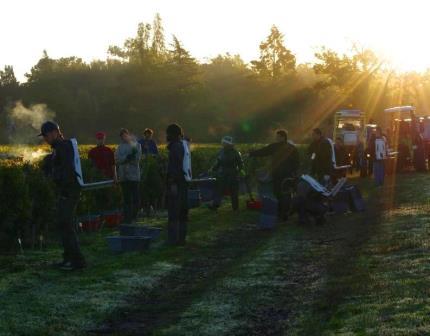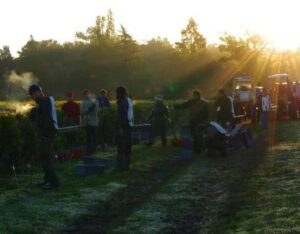 Jeff Leve Late harvests can be difficult to work with. How did the lateness of the 2012 Bordeaux growing season and harvest affect you?
Veronique Sanders "The 2012 harvest was late because there was a discrepancy between technical and phenolic maturity, meaning that sugar and acidity levels were normal, but grapes were still lacking aromatic brightness. Phenolic components were rich and dense, but we had to wait for them to be more extractible. Like every year we would then go and taste grapes on a daily basis in order to wait for the perfect ripeness of each plot."
Jeff Leve With the 2012 Bordeaux vintage at Haut Bailly, for you, what was the most difficult part of the growing season?
Veronique Sanders "At Haut Bailly, it was the April rains associated with the cool temperatures in June which triggered a threat of disease. We carried out a thorough effort in the vineyard to air the grapes and avoid humidity."
Jeff Leve 2011 earned the reputation as the year of sorting by many Bordeaux wine makers in Graves/Pessac Leognan and other appellations.  Some growers are making similar comments about the 2012 Bordeaux vintage. Is that the case at Haut Bailly?
Veronique Sanders "That is not what happened at Haut Bailly. This year, the berries were superb! They were small in size and very concentrated with thick skins. Quality was very homogenous. Sorting was easier for us in the 2012 Bordeaux vintage than what we experienced in 2011."
Jeff Leve At Haut Bailly, which variety performed best for you in the 212 Bordeaux vintage?
Veronique Sanders "Cabernet Sauvignon and Cabernet Franc were very concentrated, with a beautiful aromatic brightness. The Merlot vines planted on gravel and clay also showed very well."
Jeff Leve Did you have problems with botrytis or other issues following the April rains?
Veronique Sanders "Not really. After a warm month of March and the simultaneous budburst on the Merlot and Cabernet Sauvignon vines, the April rains slowed down the growth to normal. It did not affect Botrytis."
Jeff Leve In a vintage that starts off with uneven flowering as we saw in the 2012 Bordeaux vintage, did you need to change your vineyard management techniques at that point?
Veronique Sanders "As you can imagine, we stopped cropping and let the plants develop."
Jeff Leve There was a long period during at the end of the summer.  Did that cause you problems?
Veronique Sanders "Fortunately the time we spent ploughing throughout the year led to the elimination of shallow rootstocks. This encouraged the vines to develop deep roots. These deep roots are more drought and heat resistant. This is the case with our old vines for instance. I can say that some of the younger Merlot vines on sand and gravel suffered a bit."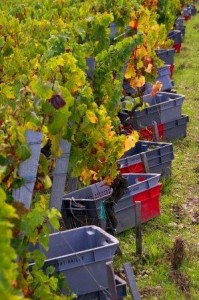 Jeff Leve In a year like 2012, with its ups and downs, did any of your terroirs perform best?
Veronique Sanders "Haut Bailly is made of a mosaic of terroirs. However, the hillock of old vines was especially amazing this year. Clearly it's our top terroir!" 
Jeff Leve How old are your oldest vines?
Veronique Sanders "At Haut Bailly, our oldest vines are 120 years old! We have old vines for all 6 of the major Bordeaux varietals, Cabernet Sauvignon, Merlot, Cabernet Franc, Petit Verdot, Malbec and Carmenere."
Jeff Leve When did you start harvesting the 2012 Bordeaux vintage?
Veronique Sanders "The 2012 Bordeaux harvest started at Château Haut Bailly on September 27th with the picking of young Merlot plants.  It went until October 15th. Knowing how it actually unfolded from September 20th to October 20th, we would make the exact same decisions if we had to."
Jeff Leve Did the rains in the middle of the harvest present any problems?
Veronique Sanders "The harvest at Haut-Bailly happened in between the two periods of rain, from September 27th to October 15th.  Preceding the harvest, the water helped the grapes gain aromatic brightness. Then we managed to protect them. We started the final part of our picking, October 16 in beautiful, sunny conditions.  The plan was to bring in all the Cabernets before rains came back as forecasted. We even picked during a weekend."
Jeff Leve How many pickers do you employ?
Veronique Sanders "We hire 45 people every year."
Jeff Leve Do you use optical sorting at Chateau Haut Bailly?
Veronique Sanders "We don't use optical sorting. But we take three steps in our sorting. First, while picking in the vineyard, second, by hand at the reception and lastly, again by hand on a vibrating sorting table after de-stemming. Last year we invested in a very performing de-stemming machine called  The Cube . It is extremely delicate on the berries. This new machine allows us to get outstanding results since only the best berries arrive on the vibrating table."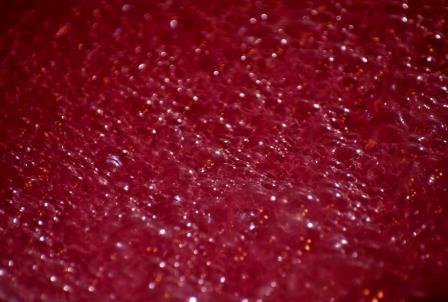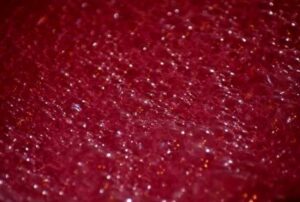 Jeff Leve What will be the key steps you need to take during vinification this year?
Veronique Sanders "A key step of winemaking at Haut-Bailly is the alcoholic fermentation with controlled temperature around 26 degrees Celsius coupled with a gentle pumping over in order to extract phenolic components smoothly and protect fruit aromas. The elevage will be happening in 50% of new oak barrels.  On average the wines looks to be about 13% alcohol."
Jeff Leve Does 2012 remind of you of any previous vintage yet?
Veronique Sanders "We will have a better idea once the malolactic fermentation is over. For now, we started picking on the same dates as in 2008 and 2004. However, that is not significant enough to draw conclusions yet."