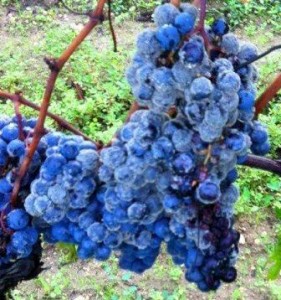 Loic Pasquet purchased the vineyards of Liber Pater in 2005. His first vintage was the 2006. The desire of Loic Pasquet has always been to produce the best wine possible at Liber Pater.  His wines are produced from perhaps the lowest yields in all of Bordeaux.  To illustrate this point, in 2009, his red wine was made from just 15 hectoliters per hectare. In 2010 and 2011, the yields were even lower at 10 hectoliters per hectare!  While the yields of Liber Pater are perhaps the lowest in Bordeaux, the prices his wine sells for is in competition for the highest.  With a production of only 200 cases per year of the red wines, and a whopping 25 cases per year of the white wines, the wine of Liber Pater can sell for as much as 3,000 Euros per bottle!  
To find out how Liber Pater fared in the 2012 vintage, we spoke with the owner, Loic Pasquet about the 2012 Bordeaux vintage and harvest.
Jeff Leve What was the most difficult or stressful part of the 2012 Bordeaux vintage and growing season?
Loic Pasquet "First, April was cold.  Then came the rain. It rained from May until July. Due to all the rain, uneven flowering and poor weather, we were not able to reach the level of maturity we look for in Liber Pater."
 Jeff Leve Did you have problems with botrytis or other issues following the April rains?
Loic Pasquet "We had issues with mildew in June and July. We did not experience botrytis this year with the Semillon.  Which of course is a problem for our ability to produce sweet, white Bordeaux wine."
 Jeff Leve Did the drought and stress present you with any unique challenges during the summer?
Loic Pasquet "Clearly the vines were not stressed. That was never a problem. In fact, in July, there was enough water held in reserve in the soils.  At that point, everything was perfect. The problems started in August from too much heat, which was followed by non-stop rain."
 Jeff Leve Was there any bright side or silver lining to the 2012 Bordeaux vintage and growing season?
Loic Pasquet "Every year we learn something new which helps us to improve the quality of Liber Pater. For example, the ungrafted roots are very beautiful. The maturity is perfect for this first year, but not enough to make wine.  However, they have great potential for the future. We will need to hope, wait and see what happens."
Jeff Leve With your grapes failing to achieve the level of ripeness you seek in Liber Pater, when did you finally decide to start your 2012 Bordeaux harvest?
Loic Pasquet "We decided not to pick this year.  The grapes never reached the level phenolic ripeness we need.   With the 2012 Bordeaux vintage, the Merlot did OK, but we could not get the Cabernet Sauvignon to ripen. Because of that lack of maturity, we were not able to produce wine at the level of quality we expect in Liber Pater."
Jeff Leve Are you saying you will not produce any 2012 Liber Pater red, white or sweet wine?
Loic Pasquet "Exactly.  We declassified the entire 2012 Bordeaux vintage. We are not going to make any wine this year at Liber Pater."
Jeff Leve That is a huge loss.  I am sorry for you.
Loic Pasquet "It's not a problem for us.  Sometimes, it's like that when you work with nature. If you want only the best, that can happen on occasion. We are ready for that. We are lucky that we cannot control nature.  That is a good thing. Imagine the disaster if we could alter nature!  Truthfully, I prefer we do not make Liber Pater from time to time."
Jeff Leve At what point in time did you decide to declassify your entire crop?
Loic Pasquet "By July, there were problems with too much rainy, cold weather. It was the worst conditions we experienced in 20 years. By the time we got to August, I knew the vintage would not be good. Originally we had planned
to harvest October 26. But the non stop rain we experienced from October 19 to October 22 made that impossible for us. At that time, due to the heavy rain, we were sure the entire 2012 Bordeaux vintage was a disaster."
Jeff Leve With the weather conditions you described, why were you not able to at least produce a sweet wine?
Loic Pasquet "While the Cabernet Sauvignon was infected with botrytis, that did not happen with the Semillon. We were not able to get enough sugar in the Semillon to produce a sweet, Bordeaux wine." 
Jeff Leve When you do not pick, does the fruit remain on the vine?
Loic Pasquet "Yes, the fruit remains on the vines until it falls off on its own."
Jeff Leve Did you consider harvesting and selling the fruit or wines in bulk?
Loic Pasquet "Not really. First, only my team and I work in the Liber Pater vineyards. We're a little bit like Apple in that way. We have many secrets in the vineyards."
Jeff Leve In a difficult vintage like 2012, would you consider making a second wine?
Loic Pasquet "No. We only want to produce the best Liber Pater possible. For us, the wine is perfect or not."