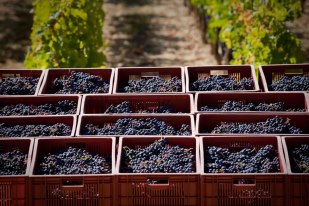 For the 2012 Bordeaux harvest in the Pessac Leognan appellation, while every chateau is late, some estates are later than others. In fact, some properties are close to the end of their harvest, while others are going to require a few more weeks to finish.
Chateau Haut Brion began picking Cabernet Sauvignon, Monday, October 1. This followed the Merlot harvest which began September 17 and finished, September 28. They are still working on their Cabernet.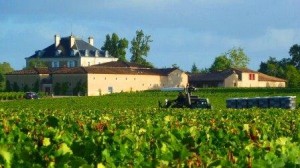 At Chateau Haut Bailly, they started September 27th with their young Merlot before moving on to their Cabernet Sauvignon. At this point, they hope to complete their work in the vineyards by October 16. We managed to catch up with Veronique Sanders for a quick update on the 2012 Bordeaux harvest at Chateau Haut Bailly.
With the difficult 2012 Bordeaux harvest, what did you really need to focus on?
Veronique Sanders "Because the technical and phenolic maturities have not been simultaneous, it was very important to taste the grapes every day."
Can you describe the 2012 Bordeaux growing season at Haut Bailly?
Veronique Sanders "We observed a simultaneous bud-burst on the Merlot and Cabernet Sauvignon vines after a warm month of March, but rains in April slowed down the growth. At the end of May, the Merlot vines flowered, followed by the Cabernet Sauvignon. By the middle of August, the Cabernet color was only half changed."
Did the Indian summer help at Chateau Haut Bailly?
Veronique Sanders "Yes. The maturation process was completed thanks to a very hot August which reached up to 39°C / 102 °F! The Indian summer we had all September and until last Sunday was exceptional."
Is this one of the latest harvests in the history of Chateau Haut Bailly?
Veronique Sanders "In terms of harvest time, we started as late as in 2008 and 2004 which was exactly the same day!"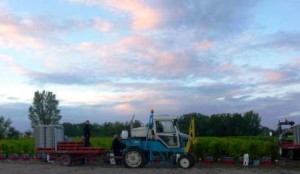 This year, Domaine de Chevalier is experiencing a very late harvest. The 2012 Bordeaux vintage is one of the estates latest in their history. They did not start harvesting their Merlot until October 9 and they continues to wait to start their Cabernet Sauvignon. According to Olivier Bernard, they managed to finish their harvest faster than they originally anticipated, as they were done picking, Thursday, October 18. When asked what they hoped to gain by waiting so long to pick, Olivier Bernard said; "The tannins should be finer and the wine should show more minerality." Olivier Bernard added there was another benefit for Domaine de Chevalier that came from waiting. "The recent rains have helped with the grapes maturity."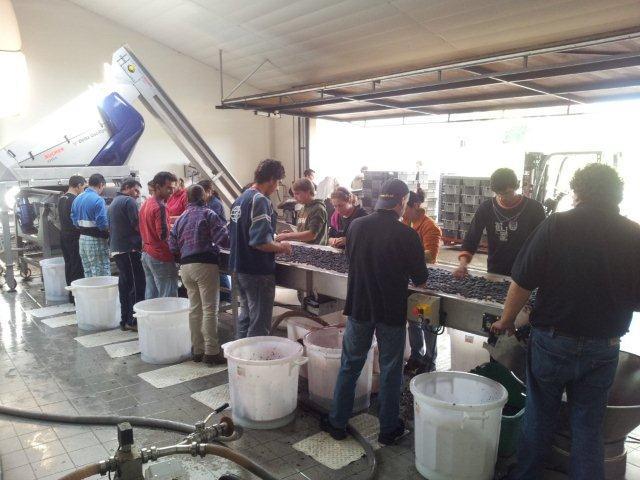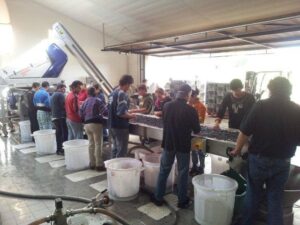 Chateau Malartic Lagraviere began picking Merlot, Thursday, October 4. If everything goes according to plan, Jean Jacques Bonne hopes to finish by October 26. By the middle of the summer, Jean Jacques Bonne was certain the 2012 Bordeaux vintage was not going to turn out well. Fortunately, his view and the vintage turned out better than expected thanks to the warm August and September Indian summer conditions. With that blast of warmth, along with the recent rains, he's much more hopeful.
Chateau de Fieuzal is another Pessac Leognan estate that is experiencing a late vintage with the 2012 Bordeaux harvest. They started their Merlot October 2, which might not seem all that late, But when you consider that they might take until October 23 to finish with their Cabernet Sauvignon, you get a good idea on how late this vintage really is.
Liber Pater is truly dedicated to producing the best possible wine from their small, family owned Bordeaux property, located in the Graves appellation. The owner Loic Pasquet, who can be spotted tilling the soils with a mule during the growing season is not optimistic about the 2012 Bordeaux harvest. Pasquet is considering declassifying the entire red wine harvest.
We asked the obviously perfectionist Loic Pasquest why.
"Loic Pasquet "The maturity will be not perfect. At this point, we need to wait for the berries to ripen, but the rain will not stop falling. 2012 could be a year without Liber Pater. We will wait to see once the alcoholic fermentation is finished. But I think we lose this vintage."
Fortunately Liber Pater also produces a white wine and in select vintages, for example, 2012, they produce a sweet, white wine from Semillon.
Chateau Brown in Pessac Leognan is experiencing one of the latest harvests in their history. The Stephane Derenoncourt consulted property started harvesting Merlot October 8, which was quickly followed by the Petit Verdot.  They began working on their old vine Cabernet Sauvignon, Monday, October 15.  It is expected to take up to two weeks to finish.  This is a very late harvest for Chateau Brown. As a comparison, last year, in 2011, they were already finished with their harvest by October 3.  When asked, the chateau felt that the 2012 Bordeaux vintage could be compared with 2008.