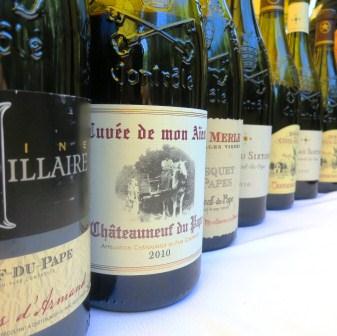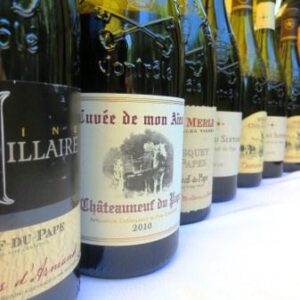 Chateauneuf du Pape continues to enjoy an embarrassment of riches in an almost non-stop parade of strong vintages. Think about it and look back on the previous decade. 2000, 2001, 2003, 2004, 2005, 2006, 2007, 2009 and 2010 have all produced from good to great Chateauneuf du Pape wines. 2002 remains the only disaster in close to 20 years and that was due to torrential rain of Biblical proportions.
2010 Chateauneuf du Pape looks like a stunning vintage for the Rhone Valley and there is going to be a lot of high quality wine from Chateauneuf du Pape for wine lovers to consider from 2010. Although, sadly, quantities of wine produced are lower than usual in the 2010 vintage.
After tasting across a wide spectrum of wines, it's obvious 2010 Chateauneuf du Pape offers a lot of ripe, rich, concentrated, lush, powerful, alcoholic, balanced wines that will drink well young, yet age and develop for 10, 15 or in the best cases, 20 years or more! While the wines tasted were from only one importers book, it's still a good, early look at a wide array of Chateauneuf du Pape wines and wine styles. All of that adds up to an exciting vintage in Chateauneuf du Pape!
2010 Bosquet des Papes Tradition – Filled with spice, earth pepper and garrigue, this medium bodied, approachable, soft, traditionally made Chateauneuf du Pape wine ends with fresh black pepper and kirsch. 90 Pts
2010  Bosquet des Papes Chante Le Merle – Deep in color, with powerful aromatics of blackberry, jam, kirsch, black raspberry, fennel and pepper, this delectable, stylish, Chateauneuf du Pape is concentrated, round, deep and long. 94 Pts
2010 Bosquet des Papes La Gloire de Mon Grandpere – Wet earth, with spice, black cherry liqueur and kirsch scents, deep color and a fresh, tannic, ripe cherry finish are found in this Chateauneuf du Pape. Give it a few years to develop. 93 Pts
2010 Charbonniere – This wine remains one of the best values in Chateauneuf du Pape and one whiff and sip reminded me why. Filled with black pepper, black raspberry, kirsch and jam, this soft, lush, deep wine ends with layers of spicy, black raspberries. 91 Pts
2010 Charbonniere Brusquieres – Packed with jammy black raspberry, kirsch, black cherry and fresh Provencal herbs, this rich, ripe, full bodied wine offers ample freshness, ripeness and concentration. 93 Pts
2010 Charbonniere Brusquieres Speciale – Deep in color, with aromas of fresh cracked black pepper, licorice, jam, blackberry, plum and earth. Round and full bodied, with tannin to age, this will be better after a year or two in the cellar. 93 Pts
2010 Charbonniere Mourre des Perdrix – Earth, herbs, fresh cherries and spice, this medium bodied, elegant, supple textured, Chateauneuf du Pape should drink well young. 92 Pts
2010 Clos des Brusquieres – Referred to as the poor mans Bonneau, because the wine maker is a nephew of Henri Bonneau, who learned his trade from the elder Bonneau, the wine is packed with layers of sweet, jammy kirsch, pepper and herbs. Rich, with good intensity, this should age well. 90 Pts
2010 Cote de L'Ange Tradition – From a blend of 70% Grenache, 20% Mourvedre and 10% Syrah, the wine opens with smoke, earth, strawberry and black cherry jam.  Round and fleshy, the wine ends with ripe, sweet, black cherries. 90 Pts
2010 Cote de L'Ange Vieilles Vignes – Intense blackberry jam, licorice, black cherry, espresso bean and spice are found in the aromatics. Ripe, fat, concentrated and full bodied, this lush expression of Chateauneuf du Pape ends with layers of fresh, jammy black cherries. 94 Pts
2010 Fortia Tradition – Strong barnyard aromas that reminded me more of Mr. Ed's stable than wine, it took a while to move past the animal scents to find black cherries and earth. The wine has depth, and some people are going to like it a lot more than I did, but the only way this was going to rock my boat, was if I was going to sea in an Ark.  85 Pts
2010 Fortia Cuvee de Baron – From a blend of 50% Syrah, 40% Grenache and 10% Mourvedre, this is one of the heaviest concentrations of Syrah in Chateauneuf du Pape. This concentrated wine offers sauvage aromas, soil, barnyard, plum and earth along with meat or beef blood.  This traditionally styled wine ends with a long finish. 90 Pts
2010 Olivier Hillaire – This relatively new producer, (and a new discovery for me)  began making wine in about 2004.  With fresh black cherries, earth, fresh herbs, leather and kirsch, the wine gets your attention.  Full bodied, rich and lush, the wine finishes with ripe, jammy black raspberries.  92 Pts
2010 Olivier Hillaire Les Petits Pieds d'Armand is stuffed with licorice, jammy blackberries and cherry. From 100% old vine Grenache, and when I say old, I mean vines over 100 years old, this concentrated, pure, kirsch, Provencal herb and peppery is lush and lusty,  95 Pts
2010 Mas de Boislauzon Tradition – This fabulous, rich, concentrated, earthy, black cherry and spice filled wine is a great value for its quality.  The wine is tannic and demands a few years in the cellar to soften, but it's worth the wait. 92 Pts
2010 Mas de Boislauzon Quet – Opaque in color, this intense wine is packed with smoke, coffee, earth, plum liqueur, molten black cherries and an array of spices. Dense, concentrated and tannic, this sensational Chateauneuf du Pape will need a few years to come together. 98 Pts
2010 Mas de Boislauzon Cotes du Rhone Villages Les Deux Chenes – Licorice, jammy black cherry and pepper aromas are matched with a deeply colored wine that ends with ripe, sweet, fleshy, black cherries. This fun, well priced wine is already drinking well. 91 Pts
2010 Mas de Boislauzon Tintot – From 100% Mourvedre, with vines that average at least 80 years of age, this inky, black wine is stunning!  Licorice, blackberry liqueur, herbs, black cherry and smoke aromas explode from the glass.  Fat, sassy and packed with layers of rich, ripe, dense fruit, this massive wine coats your mouth and palate with flavor and velvet textures.  97 Pts
2010 Tour Saint Michel du Lion – Spicy red fruits, blackberry liqueur and earth notes lead to a long, sweet, rich, plush, black cherry filled finish. 92 Pts
2010 Tour Saint Michel  Feminessance – Powerful scents of jammy blackberry, blueberry, licorice, plum coffee and spice. Normally, I am not a fan of oak in Chateauneuf du Pape, but it works well here with its rich, concentrated, plush textures and layers of sweet, ripe, opulent, jammy dark berry and black raspberry finish. 95 Pts
2010 Pierre Usseglio – Jammy black raspberry, licorice, cherry griotte and herbs, this rich, concentrated, fleshy wine is filled with layers of sweet, ripe, fresh, dark, jammy berries.  This is another top value Chateauneuf du Pape wine. 92 Pts
2010 Pierre Usseglio Mon Aieul – From 100% Grenache, made from insanely low yields of 16 hecoliters per hectare, the wine reached 16.5% alcohol. Yet there is no touch of heat in the concentrated, deep, lush, ripe, licorice, black cherry liqueur and floral wine.  96 Pts
2010 Vatican Tradition – Earthy, forest floor, kirsch, animal and smoked meat aromas get you interested in the wine.  Soft, round and chewy, the wine ends with ripe, black cherries. 92 Pts
2010 Vatican Sixtine – Sweet jammy black raspberries, flowers, smoke, spice and black pepper scents, this lush, sexy, rich, forward style of Chateauneuf du Pape is already delicious. For a wine of this consistent level of quality, the Diffonty family has kept prices fair. 94 Pts
2010 Vieux Donjon – Blackberry, licorice, truffle and black raspberry scents emerge with little effort. In the mouth, the wine is lush, round and concentrated. With tannins and structure to age, give it a few years before popping a bottle. 93 Pts