2009 Pontet Canet recently scored 100 Pts from Robert Parker, earning Pontet Canet triple digits for the first time! By now, almost every Bordeaux wine lover is aware that Robert Parker scored 19 different Bordeaux wine with a perfect, 100 Pt score!  Perfect scores are hard to come by.  It's a coveted honor that most chateaux never earn what 2009 Pontet Canet did. More often than not, over the past 3 decades that Parker has been writing about Bordeaux wine, the few producers that scored 100 Pts were some of the most famous and expensive producers. That all changed with the 2009 Bordeaux vintage. For the first time, a Fifth Growth hit the magic, triple digit score and that was 2009 Pontet Canet!
For tasting notes from 1929 to today, along with detailed, historical information: Pontet Canet
Pontet Canet has been on a roll since 1994, the year Alfred Tesseron took over managing the Pauillac estate.  Prior to the recent 100 Pt, Parker score, Chateau Pontet Canet produced what many people called the most popular and in-demand Bordeaux wine of the appellation. To illustrate this point, in 2010, Chateau Pontet Canet became the first major Bordeaux wine producer to earn the official Agence Bio (AB) organic certification. Their vineyard techniques are one of many reasons the estate continues to produce better and better wine.
The recent success of Pontet Canet is due to the current management of the estate by Alfred Tesseron who is helped by the director, Jean-Michel Comme.  The young, attractive Melanie Tesseron also has a hand in the estate as well.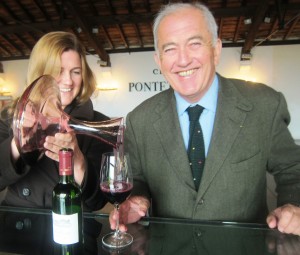 When did Tesseron know how good his 2009 was?  Right from the start, according to Alfred! He was aware of the potential for great quality based on the perfect degree of ripeness in the fruit, skin, seeds and stems!
Tesseron knows how to find the perfect moment to pick. He said, with confidence and a knowing smile, that with healthy vineyards like Pontet Canet, he looks for deeply colored skins, brown stems, and most importantly, no rot. Then if the fruit looks good, he tastes. When the grapes are ripe, he picks. In some vintages, Tesseron explains, he looks at different parcels on a daily basis. "With 2009 as perfect as it was, we only looked things over a few times a week".
While many chateaux welcome new technology, Tesseron moves in the opposite direction. His mantra remains firmly in the "everything is done by hand" department. The chateau utilizes no computers to make harvesting or fermentation decisions.  Picking dates are not the only decisions being made without technology. According to Alfred, "Pontet Canet doesn't perform any computer analysis until the wine is finished. That requires people to work at the cellars, watching the fermentation process, 24 hours a day". Tesseron takes biodynamics and natural vineyard techniques seriously. In the vineyards, he uses horses instead of machinery for some of the blocks, since horses are good for the soil. Tesseron laughed when asked if there were drawbacks and slyly responded, "Yes, the horses eat the grapes". It's a good thing they do not drink the Bordeaux as well!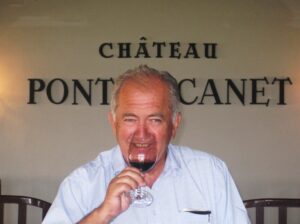 Even though Pontet is only a Fifth Growth, they are producing wines at the level of the best Second Growths and in some vintages, as good as the Firsts.  This was known by consumers all over, well before his 100 Pt score for the 2009.  Situated next to Mouton Rothschild, Tesseron has inspired others on both banks to work more organically.  Pontet Canet is a Bordeaux powerful wine. It's concentrated, balanced, tannic and charming as well.
The château's winegrowing philosophy is to intervene as little as possible and as naturally as possible in the vineyard. Only traditional viticultural and cultivation practices are used. Chemical weed killers are banned in keeping with environmental protection. Priority is given to the vine's long-term health.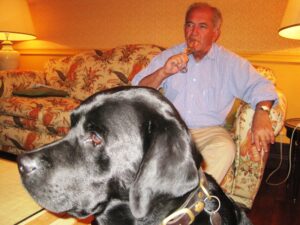 In keeping with this spirit, fertilizers are organic and only used on plots that require extra nutrition. This helps to maintain a good balance and self-regulated low yields, as well as to respect the vines, reflect the terroir, and produce pure, natural wine. Pruning is done in winter. Each individual vine is considered separately and treated accordingly. All these efforts result in grapes that are evenly distributed, with good ventilation, maximum sun exposure, and improved ripeness.
.
For the 2010 vintage, Tesseron added numerous rows of Nomblot, concrete eggs to his range of 16 wood and 32 conical shaped, large, 80 hectoliter, concrete vats used for fermentation.  These concrete eggs first became popular due to their usage in the Rhone Valley by Michel Chapoutier. In fact, the vats are a creation between Michel Chapoutier and the Noblot company.