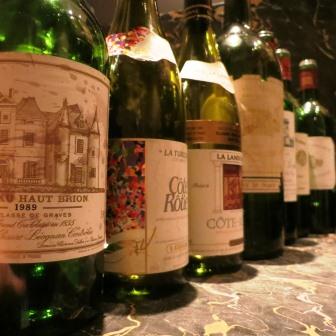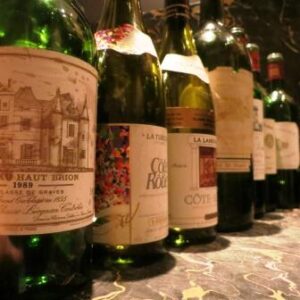 Arriving in Europe Friday afternoon, I was a bit tired. I have friends that tell me, they sleep well on flights.  Quoting Bob Dylan; "That ain't me babe".  I write or read.  I look forward to watching a film I missed in the theaters.  From time to time, a familiar rerun works for me as well.  Some flights have been non- stop movie madness.  That was on a flight back from Hong Kong where I caught 5 in a row.   This flight was not quite as much fun.  "J.Edgar" starring Leonardo DiCaprio called my name.  Against my better judgment, I took a chance.  Throwing caution to the wind, disregarding numerous bad reviews, I gave it a chance.  How bad can it be?  DiCaprio can save it.  Right? Wrong!  That was 2 hours of my life I'll never get back.  But with London on the horizon, coupled with an evening of friends, Great Bordeaux wine and Rhones as well… Life was good.
.
Knowing within a few short hours I'd be having dinner with some of my best friends in London at The Ledbury, I was able to fight the urge to sleep. If you haven't been, The Ledbury deserves its exalted, two start rating.  It's impeccable and friendly. They specialize in market driven, creative cuisine that changes with the seasons and if something new comes up on any given day, the evenings menu could take a different turn as well. .   If that doesn't work, they have a life changing bacon roll that is more insidiously addictive than crack!
.
Once we were seated, the bottles were proudly offered for the evening's entertainment. Each person shows their wine like a proud parent. They want to you to like the wine and get as much, if not more pleasure from the bottle then they do.  One by one, the bottles are displayed and placed in an order that should show them at their best. White wines before red, old wines before young wines and sweeter wines are saved for the end for the night.
.
The wines for tonight's meal are special. They are famous wines with reputations for delivering unique sensory experiences. All the participants share that knowledge and at the same time they are equally aware that on any given day, a bottle could be bad for any number of reasons.  With that in mind, the bottles were opened.
1997 Leflaive Puligny Montrachet Les Combettes – Lemon, Lime, Grapefruit and mineral scents blended with soft, round, mature textures, ending with fresh, citrus and nut flavors. 92 Pts
2002 Leflaive Batard Montrachet – With floral, honeysuckle, orange, mineral and spice. Lush, fat, rich and intense, open and ready. 93 Pts
.
1991 La Turque – If a wine is going to score 100 Pts, it should make its qualities known with the first sniff, swirl and sip.  It took that long or less to know this was sheer perfection in a glass. When the explosive perfume roared from the glass, pure black raspberry liqueur, truffle, black cherry, violets, smoke, vanilla, mint and licorice took over your senses. Sensuous, supple, opulent textures and a long seamless, sweet finish, was almost overflowing with pure, spicy, ripe black and red fruits. Those sensations remained in your mouth for over sixty seconds.  100 Pts
.
Smoke, boysenberry, flowers, black cherry liqueur, earth, charcoal, and creamy cherry scents created a complex perfume.  Big, rich, mouth-filling, long and lush, this still tannic wine is powerful and intense.  At 21 years of age, it's slowly starting to flesh out.  Give it another 5- 8 years and this will be off the charts! 98 Pts
.
1955 Margaux – The only people denying bigger is better, don't have bigger to play with.  1955 Margaux in magnum is an impressive site when placed on the table. Sadly, the wine did not live up to the visuals.  Closing in on 60 years of age, the birck and ruby colored wine offered smoke, tobacco, truffle, spice, smoke, cassis and incense in the nose. Medium bodied and soft textured, the tired wine offered, light, silkly cherries in the finish.  Based on this bottle, I'd drink it sooner now if I had any as it's only going to get worse. 89 Pts
.
1983 Margaux  Floral, truffle, earth, cassis, tobacco and cedar wood make up the perfume. Full bodied and concentrated, the tannins are a little rustic, which takes away from this normally, elegant, refined wine.  93 Pts
.
1989 Haut Brion – Clearly this legendary wine is a strong possibility for wine of the decade.  It does not take long for to taster to understand why, with its intense aromas of smoke, hot bricks, cassis, spice, truffle, cigar box and forest floor scents.  If that wasn't enough to get you going, countless layers of powerful, rich, intense, pure, velvet and silk berries are packed into each sip.  The wine is expansive, growing better and becoming more interesting and complex with each, sniff, swirl and sip.  1989 Haut Brion deserves to be looked at with the same reverence as the legendary 1945 and 1961.  It is that good!
100 Pts
.
1990 Leoville Las Cases This is a perplexing wine.  Some bottles are tight, holding its obvious charms in reserve. Other bottles are starting to open, becoming expressive. This particular bottle needed more time.  Smoke, tobacco, cigar box, grave, cedar chest and cassis scents led to a full bodied, powerful, tannic wine that clearly has more to offer as it develops.  95 Pts
.
This was another memorable evening in London combining new friends with people I had seen in years, along with the regulars I dine with every chance I am in London.  With the last Express Train t Heathrow departing in 30 minutes, it was time to go. And if luck was on my side, I could manage a few hours of sleep before flying to Dusseldorf in the morning to meet The Cellar Devils.