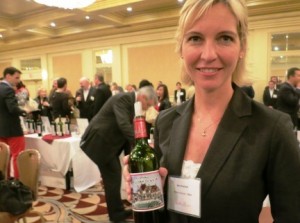 Numerous 2009 Margaux producers made wonderful wine in every appellation. 2009 Margaux is an incredibly consistent region in this vintage. From the First Growths to unclassified wines, there is something for everyone this year in 2009 Margaux.  In fact, some chateaux produced the best wine in the history of their estate! 2009 Margaux will win over a lot of fans with its unique, combination of intense, floral perfumes, freshness, purity and opulent textures. There will be tasters that prefer 2010 Margaux. Who knows? They could be right.  I'm looking forward to having fun comparing 2009 Margaux with 2010 over the next several decades.
The following wines were tasted at the UGCB tasting in Los Angeles.
2009 d'Angludet – Medium bodied and light in style, there is more going on with the earthy, floral, fresh cherry aromatics than the palate. 88 Pts
2009 Brane Cantenac – With an inviting perfume filled with wet earth, blackberries, black cherry, smoke, spice and floral notes, this medium bodied Margaux is refined, supple and elegant. The wine finishes with ample layers of fresh, black and red fruits. Give it a few year to flesh out. 93 Pts
2009 Cantenac Brown – It's always nice to be surprised when you discover a wine has turned out much better than you originally anticipated. This delicious Margaux offers licorice, earth, cassis, spice and truffles, With rich supple textures, concentrated layers of juicy ripe fruit and freshness, this is a winner. 93 Pts
2009 Desmirail – With an earthy, coffee, red and black fruit nose, this medium bodied wine, produced from a blend of 70% Cabernet Sauvignon, 30% Merlot felt light on the palate. The wine ends with a bright, red plum finish. 88 Pts
2009 Ferriere – With an herb, earth and cassis nose, this medium bodied, soft textured blend of 58% Cabernet Sauvignon, 40% Merlot and 2% Cabernet Franc is a lighter, red fruit dominated style of Margaux wine that will drink well young. 88 Pts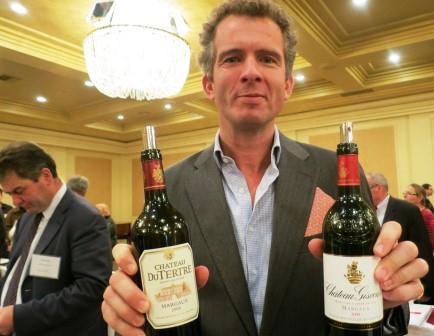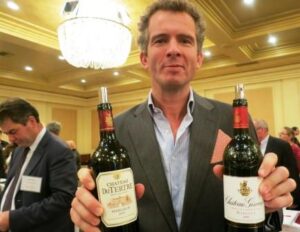 2009 Giscours – Truffle, tobacco, cassis, black raspberry and forest floor notes produce the complex perfume. The blend of 55% Cabernet Sauvignon, 40% Merlot and 5% Cabernet Franc creates layers of deep, long waves of voluptuously textured, dark chocolate covered, fresh black cherries. 93 Pts
2009 Kirwan – The blend of 57% Cabernet Sauvignon, 17% Merlot and equal parts Petit Verdot and Cabernet Franc produced a wine that opens with licorice, cocoa, smoke and aromas of fresh dark berries. The medium/full bodied, wine ends with chocolate covered, black raspberries. 91 Pts
2009 Labegorce –  From a blend of 50% Cabernet Sauvignon, 35% Merlot, 8% Petit Verdot and 7% Cabernet Franc, the wine opens with espresso, boysenberry and earthy aromas. This leads to a lively, fresh, soft textured, medium bodied Margaux wine. Better than previous vintages, (and the 2010 is even better) with a firm commitment to producing the best wines possible from their terroir, you can expect good things in the future from Labegorce, which fortunately for consumers,  remains a well priced Margaux wine.  89 Pts
2009 Lascombes – With noticeable oak, licorice, jam, smoke and ripe, black and blue fruits, this rich, concentrated, supple wine, produced from a blend of  48% Cabernet Sauvignon, 48% Merlot and 4% Petit Verdot ends with a rich, chocolate coated, blackberry, coffee and licorice finish. I like the wine. But I'd like to see a little less oak. 92 Pts
2009 Marquis de Terme – Coffee bean, earth, black raspberry and spicy plum aromas create the aromatics. Suave and round in texture, the round wine, from an assemblage of 60% Cabernet Sauvignon 34% Merlot and 6% Petit Verdot, finishes with a long, fresh, ripe, concentrated layer of dark cherries. 90 Pts
2009 Prieure-Lichine – Black licorice, truffle, fresh brewed espresso, floral, blackberry and plum scents open up the wine. With silky tannins and soft round textures, the wine ends with a rich, long, fresh, pure wave of ripe, dark fruits. 93 Pts
2009 Rauzan-Gassies – From a blend of 75% Cabernet Sauvignon, 23% Merlot and 2% Petit Verdot, the wine
opens with blackberry, pepper, earth and forest smells. Medium/full bodied and slightly rustic in its traditional approach, some tasters might like this more than others. 88 Pts
2009 Rauzan-Segla – Once past the label, this stunning Margaux has it all going on! From a blend of 68% Cabernet Sauvignon and 32% Merlot, this delicious, sexy textured woine features layers of juicy ripe, opulent, pure berries. The wine has depth, concentration and freshness. The perfume grabs your attention with its floral, spice, truffle, stone and cassis scents, this is a serious Margaux that will age and develop for decades. This is the best young Rauzan Segla I have ever tasted! Although, the 2010 will give it a run for the money, in a different style.  96 Pts
2009 du Tertre – This is another 2009 Bordeaux that has fleshed out and improved since it was first tasted back in April, 2010. Licorice, coffee blackberry and plum aromas lead to a fresh, ripe, sensuous, well priced Margaux wine that was produced from a blend of 55% Cabernet Sauvignon, 22% Merlot, 15% Cabernet Franc and 8% Petit Verdot. 90 Pts.