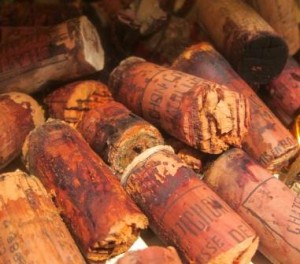 This is a list of the Top Ten Wines tasted during the year, 2011…
When thinking about the best wines from 2011, there were as many wines to chose from as there were reasons to pick them. My mission was to narrow down the list, as well as the reasons why some wines made the list, while others were excluded. As a point of comparison, this is my top ten list from last year. Top 10 Wines tasted in 2010 A few of the same wines managed to make in this years list as well. Consistency can be a good thing when it comes to wine tasting.
The criteria I focused on for my wines of the year varied. I wanted to focus the list on the wines that left the biggest impression, not only for the wine, but as a memory of the event. Wine serves many purposes. Aside from a beverage of pleasure, wine offers the gift of time and place as well as the people we share our favorite bottles with. The ability to be transported back in time to a special night with your friends and family is perhaps a wine's best attribute.
1990 Beausejour Duffau was tasted in the backyard with some of my favorite people. I opened this bottle blind as a surprise at the end of a late, warm summer night. None of us will forget the night, or the bottle.
1990 Beausejour Duffau-Lagreosse – There are great wines. There are the world's great wines. Some bottles go one step further offering "Oh My God," tasting experiences! 1990 Beausejour Duffau can be an OMG wine. With a perfume that explodes with black licorice, truffle, crushed rocks, smoke, black raspberries, BBQ, spicy black cherries, forest floor and tobacco scents, your nose is riveted to the glass. Once past the compelling perfume, waves of incredibly concentrated pure, ripe, dark fruits and minerality coats your mouth and palate, due to the amazing viscosity of the wine. The dry Port like finish of plum liqueur remains for over sixty seconds. This incredible Bordeaux wine tasting experience is only going to get better over the next few decades. It will be interesting to see if the 2009 or 2010 reach this same level of perfection. This bottle was popped and poured into a decanter and served within a few minutes. 100 Pts
2010 Latour was the first great wine of the 2010 vintage I tasted in Bordeaux in April.
2010 Latour – 2010 Latour Completely opaque in color, this stunning Chateau Latour is filled with scents of, licorice, blackberry liqueur, Asian spice, oak and gravel. The wine is packed with layers of concentrated, fresh, pure dark fruits, sweet cassis, spice, blackberries and dark, bitter chocolate. This wine ends with a sensation of your palate drenched in waves of perfectly ripe, dark berries. Everything is in balance and harmony. This is a seamless tasting experience. Over the years, this will be seen as another reference point vintage of Chateau Latour. 99-100 Pts
1985 Guigal La Turque was served blind at a dinner around the pool in the summer. I was close. I called it 1988 La Mouline or 1988 La Turque.
1985 Guigal La Turque – Oh My God, I am speechless! Words are not adequate to express the emotion, sensation, sensuality or exotic character of this mind-blowing wine! The perfume grabbed your attention. Your nose finds it impossible to leave the glass with its powerful scents of 5 Spice, truffle, incense, smoke, jammy blackberry, iron, cherry and barbeque aromatics. The erotic sensations that coat your palate, take your breath away. Picture,dense, molten cherries, truffle, spice and earth. Add the viscosity of motor oil combined with intense purity and the perfect amount of lift to keep it fresh and you get a glimpse of what this hauntingly, beautiful wine delivers. The finish lasts well over 60 seconds. At 26 years of age, this is still young. If well stored, 1985 La Turque could easily remain at this level, or even improve for another 10-15 years. It's not often that expensive wines deliver an experience equal to the cost of the wine. If you ever wanted to know what one of the world's great wines taste like at maturity, this might be the wine to buy. 100 Pts
Becoming friends with the people that make the wines we love is one of the best reasons for spending time in the wine regions that capture our souls. In Bordeaux earlier this year, I joined Christine Valette and her family at Troplong Mondot and one of the wines opened was her magnificent 1990 Troplong. What made this even better was, thanks to her daughter MargauxPariente produced a special memento for me of the occasion. For the first time in history, they printed a special menu with my dog's name and picture on it. Being away from home for 2 weeks, one can become a little homesick. That gesture touched me and left me feeling like I was closer to home.
1990 Troplong Mondot – Rich and port like, if you wanted to find this wine in the dictionary, look under decadent, Intense and concentrated, this glycerine filled wine is stuffed with fat, juicy ripe plums, chocolate, spice, truffle, earth, fudge, espresso bean, blueberry and black cherry liqueur. The wine coats your mouth with layers of port like fruit that last close to sixty seconds! Decadent is the perfect word to describe the wine. The levels of concentration found in this bottle of heaven are seldom seen in dry wines. I have high hopes the 2005 and possibly 2010 will turn out this well when they reach maturity. 98 Pts
1990 Margaux was the perfect wine to share with friends over a casual dinner.
1990 Margaux – Perfection in a bottle. That simple phrase should convey all you need to know about this Bordeaux wine. That is, if you're not interested in details. But for anyone interested in the experience… Intense aromatics offered flowers, truffles, ripe, jammy berries, earth, stone, licorice, smoke and exotic spices. The silk drenched layers of decadent, opulent, pure, sweet, fruit caress your palate and linger for at least sixty seconds. What makes 1990 Chateau Margaux unique, is the rare ability to please hedonistic, pleasure seekers and tasters looking for an intellectual experience. At 21 years of age, this Bordeaux wine has moved from adolescence to the beginning of maturity. There is no better example of Margaux that is drinking as well as this wine is today. 100 Pts
With my favorite tasting group, anything can happen, like serving 1989 Haut Brion blind.
1989 Haut-Brion – The perfume pops from the glass like a Jack in Box that has been waiting to be released for decades. Cassis, earth, Cuban cigar, hot rocks, truffle, plums, earth, tobacco, smoke, tar and mocha scents take over your nose. Intense purity of fruit, powerful, refined and elegant, this is what great Bordeaux wine is all about. The seamless finish is pure silk and velvet. 100 Pts
1975 d'Yquem remains the best sweet wine I have ever tasted. Of course I'm will to change my mind if I can taste either the famous 1937 or legendary 1921. Until then, I'm still savoring this wine.
1975 d'Yquem – 1975 Chateau d'Yquem is a contender for the most consistent 100 Pt wine I have ever tasted. Bottle after bottle has been stunning and this 5 Yquem was no exception. With a copper, orange color, honey covered apricots, floral aromas, pineapples, creme brulee, coconut and tropical aromas explode in front of your nose. Viscous, opulent, packed and stacked with endless waves of deep, juicy, spicy, honey drenched fruit, your mouth, teeth and gums are coated with pleasure .Everything is on balance. The perfect amount of acidity keeps the wine, fresh and lively. The seamless finish lasts well over a minute. If you have the money and want to experience Yquem at its best, Kenny Loggins had it right, "This is it!" 100 Pts
1990 Beaucastel Hommage Perrin served blind at a 7 Blind Men Dinner.
1990 Beaucastel Hommage Perrin – Explosive, pungent aromas of barnyard, black pepper, plum liqueur, black cherry jam, truffle, meat and spice. This wine is huge. But everything is in perfect balance and harmony. Concentrated and dense, this powerful wine coats your palate with essence of Chateauneuf. Still young at 20, this can easily improve for another 20-30 years. This is an amazing wine that offers a mind blowing tasting experience. 100 Pts
1989 Lafleur tasted at lunch at the home of Jacques and Sylvie Guinaudeau, the owners of Lafleur. Sylvie is a great, French country cook!
1989 Lafleur – This explodes from the glass with kinky kirsch, truffle, spice, plum, dried flower and bitter chocolate scents! Rich, concentrated and filled with fruit, this decadent Pomerol coats your mouth with mocha, black raspberry and dark cherry flavors. 97 Pts
Fathers Day is always a special celebration. My dad is not that into wine. He gets almost as much pleasure knowing I want to share special wines with him, as I do when we open them together. We celebrated a few days early with 1983 Cheval Blanc this year.
1983 Cheval Blanc – Coconut, sweet cherry blossoms. smoke, blackberry, plum and truffle aromas. Soft, sexy, opulent and polished textures are in full force in this quintessential, finesse styled wine. The fresh, ripe, cherry, plum and spicy finish is pure velvet. This is my favorite Cheval Blanc for current consumption. The only thing from stopping me for awarding more points is the finish could be a little longer. 96 Pts
In honor of 2011, and Spinal Tap, my list of the top ten wines expanded to 11.
I was in Bordeaux twice this year. I spent a few weeks in April tasting the 2010 vintage and I went a second time for Vinexpo. The night before I left in April turned out to be one of those nights when everything clicked, from start to finish. I love the 1989 Angelus opened that evening. Each time I have an 89 Angelus, I'll be transported back in time and can relive that night again and again. Isn't wine great?
1989 Angelus – Striking aromas of fresh truffles, chocolate, juicy black and red plums, fresh berries and a melange of wet earth scents with hints of tobacco captured our attention. Silk and velvet textures with layers of supple, opulent, sweet plums, blackberries, dark cherries, licorice and spice lingered for close to 45 seconds! One of the marks of a great bottle is the ability to evolve and improve in the glass. Purchased on release and perfectly stored, the wine developed additional complexities while adding layers of elegant, soft textures to the finish. Perfectly stored bottles have at least 12-20 years of a positive future to look forward to. 97 Pts