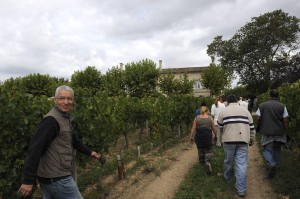 Today, it's hard to argue that  Chateau L'Eglise Clinet is not producing some of the best wines in the Pomerol appellation of Bordeaux. While Petrus and Lafleur are the undisputed kings of the region, the wines being made by Denis Durantou today can be as good as either of those exalted names, and perhaps even better!
Chateau L'Eglise Clinet has a long history. It dates all the way back to the back to the late 1800's. Clos L'Eglise-Clinet was created in 1882. This happened when two families agreed to join together and form a partnership to produce Bordeaux wine together. The families were Mauleon Rouchut of Clos l'Eglise. And the Constant family, the owners of Chateau Clinet. From that point forward, until the mid nineteen fifties, their Bordeaux wine was sold under the name Clos L'Eglise-Clinet.
After that date, the wines were released just as they are today, under the current name of, Chateau L'Eglise-Clinet. Before Denis Durantou, the current owner and wine maker took over, his great-grandfather managed the property. The elder Durantou spent all his time as a shopkeeper. He did not live at the chateau. He preferred to spend his time on his dairy farm, located in Coutras.
With the high price Bordeaux wine sells for today, it might sound strange, but back then, the family made more money from farming than they did from the winery! Because the family was more involved with farming, in 1942, Durantou's grandmother made an arrangement with Pierre Lasserre. Lasserre was the owner of Chateau René, also in Pomerol. Lasserre was to manage Chateau L'Eglise-Clinet. In return for making and selling their Bordeaux wine, he received 50% of the revenue each year. That was if they made any money! That relationship continued through 4 decades.
Denis Durantou took over the winery in the mid 80's. The property, slowly but surely keeps getting better and better. Today, it is one of the stars of Pomerol! The wine is concentrated, full bodied, opulent and rich. Everything is in harmony. This special Bordeaux wine offers a purity of fruit, exotic spice components and freshness. The portion of old vine Cabernet Franc, which is close to 70 years of age is part of what makes this wine unique. Those vines are a large component of what seperates the style and aromatic complexity of L'Eglise Clinet from the most of the other top Pomerol wines.
Prices keep rising and so does the quality. Today, L'Eglise Clinet is one of the top wines in Pomerol. Durantou's wife is a local artist and her paintings are displayed on the walls. Durantou also has very good properties in the Cotes de Castillon appellation.
The terroir is deep clay and gravel soils without excess water, thanks to the century-old drainage network and natural slopes of the plots. However, in this unique case, perhaps plots is the wrong word to use as this Right Bank property abuts the Pomerol cemetery.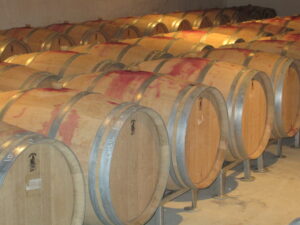 The vineyards were spared by the frost of 1956. With an average age of 40 years, the field blend is 85% Merlot and 15% Cabernet Franc. "Bordelaise" and Single Guyot pruning techniques, organic compost every 5 years, 6,500 plants per hectare.
The vatting last from 15 to 21 days. From October, racking into oak barrels, which are new, depending on the vintages, allowing an ageing period of 18 months. The wines are racked every 3 to 5 months. On average, the property produces between 1,000 and 1,500 cases of Bordeaux wine every year.
Since 1998, Chateau L'Eglise Clinet has been producing some of the finest wine in the Pomerol appellation. In some vintages it is as good, or better than Petrus or Lafleur! This is a concentrated, pure, rich, intense, aromatic, opulent and complex style of Bordeaux wine that demands over a decade of bottle age before it should be tasted. The wines age well. Lately, Denis has been on fire! 2000, 2001, 2005, 2008, 2009 and 2010 have all been stunning vintages for the property. If you love decadent Pomerol wines, this is a wine to seek out. Prices are high, but when compared to their neighbors, they are fairly priced for wines of this level of quality.