There is no group I have more fun tasting with, than "7 Blind Men". Devoted to blind tasting, you never know what wine is going to show up. For each tasting, all the wines are served double blind. Guessing what the wines are combines an interesting skill set ranging from recognizing familiar scents, flavors and textures, to having a good idea as to what wines are in your friends cellar. In case you think that is not part of the equation, the noted authority on wine tasting, Dr. Emile Peynaud, addressed the importance of knowing the contents of a cellar, when blind tasting.
This particular night started off with an undistinguished 1990 Bollinger RD before we delved into some very serious red wines.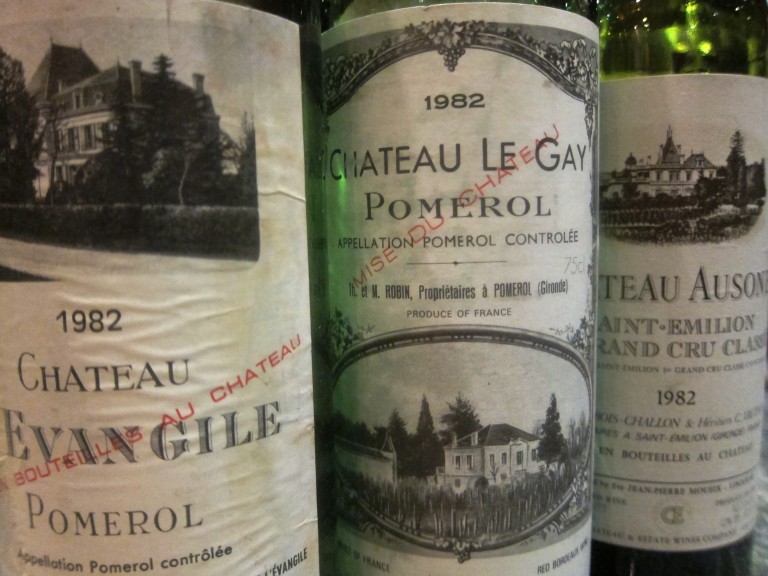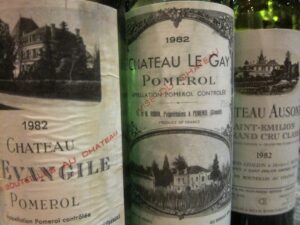 Flight #1 1982 Bordeaux Right Bank Wine
1982 Ausone – Smoke, tobacco, cassis, stone, red plum, spice and black raspberry and floral scents create the perfume. Medium/full bodied and soft in texture, the wine finishes with red and black, spice coated berries. This is a nice, fully mature St. Emilion. It lacks the depth and levels of concentration found in the wines being made at the estate today. 92 Pts
1982 Le Gay – Truffle, chocolate, earth, spice box and plum notes develop with little effort.  Big, masculine and brawny in style, this structured Pomerol wine should continue to age and evolve for several more years. But it's not going to develop into a decadent Pomerol experience. 93 Pts
1982 L'Evangile – A stunning nose of truffle, earth, chocolate, coffee, plums, barnyard, spice and black cherry explode as soon as the wine hits your glass. This is sexy, fat, dense, concentrated, lush and packed with silky, ripe and almost over ripe cherries. Opulent, bordering on decadence, this beautiful Bordeaux wine is drinking perfectly today. 96 Pts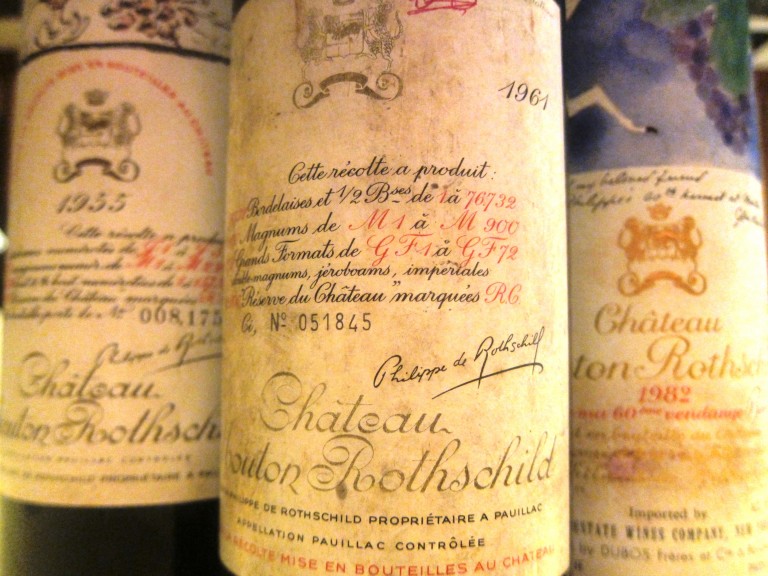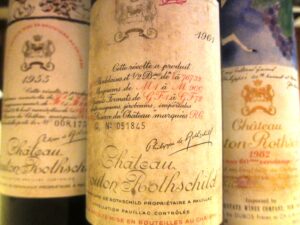 Flight #2 Mouton Rothschild Vertical
1955 Mouton Rothschild – Tasting from bottles that are close to 6 decades old are often fraught with disappointment. Think about it. That's a long time for most wines to live in a bottle. But when the bottle delivers as promised, that is the experience wine lovers who cellar select bottles for years covet. This example of 1955 Mouton Rothschild delivered what was needed, and then some. Coffee, cedar chest, earth, truffle, Cuban cigar smoke, Asian spice, cassis and forest floor aromas kicked off the exotic fireworks. Plush, with the patina of age, this sensuous, round, concentrated wine offered a finish that must have remained on my palate for at least 60 seconds. I'll never know what 1982 or 1986, let alone later vintages of Mouton will taste like at 60 years of age, but I imagine they will be even better. 97 Pts
1961 Mouton Rothschild – OMG… That's short for "Oh My God", if you're not used to reading my notes. This exotic, erotic, kinky wine knocks you out with its Asian spice, tobacco leaf, cassis, spice, coffee bean, cigar ash, black cherry liqueur infused perfume. Dense, thick and concentrated with ripe, pure fruit, the wine coats our mouth, palate and senses with flavor and layers of opulent textures that only the patina of age can deliver. This is about as good as a wine can get. What a treat. And the scary thing is, well stored examples can continue to develop additional levels of complexity. There are wines you taste, and wines you remember tasting, where you were when you tasted it, and who you tasted the wine with. I will not forget the entire experience of this stunning wine. 99  Pts
1982 Mouton Rothschild – It's hard to believe this Bordeaux wine is closing in on it's 30'th birthday and it's still young, vibrant and fresh. It's so youthful, it could easily be mistaken for a wine half its age in a blind tasting! Deep in color, with spice box, cassis, blackberry, coffee, earth, tobacco, truffle, cedar chest and forest floor scents, the wine is amazingly powerful and intense. With textures of exotic silk, this rich, opulent, flashy Pauillac could use another decade of bottle age before it really begins to open up and show why it's considered such a legendary Bordeaux wine. 98 Pts
Flight # 3 Gaja Sori Tildin
1982 Gaja Sori Tildin – With a perfume dominated by red fruit, spice and truffle, this medium bodied wine was tannic, tart and drying. Others in the group liked it a lot more than I did. I did not like the style of the wine. It lacked fruit and generosity. 89 Pts
1989 Gaja Sori Tildin – Bright red fruit, acidity, tannin, spice and structure. With air, the wine attempted to soften, but the levels of tannin and mouth drying acidity did not make this a fun wine to drink. This is another wine where I could sense a level of quality from the fruit and structure, but the lack of pleasure did not appeal to me. Others in the group liked it a lot more than I did. 90 Pts
1997 Gaja Sori Tildin – Spicy cherries, herbs, earth, truffle and and licorice. Round in texture and still tannic, this medium/full bodied wine ends with fresh strawberry, herb and tart cherry flavors. 92 Pts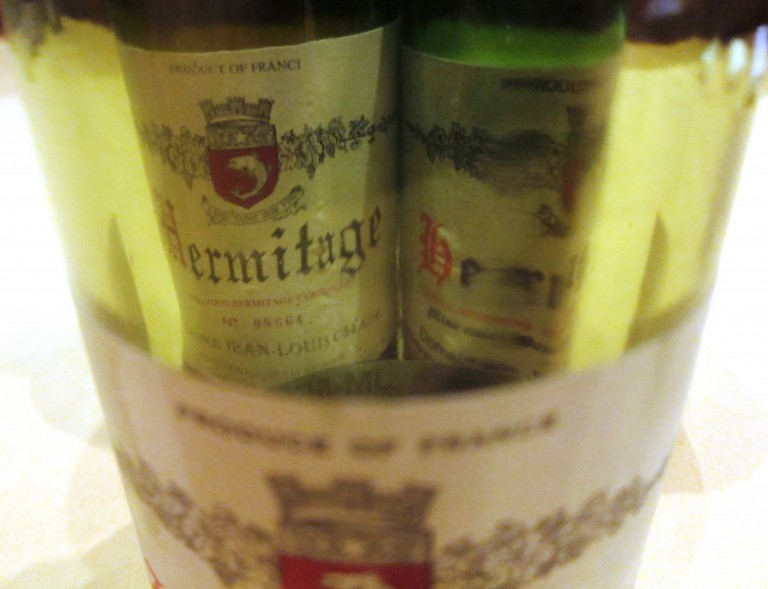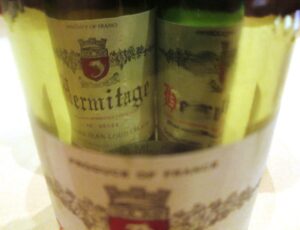 Flight # 4 Chave Hermitage Veritcal
1978 Chave – Light ruby in color, with a nose filled with earth, stone, spice, fresh cherries, smoke, black raspberry and peppery scents. Medium bodied, with soft, refined textures, the wine ends with ripe, lush, spicy, red fruits. This wine is more about the nose than the palate. This is fully mature. If I owned any, I'd drink it sooner than later. 94 Pts
1990 Chave – This is serious wine! What more could you want from an older Chave? The striking perfume with its array of red fruits, spice, iron, crushed stone, flowers and earthy scents grabs your attention. On the palate, it's rich, intense, refined, elegant and sensuous. The finish is packed with seamless layers of sweet, ripe, polished red fruit, that builds with each sip. This beautiful expression of Hermitage is close to mature. 99 Pts
2003 Chave – The color of black, purple ink, the fragrance explodes with licorice, coffee, jam, prune, black raspberries, plums, black cherry liqueur, truffle and smoke. With its massive levels of concentration, it's hard to understand how everything is kept in perfect balance and harmony. This amazing wine coats your mouth, palate and tongue with intensity of flavor that seems to last for close to 90 seconds! This wine has not budged an inch since the day it was bottled. It is a thoroughly, unique expression of Hermitage that might not please traditionalists. But tasters seeking something out of the ordinary, yet refined, pure and intense will love it! 98 Pts
1997 California Cabernet Sauvignon
1997 Harlan Estate – This could be the most controversial California Cult Cabernet wine in existence. And for good reason. Several bottles have been marred by VA, while others are clean. The clean bottles offer a stunning tasting experience. Fortunately, this was one of the clean bottles! Coffee, coconut, chocolate, licorice, blackberry, blueberry, jam and smoke, along with a minor touch of VA. Enough VA to add complexity, but not enough to overpower the wine. Huge, intense, concentrated and packed with layers of sweet, ripe, fruit, this wine coats your palate and keeps your attention focused on the levels of fruit packed into a single bottle of this elixir. 98 Pts
1997 Shafer Hillside Select – From 100% Cabernet Sauvignon, this could be the best non cult Cabernet made in America. With stunning levels of concentrated, sweet, ripe, jammy, polished fruit, velvet textures, chocolate, blueberry, smoke, vanilla, boysenberry, blackberry jam, truffle and cherry, this intense wine coats your mouth in flavor and intensity. The finish seems endless. What a treat! This is probably my favorite vintage of this stunning wine yet produced. 99 Pts
Dessert Wine
1949 Doisy Daene – The best part of this wine was the nose. Spice, apricots, orange rind, flowers, citrus, nuts and honey. The fruit is drying out, there is very little sweetness remaining on the palate. Drink up. 85 Pts.
A big debt of gratitude goes out to Gregg Tenser for hosting this stunning night of wine.  His efforts will spur the group on for next years series of tastings.  While this event was our final official tasting of the year, we have one more group dinner that is a group effort where each member provides a flight.  It's going to be another amazing night wine, friends and fun.  I'm looking forward to it.  As for what wines I'll be adding to the mix, one of them is a 1961 Bordeaux wine that I am willing to wager, no member of the group has tasted yet.  Even Robert Parker does not have a tasting note!