Tuesday June 17, 2008
Chateau Grand Puy Lacoste, Chateau Palmer, Chateau Cos d'Estournel for Oysters with Sauternes at the home of Jean Guilllaume Prats 
It's cool and rainy for June. Flowering is uneven. In some places this process is taking place later than growers would prefer. But for most vintners it is almost complete. This does not mean quality cannot be good, great or poor. This is not a picture perfect harvest. Diligent vintners will need to do a lot more work. An imperfect fruit set will probably lead to a small crop due to lower yields. A bigger fear is mildew which people are spraying for. It's a long way to harvest time and a lot can happen.
Keep in mind, Bordeaux is a marine climate. It is often wet here. You have a river and an ocean. Plus, the truth is, it rains a lot.
Bottom line, there is no way to tell at this point how the harvest will turn out. By the time mid to late September rolls around, you will have a good idea. About the only reasonable surmise one can make is, this is not going to be picture perfect like 05. Those vintages do not come around more than once or twice a decade. That is what makes them special and worth the extra money.
Tuesday kicked off with a visit to Grand Puy Lacoste to taste with Francois Xavier Borie. Grand Puy Lacoste can make riveting wines.  In 1990, they made a better wine than Lafite and Mouton. 90 GPL remains young and vibrant today.  In some vintages, this Chateau, located off the D1 produces wines well above their 5th Growth status.
05 Grand Puy Lacoste is deep ruby with purple accents. Dark berries, oak, and cassis strut their stuff. The wine is in the process of closing down. On the mouth, a blast of licorice tinged, blackberries with polished tannins. This concentrated Bordeaux wine ends with a long finish. 94 pts
04 Grand Puy Lacoste is dominated by black fruit and oak. Lighter and easier to approach than the 05, with more finesse, the wine will show well young. 90 Pts
03 Grand Puy Lacoste is already light in color, short, semi tart and has some green notes in the finish. 84 Pts
96 Grand Puy Lacoste kicks off with secondary tones of tobacco, cedar and earth. The wine offers a huge mouthful of red tinged, black fruit. Full bodied with quality tannins needing time to evolve. The wine can be enjoyed today with air, or give it 5 more years. 93 Pts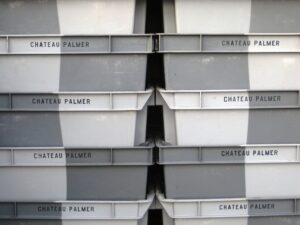 Chateau Palmer which sits next to Chateau Margaux produces wines that can sometimes equal Margaux and on occasion even be better.  Palmer is one of the most elegant and refined wines in Bordeaux.  But what else would you expect when you combine haunting aromatics with lush, ripe, opulent fruit? Thomas Duroux and Bernard de Laage were gracious enough to invite me to lunch for a blind tasting. It's good to be in Bordeaux. The most interesting wine of the tasting was their Historic 19th Century Bordeaux wine, a blend of approximately 10% Syrah, 45% Merlot and 45% Cabernet Sauvignon.
06 Palmer Historic 19th Century Blend does not have quite the punch or volume of the 04. But, with its unique addition of Syrah, the pepper and jammy fruit aromatics along with the fat texture makes this a fun wine to have. Only 100 cases were produced. The percentage of Syrah in 2006 is down to 10% from 15% in 2004.
It's time for dinner and that's good, COS I'm hungry.
Cos has been on fire since Jean Guillaume took over. Say what you want about the prices. For my palate, the wines have never been better.
Jean Guillaume has taken a hit for pushing up prices. That is his job. He has also pushed quality to new levels. That is also his job. Some Chateau are associated with owners or managers. Others are known for brand names. When any Chateau is so closely identified with a manager as Cos is with Jean Guillaume, people hold the manager responsible for everything, good and bad.
Wine, brings people together. It is our shared passion of the grape that connects us. Bordeaux, like every wine region is a business. The people running the Chateau and producing the wine are completely passionate about wine. They love it, just like we do. For me, as much as I enjoy tasting wine, it is getting to know the people who make my favorite wines the highlight of my trips to Bordeaux.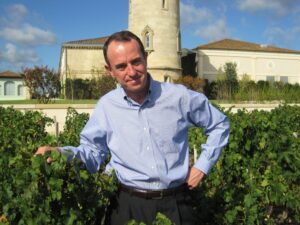 I have spent a lot of time getting to know Jean Guillaume over the past few years. I've spent time in his home in Bordeaux and he's visited with me in Los Angeles as well.  Last night I was invited to be a guest in his home for dinner with his lovely and very charming wife Stephanie. Jean Guillaume might be thought of as all business in the press. But like many people, when you get to know them they are often much different than they appear.
Jean Guillaume is very smart. He comes from a family steeped in Bordeaux for multiple generations. Previous family members owned Chateau Margaux at one point. So, he knows his way around Bordeaux. That's his public image.
In private, he is funny and uses his dry wit to his advantage charming friends and visitors alike. During dinner, I posed the often asked question how did you and Stephanie meet? If you want to know who he is, this is a great example of his personality.
Stephaine took over and related a tale that shows a quixotic side to Jean Guillaume. They met years ago when both were young. They reconnected years later and hit it off. Jean Guillaume was smitten. Meeting Stephaine, it is easy to see why. After only a month of dating, Jean Guillaume had to travel to Washington DC for business. At that point he proposed saying, he was going to be away for a few days and he really wanted to marry her! As the relationship was a grand total of 4 weeks old, she replied, "He was crazy, and needed time to think about it." Jean Guillaume told her "If she felt the same and wanted to get married, she should pick him up at the airport in 3 days when he returned." She just laughed.
As the confident man he is, he was sure she would be there. She was! 6 months after that, they were married. Five children later, they are still together! To me, that says a lot about the man.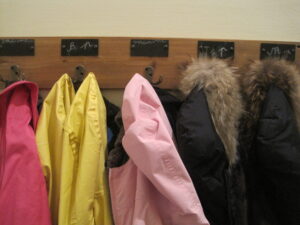 We enjoyed a few nice bottles along with that conversation..
55 Pichon Lalande with a truffle laden, earthy perfume. The wine, obviously fully mature with the patina of age had a lot to offer, but with a certain rustic quality to it. It slowly faded in the glass.
55 Lafite was a stunning, beautiful wine. Cedar, tobacco, spice, wet earth filled the glass and your senses. On the palate, layers of silkly, velvety, thick, ripe Cabernet draped over your mouth. Opulent and very sexy on the palate, the wine improved in the glass. To me, at over 50 years old, a wine that improves in the glass is the hallmark of a great vintage.
89 Yquem, still young was the perfect way to end the night. Rich, filled with honey covered tropical fruit and acidity to give it lift should deliver pleasure for decades. It is a stunning wine.
What happened to the promise of oysters and Sauternes? Good question. He said next time. As if I needed a reason to come back.