Monday, June 16, 2008
I got Lynched, lunched at Ducru and tasted at Margaux & Pichon Baron
It's been cool and rainy for June.  Flowering is uneven in some places and is taking place later than growers would prefer. This does not mean quality cannot be great. Far from it. An imperfect fruit set will probably lead to a small crop due to lower yields. Low yields are positive for wine.  It's a long way to harvest time and a lot can happen.  I'll ask around and see what people think.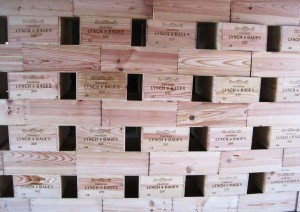 Monday started off with a visit to Lynch Bages to taste with Jean-Michel Cazes and Jean-Charles who is slowly but surely taking over the duties of running Chateau Lynch Bages. The last time I saw Jean-Michel was when he took me out for my birthday lunch last November. We tasted 2007 barrel samples, 2006 and 2005, Lynch Bages, Lynch Bages Blanc and Ormes de Pez.  2006 Lynch Bages is a better wine than 2005.
After the tasting, Jean-Michel Cazes was kind enough to spend time with me over a few cups of coffee at Lavinal, his cafe in Bages, the village he built. At 73, Jean-Michel remains a tireless ambassador for Bordeaux. He never runs out of energy or ideas. One of the most gentle, interesting, passionate and open owners, he is a pleasure to speak with. There is no subject he is not willing to discuss freely. He has seen it all before and he know he will see it all again. And if you have not met him, be prepared for an honest answer if you ask an honest question.
Traveling south on the D2, on the  other side of the street was my next stop with Bruno Borie, the owner of Ducru Beaucaillou along with Ivanhoe Johnston from Nathaniel Johnston, the oldest Negociant that has remained in the same hands since 1734!  To anyone in America, this is amazing.  Where I live in Los Angeles, it's considered an amazing feat of accomplishment to have a store in the same location for 10 years, let alone 274 years!
Ducru Beaucaillou, which takes its name from the little pebbles found throughout their terroir.  Today, Borie is making some of the finest wines in the Medoc. The ability to blend power with elegance, the hallmark of great Bordeaux is what Ducru Beaucaillou is all about.  The Chateau balances tradition with modern facilities and contemporary art which is on display in the tasting room with its ornate copper doors with modern cutouts of wine motifs; The steel doors and shades is a theme that repeats throughout the property. The tasting room at Ducru is modern looking. Contemporary art is displayed for maximum effect on the wood lined walls.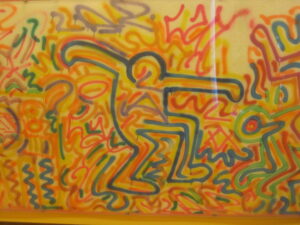 Wine and food were meant to go together. When it was time for lunch, I was ready. Lunch was a simple affair in Bruno's amazing, world class kitchen. Trust me on this, his kitchen would be the envy of any professional chef. In fact few restaurants have kitchens this nice. The dining area is located midday between the cooking area and a stunning wall of glass overlooking the vineyards. While I have met Bruno before, it was my first time being able to spend a few hours with him talking about life and wine. What better place to chat than a kitchen?
Bruno is an open winemaker, freely sharing his thoughts. 2003 is not the most popular vintages in Bordeaux. Bruno said he loved the wine, saying it was a great year for Ducru. Slowly but surely, more winemakers saying better things about 2003.
03 Ducru Beaucaillou is a very, sexy, exotic, style of Bordeaux wine for Ducru. Lush, opulent and ripe with complicated notes of red fruit adding to the fresh blackberries easily found in the wine. There is a lot to like in this splendid St. Julien! Bruno Borie calls the wine classic Bordeaux. Bruno added, in 2003, they only utilized 50 percent of the crop. You can taste the concentration and purity in this flashy St. Julien. Personally, I would give it another decade in the bottle, but; if anyone had a case and could not keep their hands off, I would not fault them. 94 Pts
Possibly the most beautiful and famous frontage in Bordeaux belongs to Chateau Margaux. The tree lined walkway leading to the Chateau's front steps has to be one of the most recognizable land marks in the area.  The Chateau, its wines and of course Paul Pontallier personify elegance.
For me, the finest wine produced by any Left Bank property in 2005 came from Chateau Margaux. The wine with its incredible layers of thick, rich lush polished fruit, concentration, perfect balance and harmony is a treat for the senses.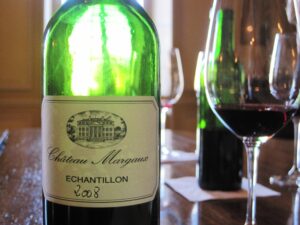 After a long lunch and tasting at Margaux, I was ready for dinner with Jean-Rene Matignon at Pichon Baron. But not before tasting some Bordeaux wine. I know it's a tough job. But someone has to do it.
06 Pichon Baron showed a creamy, raspberry and cassis perfume. The tannins were slightly rustic. The wine will need time. This is not an early drinker. There is a lot of depth It reminded of an 86 with better fruit and riper tannins. Wine maker Jean-Rene Matignon says it is closer to their 88.
05 Pichon Baron is opaque in color. Very spicy nose with gobs of cassis, oak and fresh black pepper. Stunning concentration in the mouth. It is like biting into a cassis, drenched plum and blackberry pie. Great balance and lift. The 45 second finish is a treat. This is going to age and evolve into a stellar tasting experience. 95+
04 Pichon Baron offers an earthy, sweet, spice filled nose. Lush palate entry. Already open. This is a very pretty style of wine that drinks well today. 90 Pts
03 Pichon Baron pops out of the glass like a Jack in the Box! Perfume explodes in your face with spice, creamy black and red fruits, cassis and raspberry notes. Multiple layers of decadent ripe fruit drench your palate. There is a lot to like in this wine. It is very exciting. 94 Pts
01 Pichon Baron kicks off with wonderful levels of pure, ripe, black fruit and truffle. Rich elegant entry finishing with a melange of black fruit. This will age, but it drinks well today. 92 PTS
00 Pichon Baron is the wine to buy. Wow! That should say it all. But, for those wanting to know how I arrived at Wow… The glass can barely contain the aromatic explosion of Cuban tobacco, spice, earth, truffle and soft jammy berries. This full bodied, elegant, styled wine floats over your palate in layer after layer. The fruit is very polished, silky and fine. This is the most elegant style of Pichon Baron I have yet tasted. Is it better than the dynamic duo of 89 & 90. Jean Rene says "Yes!" Me, I think it is possible as this seems to more elegant and complex. Plus it shows a little better than 89 & 90 at the same stage. Regardless of which wine anyone likes best, 2000 Pichon Baron is a stunning wine that belongs in any Bordeaux lovers cellar. 96 PTS