Chateau Petit Village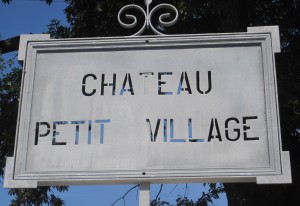 Chateau Petit Village Pomerol, Bordeaux wine producer profile, with wine tasting notes, wine ratings, a history of the property, information on wine making and terroir, along with wine tasting reviews. If you want to read about other important, Bordeaux Chateaux: Links to all Bordeaux Wine Producer Profiles
Chateau Petit Village has a long history in the Pomerol appellation that dates back to at least 1785. The wines of Petit Village first began gaining acclaim in 1831, when the estate was owned by the Dufresne family. At one point in time, the estate was owned by the De Seguin family who also owned Chateau Clos Fourtet in St. Emilion.
In 1919, Petit Village once again changed hands when it was sold to the Ginestet family. At the time the Ginestet family were well known Bordeaux wine negociants with other holdings in the Medoc. In fact, just 2 years earlier, they bought Chateau Cos d'Estournel. Following the frost of 1956, the vineyards of Petit Village were replanted. Perhaps, due to their experience in the Left Bank, having owned Chateau Margaux, they planted an excessive amount of Cabernet Sauvignon in their Pomerol vineyards. The amount of Cabernet Sauvignon was over 50%, which was the highest amount of Cabernet Sauvignon in the entire Right Bank.
When Bruno Prats began to take control of Chateau Petit Village in 1971, one of his earliest decisions was to rip out the Cabernet Sauvignon and replace it with Merlot. His next move was to renovate the cellars in 1977. This led to an increase in the quality of the wine at Chateau Petit Village. The involvement Bruno Prats ceased when he sold Chateau Petit Village to the large, AXA group in 1989. At that point, Jean Michel Cazes, of Lynch Bages, who had a relationship with AXA, due to his work with them at Pichon Baron took over the property. The giant insurance agency, AXA, also owns Pichon Baron Pauillac, as well as Chateau Suduiraut in Sauternes and numerous other wineries in a myriad of countries including Portugal and Hungary.
Currently, Christian Seely looks over Chateau Petit Village and all the other AXA group owned wineries. Under Christian Seely, improvements at Chateau Petit Village have taken place including new vats and a new barrel cellar. He also brought in Stephane Derenoncourt to consult.
Chateau Petit Village wine comes from a single 11 hectare Pomerol, triangular shaped vineyard. The terroir is composed of deep gravel with sand, chalk and clay. That soil sits on top of a bed of red iron. The vineyard is planted to 75% Merlot, 18% Cabernet Franc and 7% Cabernet Sauvignon. Petit Village continues to maintain one of the highest potions of Cabernet Sauvignon plantings in the Pomerol appellation. The oldest parcel of vines at Petit Village is a single plot of Merlot planted in 1947. On average the vines are planted to a density of 5,600 vines per hectare. The vinification takes place in 18 thermo regulated concrete vats for an average of 21 days. The vats range in size from 35 hectoliters up to 80 hectoliters. Malolactic fermentation takes place in barrel. Chateau Petit Village is aged in 70% new, French oak barrels for about 15 months.
Chateau Petit Village has been a medium/full bodied Pomerol, without the ripeness, elegance and concentration the better wines from the region often display. With Stephane Dereoncourt who replaced Michel Rolland in 2005 acting as the consultant, things should turn around for this popular Right Bank wine.
Chateau Petit Village produces close to 2,500 cases of Bordeaux wine per year. There is a second wine, Le Jardin de Petit Village.
  
www.petit-village.com
Wine Tasting Notes
Displaying 8 vintages | 13815 Views Sorted by vintage
2012 Château Petit Village

Blending 80% Merlot, 14% Cabernet Franc and 6% Cabernet Sauvignon, the wine will be aged in 80% new French oak, reaching 13.8% alcohol. Whole berry fermented, the wine opens with licorice, black cherry liqueur, coffee, cocoa and earthy notes, offering silky textures, soft tannins and a sweet, ripe, red and black cherry finish. 90-92 Pts

91

points - Tasted

Apr 26, 2013

365 Views

2011 Château Petit Village

Utilizing 72% Merlot, 19% Cabernet Franc and 9% Cabernet Sauvignon, the wine will be aged in 65% new oak. Consulted by Stephane Derenoncourt, the wine is packed with floral, earth and cherry blossom scents. On the palate, this Pomerol wine is supple, fresh and sensuous with silky textures. 90-92 Pts

91

points - Tasted

Apr 21, 2012

1071 Views

2010 Château Petit Village

Petit Village Produced from 73% Merlot, 18% Cabernet Sauvignon and 9% Cabernet Franc, this medium bodied, soft textured Pomerol offers light cherry, plum, coca powder and licorice. 89-91 Pts

90

points - Tasted

Apr 21, 2011

1698 Views

2009 Château Petit Village

From a blend with one of the highest percentages of Cabernet Sauvignon in Pomerol, 75% Merlot, 17% Cabernet Sauvignon and 8% Cabernet Franc, this medium bodied Bordeaux wine offers aromas of fresh red and black plums, wet earth, spice and cherries. The wine should should drink well young.

90

points - Tasted

Jan 31, 2012

1966 Views

2009 Petit Village opens with scents of plums and herbs mingled with a touch of oak. This round textured, medium bodied wine needs a bit more stuffing. 87-89 Pts

89

points - Tasted

Aug 27, 2010

1926 Views

2008 Château Petit Village

08 Château Petit Village is a simple, medium bodied wine that sports a spice, oak, and black fruit nose and a soft texture in the mouth. A light, early drinking Pomerol. 87-89 Pts

88

points - Tasted

Jul 30, 2009

1884 Views

2005 Château Petit Village

Shockingly light for the vintage. There is no reason to buy wines like this for the type of money being charged. The good news is, starting with 2006, Stephen Derenoncourt is in charge of the winemaking so things should start improving rapidly

87

points - Tasted

Jan 20, 2008

3426 Views

1961 Château Petit Village

This is traditionally styled, slightly austere Pomerol that is on the downside. Drink up.

85

points - Tasted

Jun 27, 2009

811 Views

1955 Château Petit Village

Spicy, tobacco notes were easy to find. The first few sips offered a lot of pleasure, but with air, the wine slowly faded in the glass.

87

points - Tasted

Nov 14, 2007

668 Views