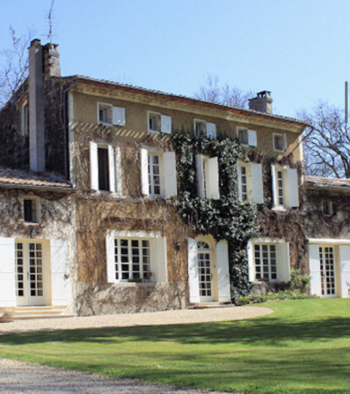 Learn everything about Chateau d'Aiguilhe Querre Cotes de Castillon with wine tasting notes, wine, and food pairing tips, best vintages, a history of the property, information on the vineyards, and winemaking. If you want to read about other important, Bordeaux Chateaux: Links to all Bordeaux Wine Producer Profiles
Chateau d'Aiguilhe History, Overvieww
Chateau d'Aiguilhe Querre enjoyed its debut in 2000 after it was purchased by Emmanuel Querre and Gaetane Querre. Prior to their purchase, the estate was known as Chateau Haut Brisson, Cotes de Castillon. Desiring to re-brand the wines to consumers, and to avoid confusion with the St. Emilion vineyard, they changed the label in 2002 to what you see today.
The Querre family has been active in the Bordeaux wine negociant business since 1897, making their first vineyard purchase in 1909 when they bought vines in the Pomerol appellation.
Today, aside from owning Chateau d'Aiguilhe Querre, they also own several other Right Bank properties. In Pomerol, they own Chateau Le Moulin and Clos Brun Mazeyres.
In Saint Emilion, they possess Chateau Patris as well as Chateau Fleur de Jean Gue in Lalande de Pomerol. The family also produces a few wines sold as Bordeaux Superieur.
Chateau d'Aiguilhe Querre Vineyards, Terroir, Grapes, Winemaking
The 2.4 hectare Cotes de Bordeaux vineyard of Chateau d'Aiguilhe Querre is planted to 80% Merlot and 20% Cabernet Franc. The vines are old, with an average of 40 years of age. The terroir is clay and limestone soils and is located at the top of the Saint Philippe d'Aiguilhe plateau. At its peak, the vineyard reached 110 meters of elevation. The vineyard is planted to a vine density of 6,000 vines per hectare.
To produce the wine of Chateau d'Aiguilhe Querre, the wine is vinified in small, temperature-controlled, stainless steel vats. Malolactic fermentation takes place in barrel. The wine is then aged in 60% new, French oak barrels for an average of 14 months before bottling. Production is quite small as less than 1,000 cases per vintage are produced here every year.
The best vintages of Chateau d'Aiguilhe Querre are: 2021, 2020, 2019, 2018, 2017, 2016, 2015, 2014, 2012, 2010, 2009 and 2005.
When to Drink Chateau d'Aiguilhe Querre, Anticipated Maturity, Decanting Time
Chateau d'Aiguilhe Querre is better with at least 2-3 years of aging in good vintages. Young vintages can be decanted for up to 1 hour, helping the wine soften to help develop the aromatic character.
Older vintages might need very little decanting, just enough to remove the sediment. Chateau d'Aiguilhe Querre provides its best drinking and should reach peak maturity between 3-12 years of age after the vintage.
Serving Chateau d'Aiguilhe Querre with Wine, Food, Pairing Tips
Chateau d'Aiguilhe Querre is best served at 15.5 degrees Celsius, 60 degrees Fahrenheit. The cool, almost cellar temperature gives the wine more freshness and lift.
Chateau d'Aiguilhe Querre is best paired with all types of classic meat dishes, veal, pork, beef, lamb, duck, game, roast chicken, roasted, braised, and grilled dishes. Chateau d'Aiguilhe Querre is also good when matched with Asian dishes, rich fish courses like tuna, mushrooms, and pasta.
Château d'Aiguilhe Querre Wine Tasting Notes
11 Vintages 25,960 Views Sort by Vintage-Rating
2020
Château d'Aiguilhe Querre (Castillon Côtes de Bordeaux)

Medium-bodied, plush and polished, with sweet, fresh, juicy plums, cherries and chocolate on the palate and in the finish. This will be just perfect to enjoy on release. 88-90 Pts

1,053 Views

Tasted

May 20, 2021

2019
Château d'Aiguilhe Querre (Castillon Côtes de Bordeaux)

Medium-bodied, fruity, chewy, earthy and floral, with nuances of espresso, cherries and plums, showing better in the bottle than it did in the barrel, this is going to be quite easy to enjoy on release.

492 Views

Tasted

Mar 29, 2022

Black cherry, black coffee and black figs on the nose with ripe, round, fleshy fruits, earthy overtones and juicy, jammy black cherries in the finish. You can drink this on release and enjoy it over the next decade. 88-90 Pts

1,881 Views

Tasted

Jun 8, 2020

2018
Château d'Aiguilhe Querre (Castillon Côtes de Bordeaux)

Ripe and fleshy, the wine is forward, juicy, sweet, and most importantly, ready to go on release! 88-90 Pts

1,707 Views

Tasted

Apr 19, 2019

2016
Château d'Aiguilhe Querre (Castillon Côtes de Bordeaux)

Medium/full bodied, spicy, sweet and fresh, the black raspberry and red plum notes are spicy, with a bit too much oak at the moment. The oak needs to better integrate.

2,801 Views

Tasted

Apr 29, 2017

2015
Château d'Aiguilhe Querre (Castillon Côtes de Bordeaux)

A medium-bodied, forward and correctly made wine with a sweet cherry and cocoa center, soft textures and a note of thyme in the finish.

2,178 Views

Tasted

Apr 29, 2016

2014
Château d'Aiguilhe Querre (Castillon Côtes de Bordeaux)

From a blend of 80% Merlot and 20% Cabernet Franc, the wine opens with notes of flowers, black raspberries and coffee bean, with a soft, open, dark chocolate finish that will be approachable young. 85-87

1,781 Views

Tasted

May 1, 2015

2013
Château d'Aiguilhe Querre (Castillon Côtes de Bordeaux)

Medium bodied, with a simple, black raspberry character, this easy drinking wine should be consumed in its youth. 84-85 Pts

2,354 Views

Tasted

May 1, 2014

2012
Château d'Aiguilhe Querre (Castillon Côtes de Bordeaux)

Loads of fresh, sweet black cherries, licorice and espresso, coupled with round, soft textures and a forward profile. The wine was produced from a blend of 80% Merlot and 20% Cabernet Franc.

1,659 Views

Tasted

May 15, 2015

Medium bodied, simple, red berries with some dryness in the finish. 86-88 Pts

3,060 Views

Tasted

Apr 26, 2013

2010
Château d'Aiguilhe Querre (Castillon Côtes de Bordeaux)

Forward and already fun to taste, this easy to like, crowd pleasing wine offers lots of licorice, oak, sweet black raspberries and cherry. This is meant to enjoy in its youth. At about $15, this is a steal!

1,955 Views

Tasted

Aug 2, 2013

2009
Château d'Aiguilhe Querre (Castillon Côtes de Bordeaux)

Solid value Bordeaux wine. Already open, with a forward, soft, sweet black cherry, licorice and coffee bean character, drink this on the young side.

2,387 Views

Tasted

Mar 19, 2014

2005
Château d'Aiguilhe Querre (Castillon Côtes de Bordeaux)

Easy to drink and like, with its open, uncomplicated, licorice, black cherry, chocolate and coffee bean filled personality. This is not a wine to age. It's a wine to consume.

2,652 Views

Tasted

Mar 5, 2014