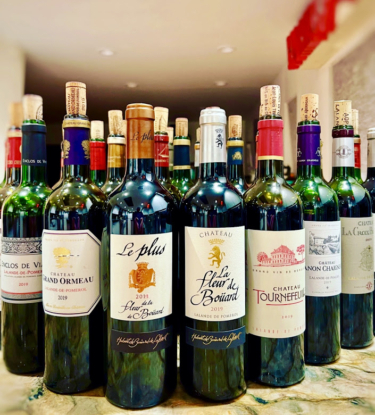 2019 Lalande de Pomerol wines are going to please a lot of wine lovers. The vineyards are separated from its more famous neighbor, Pomerol, by only a small stream. You can find similar terroir in Lalande de Pomerol that in the best vintages produce wine that completes with many of the top Pomerol estates, and they sell for a fraction of the price! So, what's not to love?
If you are a fan of Right Bank Merlot from clay and gravel terroirs that can be enjoyed in most cases, on release, you are going to find a lot to like about the 2019 Lalande de Pomerol wines! For a review of the vintage conditions or to look at tasting notes and ratings for more than 750 wines The Complete Guide To all the Best 2019 Bordeaux Wines
The following 2019 Lalande de Pomerol wines were all tasted in non-blind conditions in my home office.
2019 Canon Chaigneau Lalande de Pomerol – On the nose you find espresso, leafy herbs, spice, earth and plums. Medium-bodied, fresh and spicy on the palate, with touches of olives that accompany the plums, cherries and chocolate, this will be better if allow it to rest for a year or two. Drink from 2022-2033. 92 Pts
2019 Canon Chaigneau Cuvee En Beton Lalande de Pomerol – Chocolate covered cherries and herbs with espresso scents are found on the nose. On the palate the wine soft, fruity medium-bodied, forward and polished, finishing with cocoa, coffee and red cherry sensations. Drink from 2022-2030. 90 Pts
2019 Chambrun Lalande de Pomerol – Flowers, roasted cherries, Asian spice and wet earth aromas get your attention. The wine is medium-bodied, soft, refined and already a pleasure to drink, finishing with loads of sweet, ripe, pure, fresh, polished plums. Drink from 2022-2032. 92 Pts
2019 Chenade Lalande de Pomerol – Medium-bodied, elegant and fresh, the wine is all about its sweet, ripe, silky, red cherries, plums and cocoa. Forward and refined, the wine is already just great in the glass, with a touch of cocoa and mint on the back end in the finish. Drink from 2022-2029. 90 Pts
2019 Enclos de Viaud Lalande de Pomerol – The nose opens with a touch of smoke, dark cocoa, mushroom and spicy plums. Medium-bodied, fruity and earthy, with chewy fruits, espresso and dark chocolate in the finish. You can enjoy this on release. The wine blends 85% Merlot with 15% Cabernet Franc Drink from 2023-2033. 90 Pts
2019 Gachet Lalande de Pomerol – Forward, soft, polished, medium-bodied, early-drinking, cherry and cocoa packed wine with silky tannins and good freshness that is going to be easy to enjoy on release. Drink from 2022-2031. 89 Pts
2019 Grand Ormeau Lalande de Pomerol – Chocolate fudge, espresso, wet earth, flowers and cherries make up the bouquet. On the palate the wine is lushly textured, ripe, sweet, earthy and spicy, with layers of dark plums and cherries along with hints of blue fruit. Produced from blending 74% Merlot with equal parts Cabernet Sauvignon and Cabernet Franc, scoring at the top of the range, this is really quite nice and filled with personality. Drink from 2023 – 2034. 92 Pts
2019 Hauts-Conseillants Lalande de Pomerol – Flowers, cherries, plums and wet earthy nuances crowd into the nose. Medium-bodied, soft, silky, fresh and forward, this already approachable wine leaves you with a polished, dark, red fruit, silky-textured, fresh, refined finish. Drink from 2022-2031. 90 Pts
2019 Jean de Gue Lalande de Pomerol – Medium-bodied, fresh, soft and focused on its dark plum, coffee bean and cocoa core, there is the addition of a nice savory quality that you find in the finish here. You should be able to enjoy this on release. 88 Pts
2019 L'Etoile Lalande de Pomerol – Ripe dark red fruits, smoke, espresso, cocoa and licorice notes create the perfume. On the palate, the wine is soft, polished, fruity, medium-bodied and already easy to drink, finishing with coffee tinged, savory plums, smoke, and cherries with cocoa in the endnote. Give it a year or two in the cellar and it should be even better. The wine is produced from blending 82% Merlot, 14% Cabernet Franc and 4% Cabernet Sauvignon. Drink from 2023 – 2030. 89 Pts
2019 LAmbroisie La Croix des Moines Lalande de Pomerol – Produced from 100% Merlot, the wine is medium-bodied, with a core of sweet, red plums, coffee bean, cherries and licorice. Forward and accessible, this is soft, dusty, savory and ends with touches of bay leaf and cherries. This will be best in its youth. Drink from 2022-2027. 87 Pts
2019 La Croix Bellevue – Fresh, light red, cherries and plums with touches of herbs and flowers come through on the nose and medium-bodied palate. Fresh, medium-bodied and forward, this will be ready to drink on release. The wine blends 50% Merlot with equal parts Cabernet Franc and Cabernet Sauvignon. Drink from 2022-2027. 87 Pts
2019 La Croix des Moines Lalande de Pomerol – Flowers, mushroom, citrus, and earthy red berries are the first thing you notice. Medium-bodied, fresh, vibrant, bright, chewy red fruits and herbs fill the palate. This will be easy to drink on release. Drink from 2022-2029. 88 Pts
2019 La Fleur de Bouard Lalande de Pomerol – Espresso, flowers, cocoa and plums show up nicely on the nose while the palate offers a soft, polished expression of dark cherry, plum and black raspberry notes with a touch of chocolate in the finish. Drink from 2022-2033. 92 Pts
2019 La Fleur de Bouard Le Lion Lalande de Pomerol – Flowers, raspberries, cocoa, herbs and and 5 Spice aromatics come through on the nose. On the palate, the wine is soft, silky, medium-bodied and fresh, with a sweetness and polish to the red pit fruits in the finish. Drink from 2022-2030. 90 Pts
2019 La Fleur de Bouard Le Plus Lalande de Pomerol – Deep in color, the wine is ripe, rich, lush and packed with espresso tinged, dark chocolate, black plums and black cherries, Rich, opulently textured, full-bodied and loaded with layers of ripe, sweet, exuberant fruits, this Pomerol look-alike wine needs a few years in the bottle to integrate all of its elements. It will be worth the wait. Drink from 2025-2038. 94 Pts
2019 La Graviere Lalande de Pomerol – Produced from 100% Merlot, the wine is soft, silky, fresh, sweet, and polished, elegant in style, there is plenty of cocoa-infused plums here from start to finish. You can enjoy this on release. Drink from 2022-2030. 90 Pts
2019 La Sergue Lalande de Pomerol – Dark chocolate, smoke and espresso with earthy red fruits fill the nose. Soft textured, medium-bodied, fresh, vibrant, forward and ready to go, this is already nice to enjoy with its truffle laden red fruits. Drink from 2022-2032. 90 Pts
2019 Lafleur de Viaud Lalande de Pomerol – With good color the wine pops with chocolate covered cherries, plums and wet earth. On the palate the lushly textured wine is soft, polished, silky and fresh, leaving you with a palate loaded with sweet, ripe, silky plums in the finish Drink from 2022-2033. 91 Pts
2019 Les Cruzelles Lalande de Pomerol – Flowers, licorice, cocoa and earthy notes, along with black raspberries, plums and black cherries come through easily on the nose. The medium-bodied palate is soft, silky, refined and fresh, with loads of layered sweet fruit on the backend. Drink from 2023-2037. 93 Pts
2019 Moncets Lalande de Pomerol – Smoked cherries, red plums and floral scents are quite nice. On the palate, the medium-bodied wine is soft, fresh and polished, with a sweet, cherry filled finish, making this perfect for early drinking consumption. Drink from 2022-2030. 89 Pts
2019 St. Jean de Lavaud (1.1) Lalande de Pomerol – Medium-bodied, soft, fruity, forward and polished with a strong oaky presence that rides on top of the fruit on the nose and chewy, plummy palate. Drink from 2022-2037. 86 Pts
2019 Tournefeuille Lalande de Pomerol – Medium-bodied, soft, vibrant, silky, and fresh, the sweet, ripe plums and cherries are made even better with their truffle, spice, and espresso accents. The soft, silky, fresh palate leaves you with loads of earthy red fruits with a lingering chocolate note in the plummy finish. This is already showing really nicely. Drink from 2023-2033. 89 Pts
2019 Viaud Lalande de Pomerol – Medium-bodied, fresh, soft, silky and polished, the wine offers a refined character from start to finish here, due to all of its sweet, earthy, cocoa-coated cherries, plums and earthy nuances. Drink from 2022-2032. 91 Pts
2019 Vieille Dynastie Lalande de Pomerol – Medium-bodied, with a core of black raspberries, red plums and herbs, this lighter, fresh, soft styled wine is going to be fully ready to go on release. Drink from 2022-2027. 85 Pts
2019 Vieille Dynastie Eleonore Lalande de Pomerol – Light, soft, polished and ready to drink, this forward styled wine finishes with notes of coffee bean, black raspberries and cocoa. Not very complex, but it is easy to drink. Drink from 2022-2029. 87 Pts
We are posting the 2019 Bordeaux articles as fast as we can. Up next, Guide to all the best 2019 Sweet White Bordeaux